NZXT N7 Z490 Conclusion
It's quite late into the Z490 product cycle but NZXT has gone with an October launch for its latest N7 model. Whether this is just an internal cycle, or it allows more time for the development of its N7 series, only NZXT knows this. The NZXT N7 Z490 is geared towards the mid-range, and on paper, it seems quite reasonable for a sub $250 board with Wi-Fi 6, 2.5 GbE, and dual PCIe 3.0 x4 M.2 slots, but it's not the board we expected in our testing.
It seems NZXT has focused primarily on aesthetics, which is fine for a case manufacturer looking to create a solution that fits in with its current chassis range (NZXT's own H series). It still has to get things correct in regards to the componentry for end-users to make use of. Things are acceptable performance-wise at default settings, with a very aggressive profile that makes it competitive with other models we've tested. NZXT has also added a variety of RGB headers with NZXT's CAM software doing much of the lifting regarding control. An integrated fan controller has also been added, which can also be controlled by CAM, with a total of seven 4-pin headers available to use.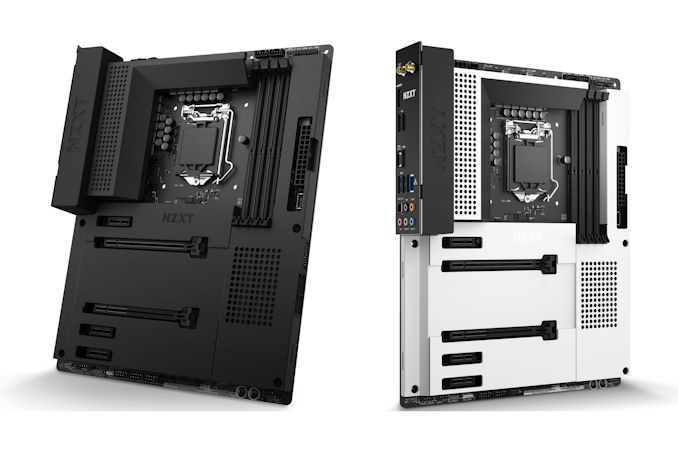 The NZXT N7 Z490 will be available in black or white.
It offers two full-length PCIe 3.0 slots that operate at x16/+x4, with three additional PCIe 3.0 x1 slots. Memory support is a tad lower than most brands on the market, with DDR4-4266. However, it does support up to 128 GB of memory, with two PCIe 3.0 x4 M.2 slots and four SATA ports. Four is somewhat low, considering this is an ATX board at a mid-range price point. The rear panel is also a little lackluster, with just two USB 3.2 G2 ports (Type-A and Type-C, with two USB 3.2 G1 Type-A and two USB 2.0 ports. NZXT does include a single USB 3.2 G1 header (two ports), and three USB 2.0 headers in which users can add another six USB 2.0 ports. Still, this is frankly unacceptable for a board in this price point.
Touching on the performance, our test suite shows that the N7 Z490 is competitive in all of our system tests, with all-around mid-level performance in our power, system POST, and DPC latency testing. We didn't highlight any anomalies in our computational and gaming tests, but overclocking was a different story...
Overclocking? Not Yet
In our overclocking tests, we hit a bit of a snag. We weren't able to locate the exact problem in time for the review, but NZXT is aware. The board works perfectly fine at stock settings, but manually overclocking on the board caused both an overzealous load voltage on the CPU, and throttling issues beyond 5.0 GHz. These weren't thermal throttling issues, as our CPU temperatures were still within reason and the VRMs seemed to be cool enough. We were told (and confirmed) that the N7 uses a 4-layer PCB, which is very low number of layers for a Z490 model; in fact, you would likely see this this number of layers used on a H-series board. As a result, it could be a fundamental issue relating to tracing crosstalk around the power delivery area. Ultimately, with the current firmware situation on the N7 Z490, we can't recommend it with an overclocked CPU until the issues are fixed.
From an aesthetics standpoint, it's a good looking board with the armor covering up much of the PCB, but adding cost to some areas and detracting from others such as rear panel connectivity and PCB quality is something that cannot be ignored. NZXT has set an MSRP of $230 for the N7 Z490, which on paper, looks a good proposition. But the competition the N7 Z490 is up against is strong. It's not too harsh to say that every other model at the $200-250 price point appears to offer something more (which NZXT has swapped for aesthetics). If NZXT want to get into this market, it might be worth having two variants, one more competitive and one more styled, in future.