Mid Range Graphics Card CPU scaling
For mid-range cards we've got three from ATI and one from NVIDIA; as we've discovered in previous Half Life 2 articles, NVIDIA's last-generation mid-range cards are only reasonable performers in DirectX 8 mode, and we are conducting a fully DX9 comparison here so that excludes all of them. From ATI we've got the Radeon 9700 Pro, Radeon 9800 Pro and Radeon X700 Pro. We've also included the NVIDIA GeForce 6600GT, which as you will remember from our previous articles, performs very similarly to the GeForce 6800 non-ultra under Half Life 2.
Our mid-range tests were conducted at 1280 x 1024, the target resolution for most mid-range cards.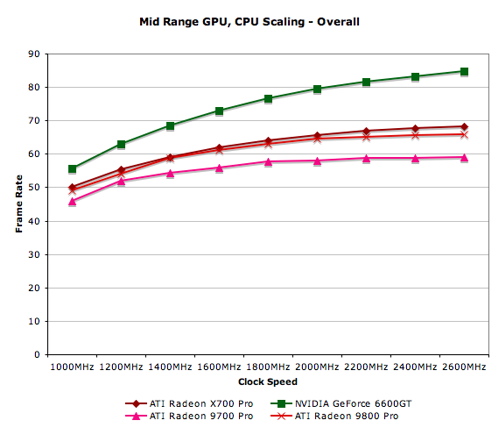 If you've got any of ATI's mid-range GPUs, you're stuck with severely diminishing returns after about 1.4 - 1.6GHz on the Athlon 64 (< 2800+ range). The GeForce 6600GT is far less GPU bound at 1280 x 1024 (and even at 1024 x 768 although not depicted here), and thus scales relatively well.