Introducing the Mac mini
Before we get to the mini itself, let's have a quick rundown of the specs of the Mac mini:
Apple Mac mini 1.25GHz
Apple Mac mini 1.42GHz
CPU:
PowerPC G4 1.25GHz
PowerPC G4 1.42GHz
Memory:
256MB DDR333
Graphics:
ATI Radeon 9200
Hard Drive:
40GB 2.5" HDD
80GB 2.5" HDD
Optical Drive:
Slot-loading Combo Drive (DVD-ROM/CD-RW)
Ports:
One FireWire 400; two USB 2.0; DVI (VGA adapter included); 1/8" headphones/line-out; 10/100 Ethernet; 56K modem
Monitor:
None
Keyboard/Mouse:
None
Software:
Mac OS X 10.3 (Panther), iLife '05
Price:
$499
$599
First Encounter with the Mac mini
The box is small: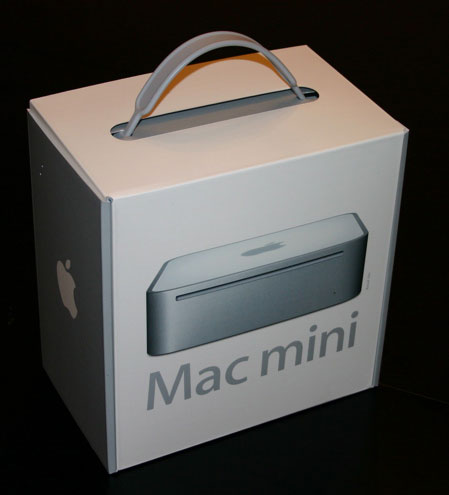 If you need a carrying case for your Mac mini, just save the box and it will serve perfectly.  Remember that the mini measures 6.5" on each side and is only 2" high, so the box is pretty small. The box is slighty longer and wider than the mini itself, but about twice as deep.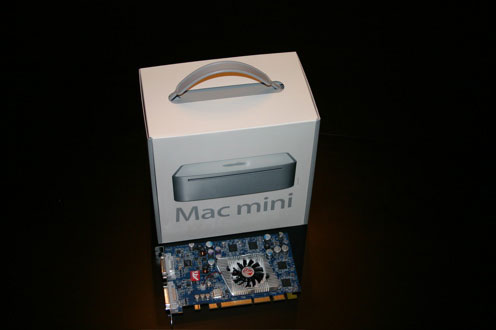 A Mac mini box compared to a regular sized ATI Radeon 9800 Mac Edition video card. 
What's interesting about the box is that on the back face of it, you have instructions on how to set up the computer.  As you can expect, it's not too difficult, but helpful for the first-time computer user.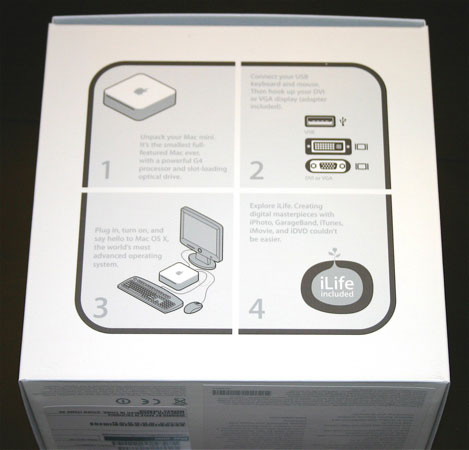 The Mac mini box itself is representative of Apple's simple design philosophy, but what truly sums up Apple's intentions with the Mac mini is the side of the box: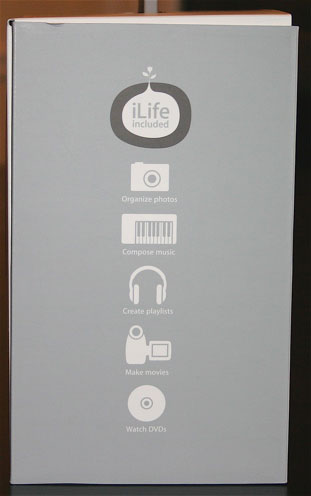 The side of the box simply states that iLife is included, and below that, it says that you can organize photos, compose music, create playlists, make movies and watch DVDs.  This isn't the side of a computer box. This is the side of a consumer electronics device box; it's the side of a multifunction iPod's box.  And this is where it hit me - what I was holding in the mini's box didn't feel like a computer. In fact, it didn't feel like I was unpacking a computer either.  Apple has effectively made their computer into something that doesn't seem like one at all, perfect for those who are intimidated by computers, but definitely leaves those of us who aren't feeling somewhat strange - not in a bad way, and not in a good way, but just in a different way.  If every other computer manufacturer in the world made their computers and boxes look like the mini's, then I'm sure that the feeling wouldn't be so strange; but the fact of the matter is, they don't, and the Mac mini is different - and you know that before you even hit the power button.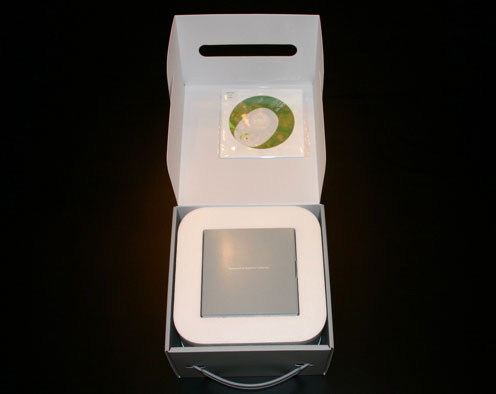 Inside the Mac mini box, there are already indications that Apple was working as quickly as possible to get these things out and shipped.  The best example of this is that the Mac mini comes with iLife '04 installed (meaning that the master image for the mini's hard drive was made before iLife '05 was ready to be put on it), and stuck to the top of the inside of the box is an iLife '05 DVD.
You have your handful of users guides, warranty information and the usual paperwork that comes with any computer, but with the mini, it all seems a lot "cooler" for some reason.  Everything is well made, well put together, and well, mini.  Once again, I wasn't reminded of a computer; I was reminded of buying something from Bose or Mercedes.