CPU Performance: Synthetic Tests
As with most benchmark suites, there are tests that don't necessarily fit into most categories because their role is just to find the peak throughput in very particular coding scenarios. For this we rely on some of the industry standard tests, like Geekbench and Cinebench.
GeekBench4: Synthetics
A common tool for cross-platform testing between mobile, PC, and Mac, GeekBench 4 is an ultimate exercise in synthetic testing across a range of algorithms looking for peak throughput. Tests include encryption, compression, fast Fourier transform, memory operations, n-body physics, matrix operations, histogram manipulation, and HTML parsing.
I'm including this test due to popular demand, although the results do come across as overly synthetic, and a lot of users often put a lot of weight behind the test due to the fact that it is compiled across different platforms (although with different compilers).
We record the main subtest scores (Crypto, Integer, Floating Point, Memory) in our benchmark database, but for the review we post the overall single and multi-threaded results.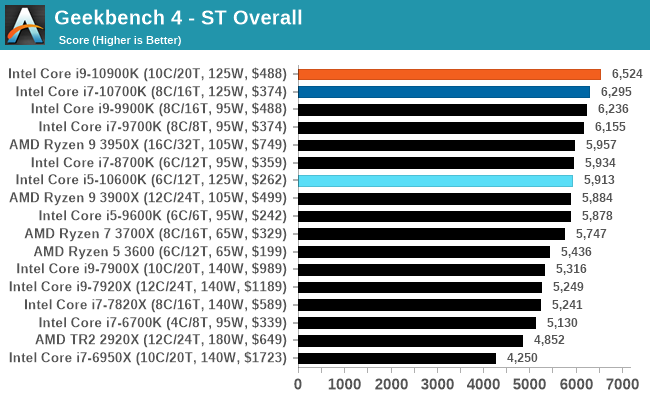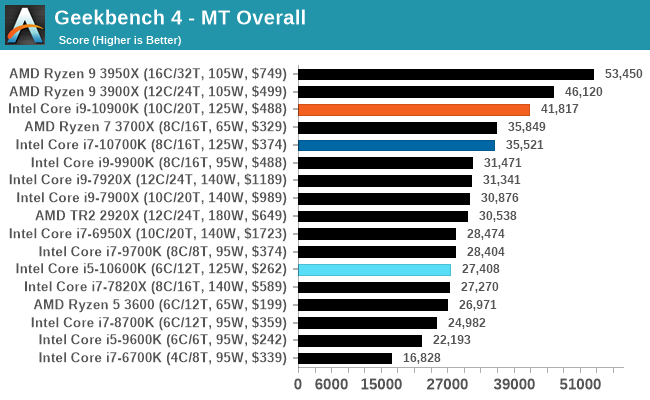 LinX: LINPACK
The main tool for ordering the TOP500 computer list involves running a variant of an accelerated matrix multiply algorithm typically found from the LINPACK suite. Here we use a tool called LinX to do the same thing on our CPUs. We scale our test based on the number of cores present in order to not run out of scaling but still keeping the test time consistent.
This is another of our new tests for 2020. Data will be added as we start regression testing older CPUs.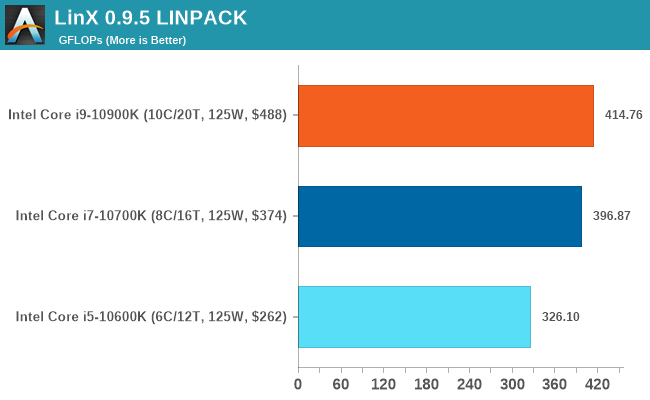 Cinebench R20
The Cinebench line of tests is very well known among technology enthusiasts, with the software implementing a variant of the popular Cinema4D engine to render through the CPU a complex scene. The latest version of Cinebench comes with a number of upgrades, including support for >64 threads, as well as offering a much longer test in order to stop the big server systems completing it in seconds. Not soon after R20 was launched, we ended up with 256 thread servers that completed the test in about two seconds. While we wait for the next version of Cinebench, we run the test on our systems in single thread and multithread modes, running for a minimum of 10 minutes each.