Starting off our large Z490 motherboard overview alphabetically, we take a look at the models from ASRock. As we've seen previously, ASRock is marketing its gaming-focused models with a handful of PG branded models at launch, with the Taichi, and Steel Legend boards making a reappearance. One of the most interesting features of the ATX sized ASRock Z490 models is the inclusion of a PCIe 4.0 clock generator, which is designed to offer longevity to its boards with support for Intel Rocket Lake. This allows the top full-length PCIe slot to run PCIe 4.0 from the CPU, which stretches to the PCIe M.2 slots which are driven from the CPU, and not the chipset.
ASRock Z490 Taichi
The ASRock Taichi series is one of its most prominent brands since it was introduced on the Intel Z270, and AMD X370 chipsets. The ASRock brand has evolved since then with more unique aesthetics and is usually associated with its premium range of models offered. The ASRock Z490 Taichi includes a PCIe 4.0 clock generator which allows support for Intel's Rocket Lake processors when it is released. Also present is three PCIe 3.0 x4 M.2 slots, eight SATA ports, a Realtek 2.5 G Ethernet controller, and 12-phase power delivery for the CPU.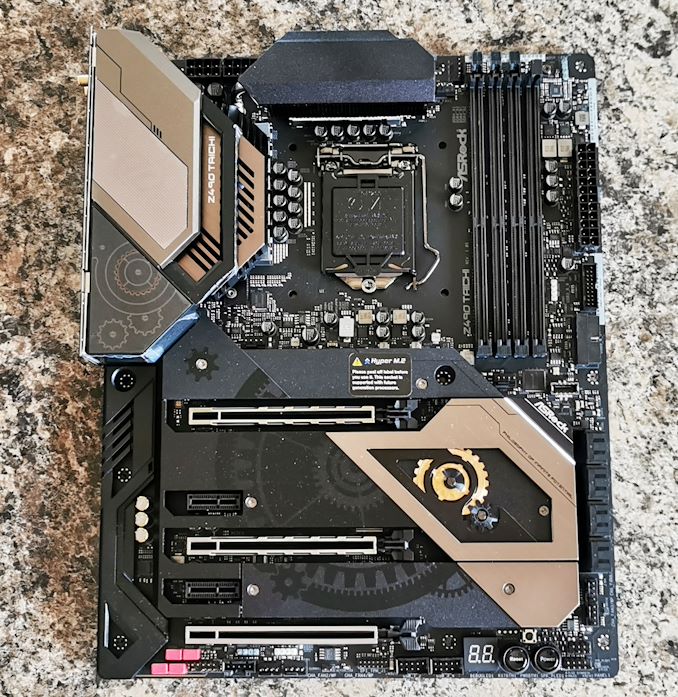 For the design, the ASRock Z490 Taichi has a primarily black aesthetic with Taichi clockwork inspired branding over the rear panel cover, heatsinks, and the PCIe area cover. It has multiple areas of integrated RGB LEDs including the rear panel cover, the chipset heatsink, and at the right-hand underside of the board. On the rear of the board is a large black metal backplate, which also has a Taichi clockwork inspired design. The power delivery is controlled by an Intersil ISL69269 PWM controller, with a 12+2+1 power delivery design using ISL 50 A DrMOS power stages. It uses a large pair of heat pipe connected heat sinks, with the rear panel cover area including a single cooling fan integrated into the design, with two small cooling fans on the other power delivery heatsink.
The core feature set consists of three full-length PCIe 3.0 slots which run at x16, x16/x8, and x16/x8+4, with an additional two PCIe 3.0 x1 slots. For storage, there's three PCIe 3.0 x4 slots, with six SATA ports from the chipset, and two additional ports from an ASMedia ASM1061 controller. Each M.2 slot has its own Taichi inspired heatsink, while the bottom of the board includes a basic overclockers toolkit with a power and reset button. As mentioned, it includes a PCIe 4.0 clock generator for support for Intel's unreleased Rocket Lake processors which will also be released on socket LGA1200. This adds PCIe 4.0 support for the M.2 slots, as well as the top full-length PCIe 3.0 x16 slot.

Included on the rear panel of the ASRock Z490 Taichi is one USB 3.2 G2 20 Gbps Type-C, two USB 3.2 G2 10 Gbps Type-A, and five USB 3.2 G1 Type-A ports. For networking, ASRock includes an Intel AX201 Wi-Fi 6 and BT 5.1 wireless interface, with two Ethernet ports, one controlled by a Realtek RTL8125BG 2.5 G, and the other by an Intel I219-V Gigabit controller. For users planning to use integrated graphics, there's a pair of video outputs consisting of an HDMI, and DisplayPort 1.4 output. Finishing off the rear panel is a PS/2 combo port, five 3.5 mm audio jacks and S/PDIF optical output controlled by a Realtek ALC1220 HD codec, and a BIOS Flashback button.
The ASRock Z490 Taichi is a premium model with a good range of USB 3.2 G2 support on the rear panel, benefits from a 12+2+1 power delivery for enthusiasts, and a solid section of networking options including Wi-Fi 6 and a 2.5 G Ethernet controller. Its Taichi design is well versed and stylish, with some support for PCIe 4.0 when Intel releases its Rocket Lake processors, which is another big plus point. ASRock hasn't yet unveiled a price for the Z490 Taichi, but we will update this as more information starts to filter in.