SiS 755FX Chipset
The SiS 755 chipset was covered in detail in our
review of the SiS 755 Reference board
. The SiS 755 supported 800HT, Socket754, and single-channel memory. The 755FX takes the excellent features and performance of that chipset and updates it for Socket 939.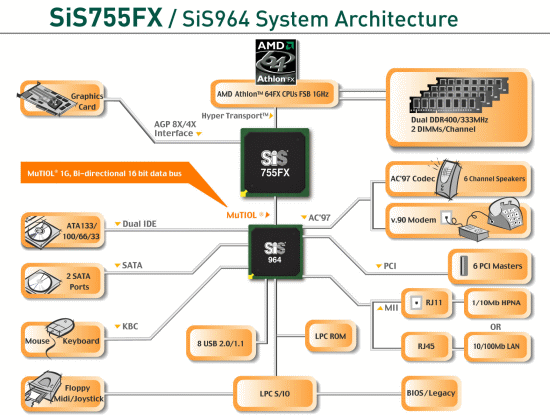 This means that the new 755FX supports 1000 HyperTransport speed, Socket 939, and dual-channel memory. Winfast combines the 755FX with the same 964 Southbridge used on the 755 Reference board. That means that this combination supports AGP8X, PCI, 4 IDE devices, and 2 native SATA ports.
Model
Athlon 64FX
Athlon 64 (939)
Athlon 64FX
Athlon 64 (939)
Athlon 64 (754)
Pin Count
939
939
754
Memory Controller
Dual Channel DDR
Dual Channel DDR
Single Channel DDR
Memory Type
Unbuffered DDR400/333
Unbuffered DDR400/333
Unbuffered DDR400/333
HyperTransport
2000MT/s
8.0GB/s
2000MT/s
8.0GB/s
1600MT/s
6.4GB/s
Chipset
SiS756/965
SiS755FX/964
SiS755/964
Graphic Interface
PCI-EXP x16
AGP8X
AGP8X
SiS has also announced a PCI Express chipset for Athlon 64, called the SiS 756. We have not seen a SiS 756 board yet, but the chipset specifications are basically the same as 755FX with support for PCI Express instead of AGP/PCI. The new 965 Southbridge announced with the 756 also supports 4 SATA 150 ports instead of the 2 SATA ports supported by 755/755FX.