System Level Power Comparison
While it's far from the best way of measuring the power consumption of just the graphics card, with only a handful of days to play around with the X800 XL, our system level power consumption tests are the best option that we have. The tests work like this: we take our testbed, an Athlon 64 FX-55, and measure the power consumption of the entire testbed (RAM, HDD, motherboard, CPU, video card and power supply) at the electrical outlet. What this tells us is the total power consumed by the system, essentially the amount of power for which you're billed. Since we're keeping all other components the same and only swapping out the video card, the impact on power consumption is almost exclusively due to the video card - we say "almost exclusively" because a faster GPU will make the CPU work harder and thus, consume more power and vice versa. But in the end, it's a fairly good indicator of what GPUs consume more power (and thus produce more heat) relative to one another.
Our first test has our test bed idling at the Windows desktop at 1600 x 1200. The system specs are as follows:
 System Configuration
Motherboard:
ASUS nForce4 A8N-SLI Deluxe
Processor:
AMD Athlon 64 FX-55
RAM:
1GB Corsair DDR400
Video Drivers:
NVIDIA ForceWare 67.02 Drivers
ATI Beta Catalyst Drivers 8.08-041111a-019256E (no Catalyst version has been assigned to this package yet)
Operating System(s):
Windows XP Service Pack 2 with DirectX 9.0c
All performance tests were run at 1600 x 1200, some benchmarks were also run at 1600 x 1200 with 4X AA and 8X AF enabled.
Cool 'n Quiet is disabled, giving us the following breakdown in system power consumption: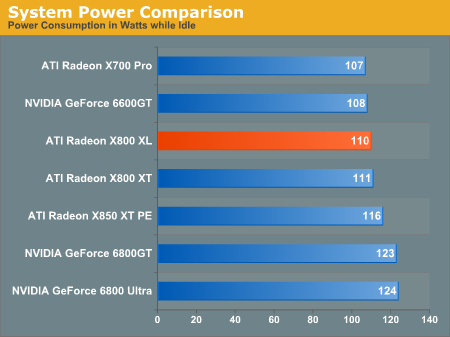 We see that at idle, there's no big improvement to the 0.11-micron process on the X800 XL.
Then we fired up Half Life 2 and ran through our at_prison_05 demo, one of our most stressful GPU tests to see how far we could push power consumption. Here, we see a slight advantage to the X800 XL, but definitely not as dramatic as we would've thought. Given that we're running at a lower core clock, we'd expect the 0.11-micron X800 XL to impact system power consumption more than it did. We would also expect power consumption to decrease as the 0.11-micron process matures and if/when a low-k dielectric is used in conjunction with the smaller transistor feature size.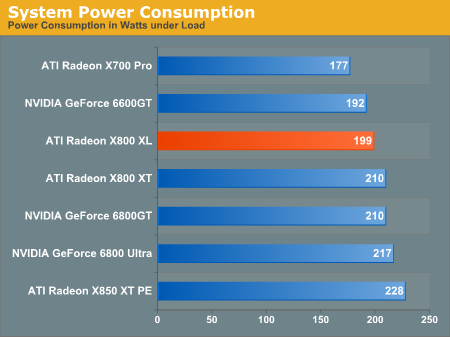 The X800 XL does consume less power and thus, will run cooler than the 6800GT, which is a plus for ATI. Given that the 6800GT is already a single slot solution, the power/heat advantage isn't one that is entirely noticeable considering that the X800 XL cannot be run fanless.