Video Cards Price Guide: Demystifying December Edition
It's been a couple weeks since our last guide but fortunately we have a lot to show for it today!
A few days ago, we put out the announcement concerning our QuickSearch RSS Feed. For those of you that don't use Firefox yet, here is another great reason. All of our products are listed in a condensed RSS feed that we update every few minutes with price and shipping information on every product in our database! We are also giving away developer RSS feeds for anyone who would like one as well with custom pricing information.
For those interested in the QuickSearch feed, simply grab a copy of the newest Firefox from Mozilla's website. Next, go into the bookmarks menu and then into the Bookmark Manager. Navigate to "File", then "Add new Live Bookmark". When the window pops up asking for a "Feed Location", you want to put in the address: http://labs.anandtech.com/rss.aspx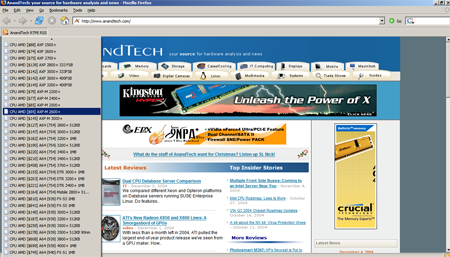 Click to Enlarge
This RSS feed is a bit bigger than most, with several hundred products each having their own entry. However, you can quickly navigate through these links as they are sorted by category (either in the dropdown or the Bookmark Manager).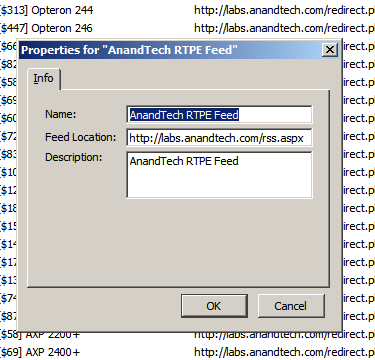 When we put our RSS feed live, a few readers found the little Easter Egg we left for them (complete access to the Price Guide Backend!). As most people know, we are very proud of our link traffic software that we developed in house to compete with PriceWatch and other engines. Traditionally, the only way to search this engine was via our RealTime Pricing page here on the AnandTech servers. For those of you that like to live on the edge a little, you can also search via the Beta search engine found on labs.anandtech.com.
Simple enter the product you wish to search for, then click on the "Filter" button on the next page. Filtering tells the engine which product you meant to look for exactly. In cases where an exact match was found, the engine brings you to the correct page on its own. Below you can see what the engine returns if we enter the search string "NEC 3500A".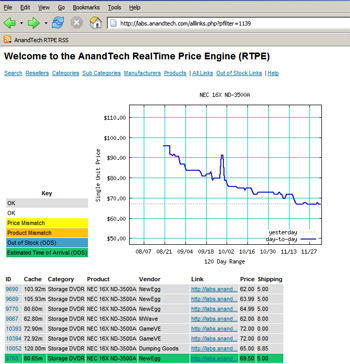 Click to Enlarge
From here you can see a list of merchant prices we have recorded and a simple plot of prices we have tracked for the product over the last 120 days. In some cases you will see spikes in the plot; these are days where there was usually a deep discount day or a day where a better merchant ran out of stock and the engine was forced to list a higher priced merchant. In any case, enjoy the Beta engine for now, and be prepared for a bigger announcement once we finalize things. We now bring you back to your regularly scheduled Price Guide.
Also, don't forget to check out the AT Staff's Holiday wish list! Each editor has a few picks each week concerning great gift ideas for the holidays.
Introduction
There was so much video news this last week that it's easy to imagine how anyone could get lost in the video card frenzy over the last two weeks. We had five new video card launches from ATI, a few from NVIDIA, someone mentioned the word Volari here or there, and Half Life 2 showed up on our desktops (well - if you didn't get banned from Steam anyway). Here is a quick rundown of what's been going on in the review-space and retail-space over the last few weeks.
November 16, GeForce 6600GT AGP Launched (Article)
Half Life 2 Launched (Article I, Article II)
Mobility Radeon X800 and X300 Launch (Article)
GeForce 6600GT AGP starts to hit shelves
ATI Launch - Radeon X850, X800 (Article)
Radeon X700XT AGP just starts to hit shelves
With all the numerous launches and NDAs, it can be difficult to decide which card makes sense to buy - not just which is the fastest. In fact, our benchmarks show it is very easy to determine the best $600 video card design win. Alas, buying such a video card is kind of a moot point since "video card availability" and "nonexistent" are two common phrases that often end up in the same sentence. Regardless, buying a video card never used to be something that cost a month's paycheck, and it still shouldn't be. The price guides emphasize buying smart, so today we are going to go through a few video card options and do just that.