ASUS' A8N-SLI Deluxe
ASUS and NVIDIA have been working very closely with each other on the nForce4 SLI project. NVIDIA took ASUS' A8N-SLI Deluxe on tour with them, doing demonstrations to reviewers all over the world based on this one motherboard. Obviously the partnership has irritated a few of ASUS' competitors, and thus it looks like Gigabyte and MSI are doing their best to get their competing boards out as soon as possible. But ASUS was the first to get us a final board and thus we have them in our review today.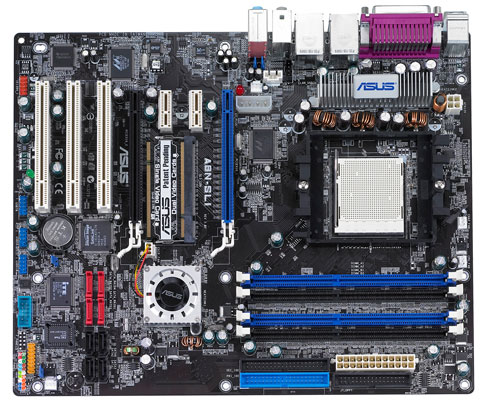 The very first A8N-SLI Deluxe motherboard we received was horribly unstable and we spent the majority of our time just trying to get the thing to work. Our sample was one of 10 in the world and fortunately not a mass production sample. ASUS managed to get us another board in time for the publication of this review, and the updated board fixed all of our issues. We will be sure to do a full review on ASUS' SLI motherboard featured here, but for now here's some brief information about the board.
The A8N-SLI Deluxe is a very interesting solution from ASUS as it will be targeted at both the high end and mainstream Socket-939 markets. With a price point of around $180, ASUS is hoping that all types of users, from casual to hardcore gamers will flock to the A8N-SLI Deluxe to either take advantage of SLI immediately or have the security of a SLI upgrade path.
The board itself is as feature filled as you could possibly imagine. Featuring 3 x 32-bit PCI, 2 PCI Express x1 and 2 PCI Express x8 slots, the board is pretty balanced when it comes to add-in card expansion.
ASUS spread the two PCI Express x8 slots out a bit more than some manufacturers have planned to do, in order to improve cooling when running two cards in SLI mode. ASUS also supplies a bridge PCB appropriately sized to accommodate the distance between the two PCI Express connectors. The card that reconfigures the PCI Express lane arrangement from the chipset is wedged in between the two PCI Express x8 slots. The card can be a little difficult to get to at times, but with a bit of patience it's not too big of a deal.
The actual nForce4 SLI chipset is placed between the two PCI Express x8 slots, but shifted down to be as far away from the heat producing GPUs as possible. The problem is that with 2-slot cards such as the GeForce 6800 Ultra there is not much clearance over the top of the chipset's heatsink, which limited the size of the heatsink that ASUS could put on the motherboard. The end result is that while the heatsink and fan do the best job they can, the heatsink gets extremely hot. Just something to keep an eye out for.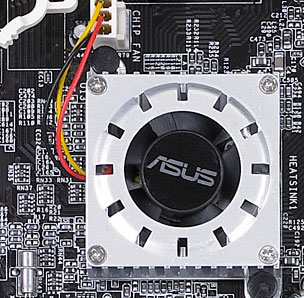 The nForce4 SLI chipset on the A8N-SLI Deluxe
By using a separate Silicon Image SATA controller in conjunction with the nForce4 SLI's built in SATA controller, the A8N-SLI supports a maximum of 8 SATA drives. Impressively enough, ASUS provides 4-pin molex to SATA power adapters and SATA cables for all of the ports. ASUS went one step further and also bundles a card that allows you to plug a SATA drive (and power) into your motherboard, externally without ever opening your case. By running two SATA ports and one power connector to a slot cutout you can plug any SATA drive and use it externally. Remember that since the nForce4 SLI chipset supports the SATA II specification, you can use this external port with hot pluggable SATA II drives.
In order to aid in power delivery to a power hungry SLI setup, ASUS implemented what they are calling their "EZ-PLUG" connector on the board. The EZ-PLUG is basically a 4-pin molex connector on the board itself that is designed to provide an additional 12V line to the graphics cards in SLI mode. Using the plug isn't necessary (we tested both with and without it and in both cases it worked fine), but ASUS insists you use it in SLI mode to guarantee stability. If you don't apply power to the EZ-PLUG and you are in SLI mode, a red LED lights up on the motherboard and a warning will appear at POST telling you that you forgot to supply power to the EZ-PLUG.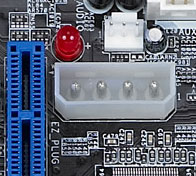 ASUS' EZ-PLUG
ASUS is expecting mass production of the A8N-SLI Deluxe to commence in the coming weeks; this is an extremely important motherboard for ASUS and they have extended their promise to us that it will be widely available before the holidays, most likely starting the first week of December.
We are pretty happy with what we've seen from ASUS with their A8N-SLI Deluxe, but we'll save the full evaluation of the motherboard for our review of the board itself. With a working sample of the board in hand it looks like ASUS has worked out any issues we had with the first sample of the board, and it should make for a nice gift (for someone special or yourself of course) for the holiday gamer.