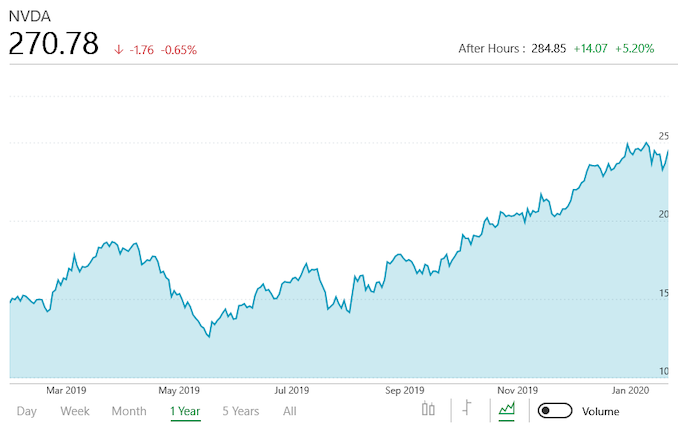 Always punctual but moving at their own pace, NVIDIA this afternoon wrapped up their 2020 fiscal year with the release of their earnings for both Q4 and the year. For the last quarter of their fiscal year, NVIDIA booked just over $3.1B in revenue with a profit of $950M, marking a strong end to a weaker fiscal year. On which note, for the year NVIDIA will close the books on $10.9B in revenue, for a net income a hair under $2.8B.
NVIDIA Q4 2020 Financial Results (GAAP)
Q4'2020
Q3'2020
Q4'2019
Q/Q
Y/Y
Revenue
$3105M
$3014M
$2205M
+3%
+41%
Gross Margin
64.9%
63.6%
54.7%
+1.3%
+10.2%
Operating Income
$990M
$927M
$294M
+7%
+237%
Net Income
$950M
$899M
$567M
+6%
+68%
EPS
$1.53
$1.45
$0.92
+6%
+66%
Beating analyst expectations, NVIDIA closed their year on a relative high note. The $3.1B in revenue they booked was their best quarter in more than a year, blasting past a particular weak Q4'FY19 for a 44% jump in revenue, and even edging out the traditionally strong Q3. Similarly, the quarter was one of the most profitable for the company in quite some time, beating Q4'FY19's net income by 68%, and leaving the company just a few percent short of claiming a full billion dollars in net income for the quarter.
This profitability is reflected in NVIDIA's gross margin as well. At 64.9% for the quarter it's the highest margins NVIDIA has attained in over a year, beating both Q3 and last year's Q4. And while there's no strict limitation for gross margins, it's worth noting that these kinds of margins are close to some of Intel's best in previous years, which is often used as a barometer for the overall strength of a major chip company.
NVIDIA Quarterly Revenue Comparison (GAAP)
($ in millions)
In millions
Q4'2020
Q3'2020
Q4'2019
Q/Q
Y/Y
Gaming
$1491
$1659
$954
-10%
+56%
Professional Visualization
$331
$324
$293
+2%
+13%
Datacenter
$968
$726
$679
+33%
+43%
Automotive
$163
$162
$163
+1%
0%
OEM & IP
$152
$143
$116
+6%
+31%
Breaking down their revenue by segment, the big surprise here in NVIDIA's earnings is data center revenue. At $968M for the quarter, it's the best showing from NVIDIA's data center operations since the inception of the current reporting structure, shooting well past the previous record. According to NVIDIA, the company is seeing a surge in demand for AI hardware, which has been a lucrative and rather profitable venture for NVIDIA over the last several years. This growth comes after data center spending (and AI-related spending in general) plateaued a bit over the past year, as it seems hyperscalers and other data center operators have ramped up their overall buying for 2020.
Otherwise gaming remained NVIDIA's single biggest segment. Like the quarter overall, gaming revenue is up significantly year-over-year, with NVIDIA booking over $500M more than in Q4'FY19. But it's a bit of a mixed bag overall, as revenue did drop versus the previous quarter, and NVIDIA is well off their Q4'FY18 performance. Ultimately, data center revenue proved to be NVIDIA's trump card here, helping to cover for any weakness in gaming revenue.
NVIDIA FY2020 Full Year Financial Results (GAAP)
FY2020
FY2019
Q/Q
Revenue
$10918M
$11716M
-7%
Gross Margin
62.0%
61.2%
+0.8%
Operating Income
$2846M
$3804M
-25%
Net Income
$2796M
$4141M
-32%
EPS
$4.52
$6.63
-32%
As for the complete, fiscal year 2020 picture, NVIDIA's Q4 has helped to prop up what has been a profitable but overall weaker year for the company. The $10.9B in revenue that NVIDIA booked for the year is down 7% from the previous year. And net income fell even more sharply, dropping by 32% to $2.976B on the year.
The year-over-year drop has been influenced by several factors, but arguably the biggest is the crypto hangover, which really only ended a bit earlier this year. So the first half or so of the year for NVIDIA is marked by distributors still trying to get rid of excess inventory, as well as the fact that compared to the unbounded spending on crypto gear in NVIDIA's FY 2019, anything more normal pales in comparison. Coupled with that has been the previously mentioned softness in the data center market, which while not nearly as dramatic as the crypto hangover, saw much of FY2020 data center spending underperforming FY2019 at similar points.
NVIDIA Yearly Revenue Comparison (GAAP)
($ in millions)
In millions
FY2020
FY2019
Y/Y
Gaming
$5518
$6246
-12%
Professional Visualization
$1212
$1130
+7%
Datacenter
$2983
$2932
+2%
Automotive
$700
$641
+9%
OEM & IP
$505
$767
-34%
There had been some concern that the datacenter market had reached saturation – at least for the current generation of products – but following Q4 at least, it looks like that's not the case. Overall NVIDIA closes out the year up 2% on data center revenue, with the strong Q4 pulling data center revenues up. Gaming doesn't fare quite so well, as more exposed to the hangover, NVIDIA still end the fiscal year down 12% in gaming revenue versus FY2019.
The big winner here on a pure percentage basis is actually automotive, which was up 9% year-over-year, followed by NVIDIA's trusty professional visualization group, which was up 7%. The upshot here, at least, is that NVIDIA has long desired to further diversify its business so that it isn't quite so reliant on gaming revenue, and that's certainly where FY2020 has taken them.
Finally, looking ahead to FY2020 and Q1, NVIDIA is seemingly projecting with a bit of caution. The company expects to book $3B in revenue, with a gross margin of 65.0%.
The wildcard factor here is the ongoing COVID-19 (coronavirus) outbreak, which along with getting trade shows like Mobile World Congress canceled, could also hurt overall tech spending in China. Officially, NVIDIA has knocked $100M off of their Q1 projections, though this is ultimately a rough estimate as no one is quite sure what to expect. According to the company, China accounts for around 30% of their gaming sales – which is still NVIDIA's largest segment – so if the COVID-19 outbreak hurts Chinese spending, NVIDIA is likely to feel it in their gaming revenues.
Source: NVIDIA Investor Relations