Introducing BTX
Intel released news of their Pentium 4 570J just yesterday when they lifted the NDA (non-disclosure agreement) on it.  Check out our benchmarks
here
. Today, a day after they released their 3.8GHz Prescott, Intel lifts their NDA on the longed for details of their new BTX form factor.
At Computex this past summer the technology on the minds of the attendees was the new reengineered PC form factor that was said to change the way we look at desktop systems and the way they are to be cooled. As we mentioned in our
June sneak peak
of this new "Balanced Technology" there are many who are thinking twice about the performance benefits of the successor to ATX and how the public will gain from changing over to it. We also mentioned that there are some who believe this new design is just a way to help deal with the thermal problem with Intel's CPU's and that since Intel is the only name backing the technology the thermal issue is the main reason they really want to continue the push for BTX. At Computex the only BTX board on the floor was from Intel, which was not a surprise to us, but there were quite a few BTX cases from various companies including
Enlight
and
AOpen
.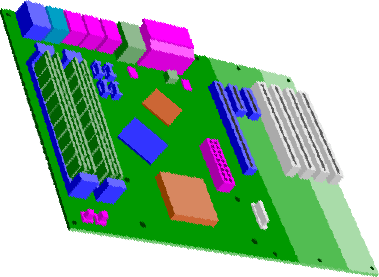 Today, as Intel releases information on the BTX form factor with special evaluation kits, case manufacturers can begin designing cases to compliment Intel's motherboards, but does the industry want to follow?  Passions are running high against BTX; the thought of the big chip maker forcing yet another design change upon the industry has several people extremely upset.  We received a press kit from Intel with a microBTX motherboard and AOpen's newest desktop BTX case. 
We plan to take a middle of the pack Intel 915G microATX motherboard/chassis combination and compare it to the new Intel 915G microBTX motherboard/combination we received today.  We will test the microATX motherboard in a full ATX desktop case and a microATX tower.  Thermals, noise and size will dictate the majority of our conclusions in the analysis.