Putting it all Together
Modding the XBOX is really the simple part. We received a solderless SmartXX v2 from
www.bmmods.com
. These generally run for $75 if you get the solderless adaptor or $60 for the solder option. Other mod chips work well for installing a Linux distribution, but the SmartXX comes with an XBOX version of Debian (Xebian) and is the most mature chip for running a Linux distribution.
Opening up the XBOX and getting at the mainboard was fairly simple. The SmartXX comes with PDF manuals that demonstrate how to unscrew all of the components. Below, you can see the process in a few quick steps. Opening the XBOX just requires an Allen wrench.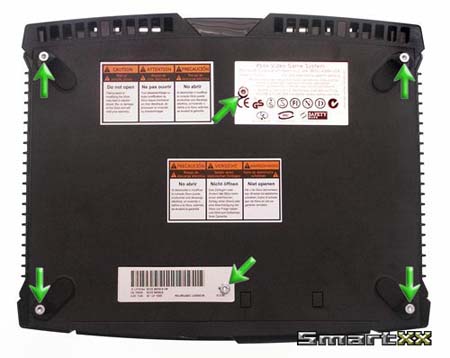 Opening the XBOX
The next step is to remove the hard drive and DVD drive so that we can get at the D0 pin hole on the motherboard. This will allow us to put the XBOX into debug mode.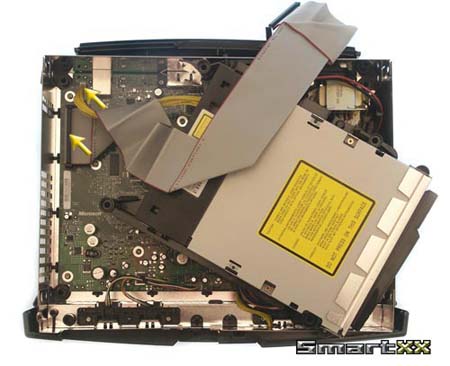 Removing the drives
Now, we have the SmartXX finally mounted correctly. If you look carefully at the image below, you can see the copper wire from the pin pad to the D0 lead that gives our mod chip all the magical power.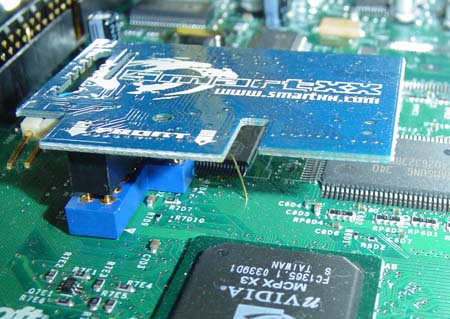 Inserting the mod chip
Click to enlarge.
Total time for our installation was about 15 minutes, although a solder option would probably take a little but more than a half hour. Adding the mod chip to the XBOX was far simpler than any of us had originally thought, and after doing the process just once with a solderless option, we feel like we could easily do the process again with a solder option. This would save us a bit of cash if we were considering distributing our XBOX on a massive scale.
The SmartXX
SmartXX is unique in that it actually runs its own copy of embedded Linux. Before the XBOX has a chance to bootstrap its own BIOS, the SmartXX kicks in and bootstraps itself. The SmartXX chip then opens to the menu displayed before. Our SmartXX chip contains 4MB of memory, which can be configured to run various BIOS images to bootstrap the XBOX again. We can save multiple BIOSes in the built-in memory or revert back to the original Microsoft BIOS included with the XBOX. Below, you can see the BIOS and configuration chooser below.
Inside the SmartXX configuration, we can actually specify and then terminal into the XBOX to configure options via a command line interface instead. We can also specify the default location of where the XBOX should boot; just another step while verifying our install went OK.