Conclusion
Velocifire developed the VM02WS in order to fill a specific, unfledged segment of the market – that of wireless mechanical keyboards. With the market for standard (wired) mechanical keyboards having become heavily saturated in the last couple of years, going wireless is the next frontier for PC peripherals companies, especially those who were never able to secure a suitable chunk of the wired market to being with.
The advantage of being an early mover is that there's very little competition right now, and that's especially the case for wireless mechanical keyboards. With most wireless boards priced far above that of the VM02WS, Velocifire has little to worry about in terms of direct product competition, at least for the time being. Despite this, the VM02WS still has to convince users on a more fundamental matter: that it is a viable alternative to regular mechanical keyboards or electronic wireless keyboards.
When the retail price of a product is the primary design consideration, its quality naturally is a concern. Velocifire did a fine job with the assembly and the frame of the VM02WS, creating a solid mechanical keyboard. The quality of Content's switches, however, is concerning. The actuation force consistency among the switches used in our sample were poor – there are significant differences between the individual switches – indicating loose quality control. We are not worried about any impact the great disparity mght have on performance, but such figures usually do not bode well regarding the longevity of the switches themselves.

There is not much to say regarding the advanced functions of the VM02WS because, mildly put, these are very limited. The only advanced functions available are simple sound volume controls and multimedia commands via keystrokes that include the Fn key, which can nowadays be found on even the cheapest of keyboards. Besides that, the VM02WS does not have any remapping/programming capabilities or any other advanced functions. It is but a simple keyboard, just like any typical office keyboard.
The battery life of the VM02WS is exactly as we anticipated for a backlit mechanical keyboard. It can last for a few days with the LEDs turned off but will drain in a single day if the LEDs are left on. This is more than enough for a gaming session or for doing some work but it definitely will not work for people who want to maintain a tidy, cable-free desktop.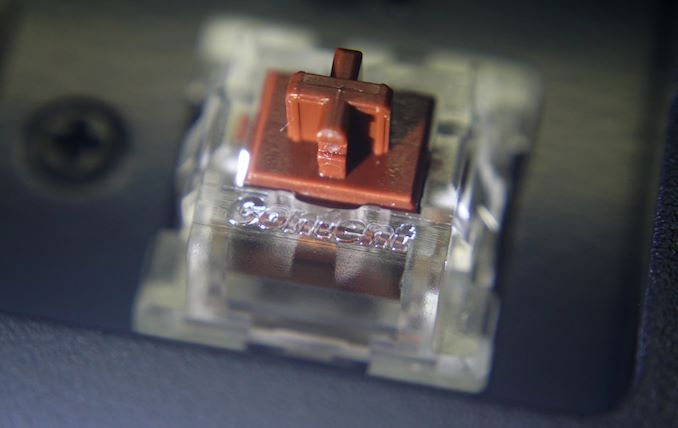 Velocifire's VM02WS currently retails for $60, a competitive price for a wireless mechanical keyboard. However, we suspect that its sales will be limited due to the user groups it is being aimed at. For gamers, it is not suitable for anything more than casual gaming due to the significant input lag and zero advanced features. The company never tried to approach gamers for a reason, instead focusing their efforts on, as their webpage declares, "Copywriters, Typists, Programmers" However, these users rarely actually need a wireless keyboard or they need a wireless keyboard that its battery can last for months; the market for wireless mechanical keyboards is still a niche market right now, and it's one that seems to be more aligned to consumers than professionals.
Ultimately, if you are the rare case of a professional who likes to lay back on a sofa and work, then the VM02WS may be just the product for you. But that is as far as the keyboard seems to be designed to go: it has a niche and it does it well, and that's pretty much it. So office users who don't need wireless connectivity won't stand to benefit from this keyboard for obvious reasons, and gamers and the like aren't going to come away satisfied from a professional-focused keyboard such as this.