ActiveArmor: nVidia Secure Networking Engine
nVidia's on-chip Gigabit Ethernet is a popular feature of the nForce3-250 chipset. This was combined with the hardware based nVidia Firewall on all but the basic 250 chipset. On-chip Gigabit Ethernet and the hardware firewall are still a significant part of the nForce4 chipset, and all of the nForce4 chipsets feature both. However, nVidia has expanded the Network Security features in the Ultra and SLI chipsets to provide further protection against network attacks.
The new network security features are called ActiveArmor, which are implemented as a dedicated hardware engine for the nVidia hardware Firewall.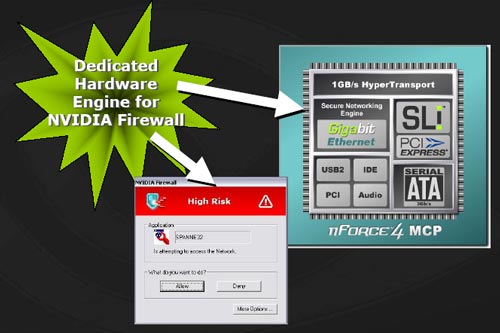 nVidia's ActiveArmor enhances nVidia Firewall performance in several ways to protect from network attacks:
Dedicated hardware engine enhances networking security while reducing CPU overhead
Specialized features defend against hacker attacks
User-friendly interface offers advanced management features
Supports new Microsoft TCP Chimney Architecture for fast and secure networking
A hardware solution was chosen instead of a software solution to minimize CPU utilization. Software firewalls and software firewall management can consume up to 75% of CPU overhead.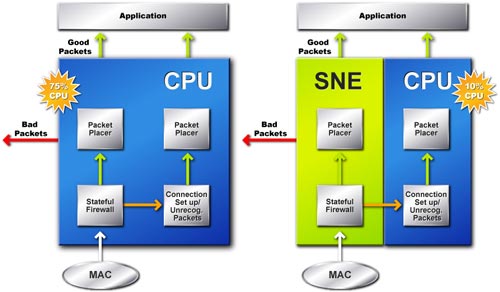 This compares to about 10% CPU overhead with the nVidia ActiveArmor hardware solution, which handles most of the network security management in the nForce4 chipset.