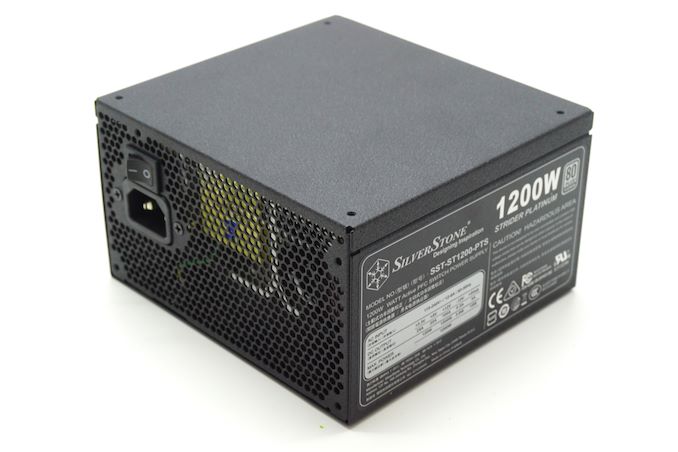 One of the many great outcomes of the general push towards small form factor (SFF) systems is that it has encouraged hardware developers to rethink size across all of their products. Does a video card really need to be longer than a sub sandwich? Does a laptop need to be two inches thick? Does a computer case need to be two feet tall? Sometimes the answer to those questions is still yes; but in other cases it turns out there's room for improvement – or rather, there is room to trim. And, as we're going to see today, this applies to power supplies as well.
SilverStone is a company known for their interest on the development and marketing of small system components, with their R&D department continuously releasing unique case designs and high-performance parts designed with reduced dimensions in mind. The company is also very active in the power supply unit (PSU) market, with a long track record and currently offering dozens of products. Their engineers are very experienced on the design and development of advanced PSUs, continuously setting new milestones, such as with the recent release of the 800W and 1000W SFX-L designs.
So perhaps it's only fitting that SilverStone has introduced one of the first 1200W power supplies that is actually ATX-compliant, in the form of the Strider Platinum ST1200-PTS.
Now, to be sure, there are plenty of 1200W power supplies on the market. However, technically none of these PSUs actually comply with the base ATX standard. ATX, the heart of the desktop computer as we know it, officially calls for power supplies to be 140mm in length. For practical purposes that requirement is frequently ignored in high-end builds – high-power PSUs have needed more space, and big cases have made sure to give them just that – but it none the less has a limiting effect on just what options are available for building a high-power system. Until recently, you couldn't have a high-capacity PSU in a case that didn't go beyond the ATX specifications.
SilverStone, with their Strider Platinum ST1200-PTS, is looking to change that. The latest addition to the company's PSU designs, it is the upgrade of the Platinum ST1200-PT that we received and reviewed last year. For the S(mall) version of the PSU, the company's engineers have reduced the length of the chassis by an astounding 40 mm – bringing it down to 140mm in length – allowing the 1200W PSU to fit into any ATX-compliant case.
Power specifications ( Rated @ 40 °C )
AC INPUT
100 - 240 VAC, 50 - 60 Hz
RAIL
+3.3V
+5V
+12V
+5Vsb
-12V
MAX OUTPUT
25A
22A
100A
3A
0,3A
120W
1200W
15W
3,6W
TOTAL
1200W
Packaging and Bundle
The new Strider Platinum ST1200-PTS PSU comes in an aesthetically simple but very functional cardboard box that is small enough to hint the dimensions of the included unit. It is a very sturdy box and additional foam layers provide excellent shipping protection. There are plenty of technical details and information printed on all sides of the box.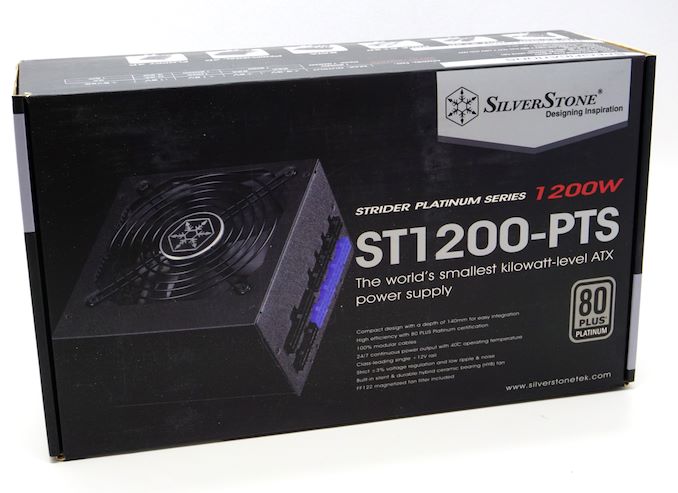 Inside the box we found a relatively rich bundle, consisting of a detailed user's manual, a thick AC power cable, black cable ties, a few short cable straps, a set of black mounting screws, a set of black thumbscrews, and a magnetic nylon fan filter. The fan filter is meant to protect the PSU from dust but it can be placed anywhere on the case if the PSU's compartment already features a filter.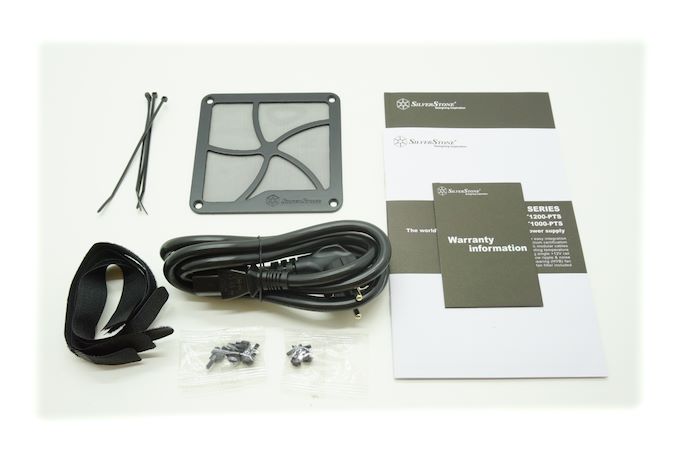 SilverStone is using flat "ribbon" type cables, made using all black wires and connectors. This includes the ATX cable and the CPU/PCI-E 12V connectors. The only exception at the blue connectors at the PSU side of the PCI Express power cables. The ATX cable is made of several smaller ribbons bundled and secured together, forming a sort-of round cable.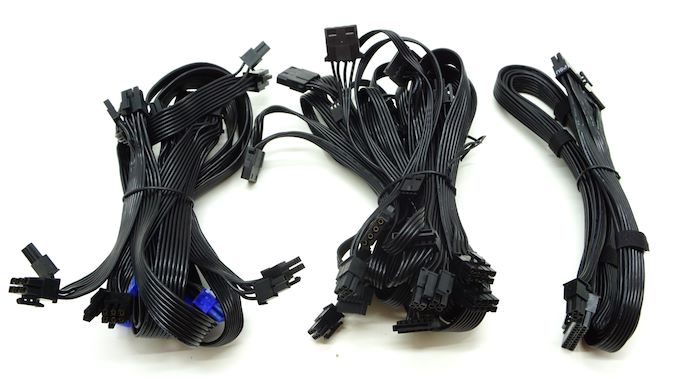 SilverStone ST1200-PTS
Connector type
Hardwired
Modular
ATX 24 Pin
-
1
EPS 4+4 Pin
-
2
EPS 8 Pin
-
-
PCI-E 6+2 Pin
-
8
PCI-E 8 Pin
-
-
SATA
-
8
Molex
-
6
Floppy
-
2