Installing the OS and Drivers
As a forewarning, this is not a replacement for the excellent
MythTV documentation
. We have only included our installation for completeness.
SuSE 9.1 has a blindly simple installation, so we won't really go over that here. We used all default options while installing; everything went very smoothly. Although you may run YAST now for the online update, remember to re-run it again later if you install any RPMs. This is particularly true if you install the
kernel-source
RPM after you have already updated your kernel to a different version. For the remainder of our article, we will use the
2.6.5-7.104-default
kernel.
Unfortunately - as we had somewhat expected - SuSE does not have very good support for Hauppauge hardware encoding PVRs. SuSE knows it's there; it just doesn't know what to do with it.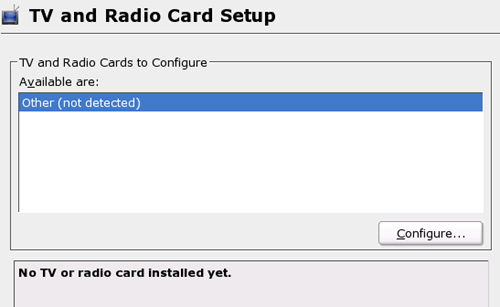 For us, the most painful part of the installation came when installing IvyTv, the open Linux drivers for iTVC15 found on the Hauppauge PVR-250. IvyTV (commonly called "ivtv") has a simple download page, and we opted for the 0.1.9 release found
here
. Since we will be compiling some kernel modules, we need to install the
kernel-source
package from YAST or via RPM. YAST solves all the dependency issues for us, so that is what we generally use.
Back in the ivtv driver directory, we go ahead and run
make
. If the Linux kernel source is installed correctly, within a few seconds, we should have working PVR kernel modules. We can attempt to load the card right now using the commands below:
# modprobe i2c-core
# modprobe i2c-algo-bit
# modprobe tuner type=2
# modprobe msp3400
# modprobe videodev
# modprobe saa7115
# modprobe ivtv