Integer Units, Load and Store
The integer unit schedulers can accept up to six micro-ops per cycle, which feed into the 224-entry reorder buffer (up from 192). The Integer unit technically has seven execution ports, comprised of four ALUs (arithmetic logic units) and three AGUs (address generation units).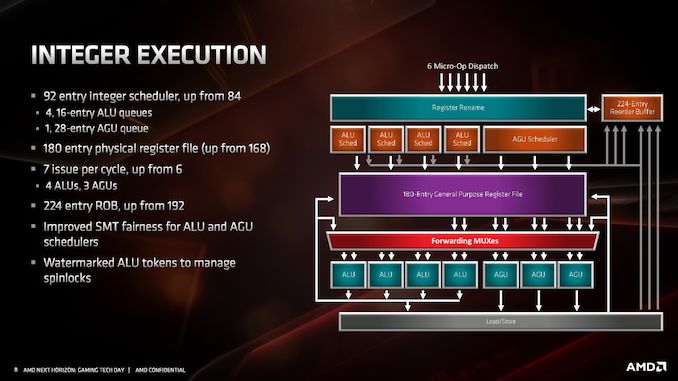 The schedulers comprise of four 16-entry ALU queues and one 28-entry AGU queue, although the AGU unit can feed 3 micro-ops per cycle into the register file. The AGU queue has increased in size based on AMD's simulations of instruction distributions in common software. These queues feed into the 180-entry general purpose register file (up from 168), but also keep track of specific ALU operations to prevent potential halting operations.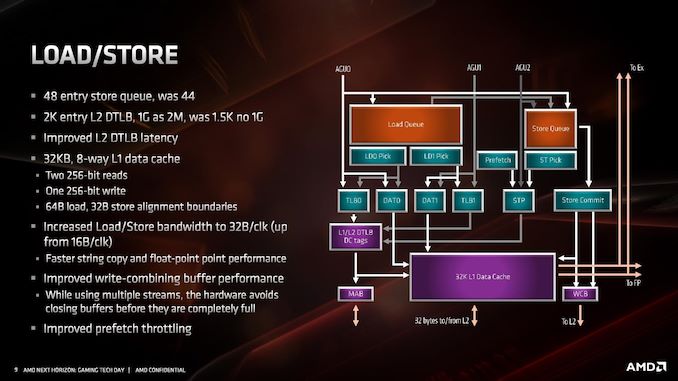 The three AGUs feed into the load/store unit that can support two 256-bit reads and one 256-bit write per cycle. Not all the three AGUs are equal, judging by the diagram above: AGU2 can only manage stores, whereas AGU0 and AGU1 can do both loads and stores.
The store queue has increased from 44 to 48 entries, and the TLBs for the data cache have also increased. The key metric here though is the load/store bandwidth, as the core can now support 32 bytes per clock, up from 16.