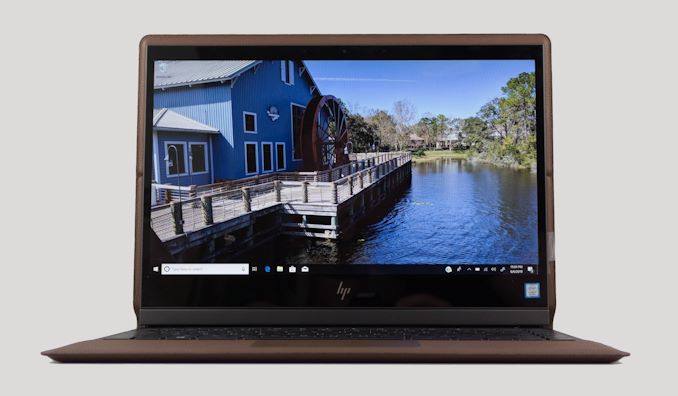 When HP announced the new Spectre Folio last October, it caused a stir. HP has been steadily providing some of the most stylish and exciting laptops on the market over the last couple of years, but the Spectre Folio takes the styling in an entirely new direction. For the first time ever, HP chose leather as a material for the entire laptop's exterior. The Folio also offers a somewhat unique take on the convertible as well, with a display that pivots to lie on top of the keyboard, and this, combined with the leather exterior, means HP's Spectre Folio stands apart from all other PCs on the market today.
Laptops have been primarily plastic or metal for decades. Plastic is cheaper, easy to mould, and durable. Metal offers better heat transfer, looks great, and generally feels great in the hand. Leather offers a different take. It's soft in the hand. It tends to be very durable, and over time can develop a nice patina, and although you may feel it's going to be less durable than a metal laptop, in reality any nicks and dings in the leather will likely blend in, whereas on metal they tend to stand out. Plus, it can be dyed various colors, and HP offers both a Cognac Brown and Bordeaux Burgundy color, both of which look amazing.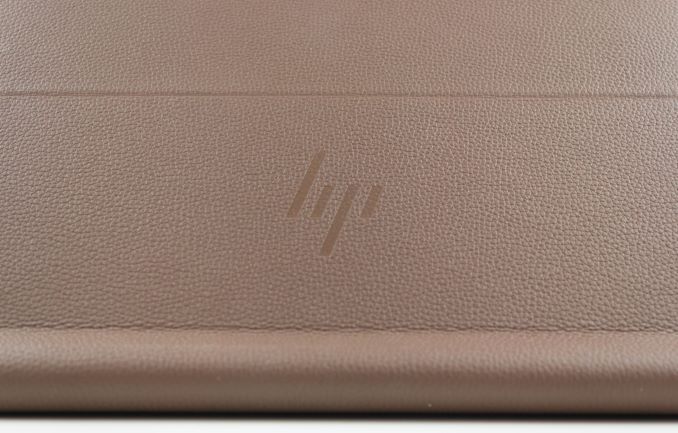 HP built the Spectre Folio to be fanless as well, which means they've chosen Intel's Y series of Core processors. Although these are the latest generation Core i5-8200Y or Core i7-8500Y, the 5-Watt TDP limits them to two cores and four threads, both of which are half of a typical U series 15-Watt processor found in most notebooks of this size. A mobile workstation this is not, and we'll dig into the performance later in the review. The laptop also ships with 8 or 16 GB of LPDDR3, and of course Intel's UHD 615 graphics. If you need lots of storage, HP ships with up to 2 TB of NVMe SSD, although you'll pay for that privilege.
HP Spectre Folio
Model Reviewed: Core i7 / 8 GB / 256 GB
Core i5
Core i7
CPU
Intel Core i5-8200Y
1.3-3.9 GHz
5W TDP
Intel Core i7-8500Y
1.5-4.2 GHz
5W TDP
RAM
8 to 16 GB LPDDR3-1866
Storage
256GB to 2TB NVMe SSD
Display
13.3" 1920x1080 IPS
Corning Gorilla Glass 4
3840x2160 IPS Optional
Wireless
Intel Dual Band Wireless-AC 8265 802.11ac Wi-Fi
Intel XMM 7560 LTE Advanced Pro optional
Audio
Bang & Olufsen quad-speakers
Keyboard
Full-size backlit
I/O
2 x Thunderbolt 3
1 x USB 3.1 Gen 1 Type-C
1 USB 3.1 Gen 2 Type-A (via included dongle)
Headset jack
Battery
54.28-Wh battery
65-Watt AC Adapter
Dimensions
12.6 x 9.23 x 0.60 inches
Weight
3.28 lbs
Ships with
Digital Pen
USB-C to A dongle
Prices
$1299.99 and up
The 13.3-inch notebook offers impressive expansion though, with two Thunderbolt 3 ports offering 40 Gb/s transfer rates, and a third USB Type-C port as well. It feels like we're at a point where moving completely to USB Type-C is not the burden it once was, but HP also ships the notebook with a Type-C to Type-A adapter for accessing older devices.
For all-day connectivity, HP offers the Intel Dual Band Wireless-AC 8265 network adapter, which is one of the best on the market. In fact it's likely only surpassed by the Intel 9260. HP also offers LTE integrated into the laptop with the Intel XMM 7560 modem. Pair those with the 55 Wh battery, and you've got a true all-day anywhere device.
HP also includes a stylus in the box, along with a pen holder you can stick on the laptop. It offers Windows Hello IR facial recognition, and Bang & Olufsen speakers. This is all excellent, but really, the key to this laptop is the leather design.