Battery Life
Battery life on the Pixel 3a XL should be good: The Snapdragon 670 SoC is manufactured on a 10LPP process node and the microarchitecture should be in line with the Snapdragon 845. In effect, I expect the unit to have similar efficiency as the S845 generation of flagships.
The battery capacity of the 3a XL is also relatively large: 3700mAh. It's to be noted that Google here is advertising the rated capacity, whilst some other vendors in the last few years have started to advertise the typical battery capacity, which can be 100-150mAh higher than the rated one. Props to Google to remaining honest in their marketing numbers here.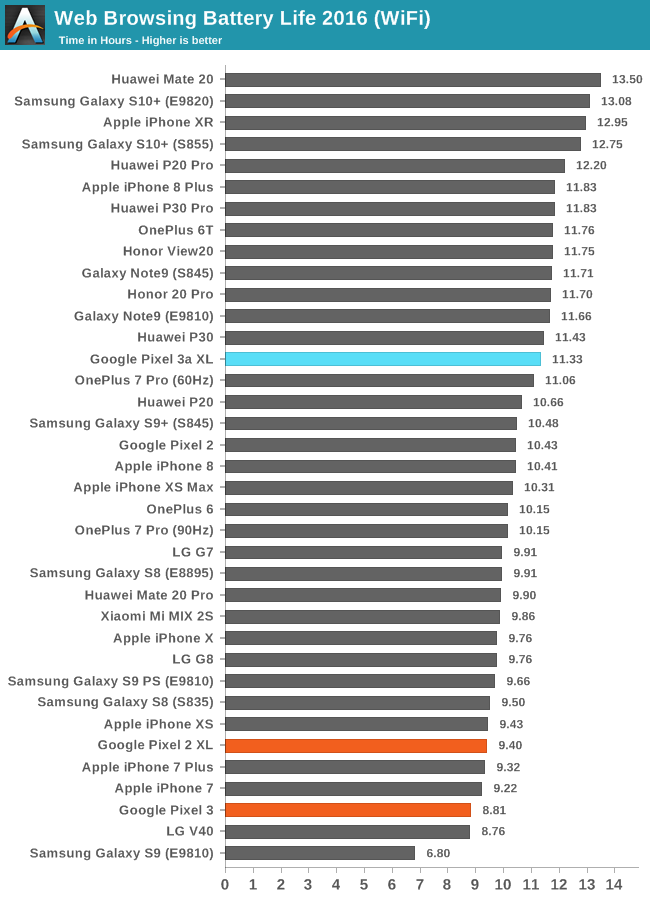 In the our web-browsing test, we indeed see the Pixel 3a XL perform extremely well with a result of 11.3h. As I mentioned, the phone falls very closely to the efficiency of S845 devices with similar battery capacity: the OnePlus 6T being the closest comparison point to the 3a XL.
The phone is able to showcase much better battery life over the Pixel 2 XL and the Pixel 3 in the charts because these two phones suffer from inefficient LG panels and DDICs. Unfortunately we don't have a Pixel 3 XL to compare to.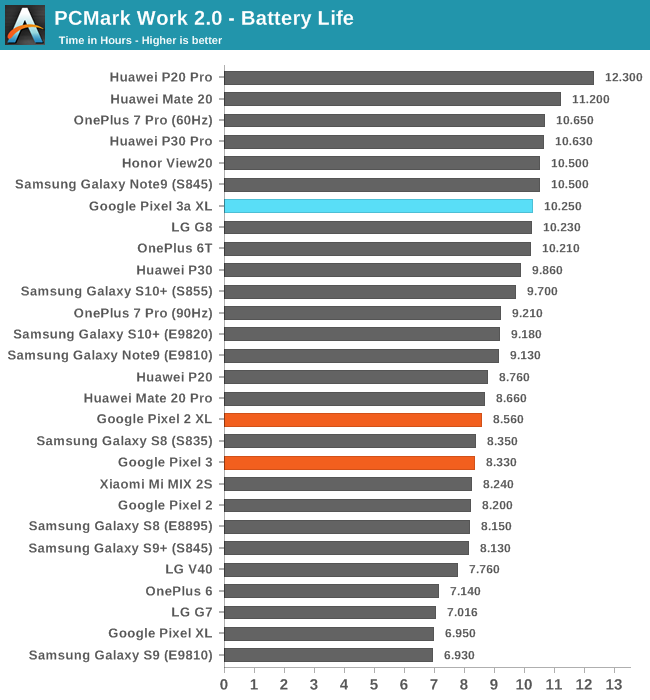 In PCMark we again see equality with S845 devices of similar capacity: Again the 3a XL falls in almost the same range as the OnePlus 6T here.
Overall, the battery life of the Pixel 3a XL is excellent. Google did well with opting not to go with LG for this line-up as I fear it would have resulted notably worse battery life results, and I hope the company does the same for the Pixel 4 phones.
Whilst we don't have a review unit at hand to test, we expect the regular Pixel 3a to perform 15-20% worse, in line with the 23% smaller battery capacity of 3000mAh.