CPU and Motherboard Alternatives
CPU: AMD Athlon XP 2500+ Retail (heatsink and fan)
Motherboard: ABIT NF7-S Rev.2 (nForce2 Ultra 400)
Price: CPU - $86 shipped. Motherboard - $91 shipped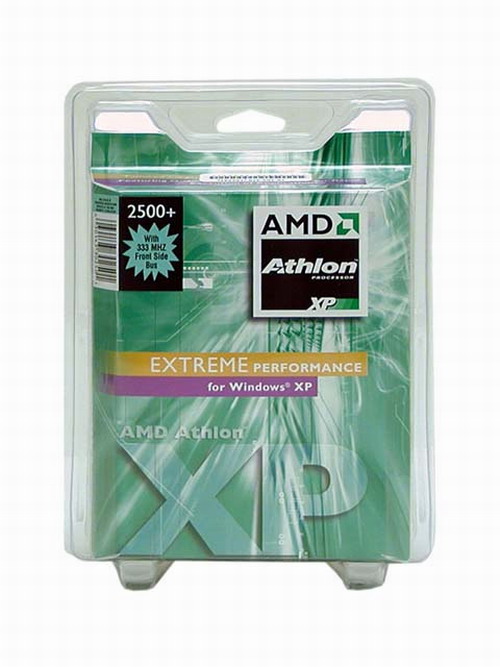 For an additional $29, you can purchase an Athlon XP 2500+, which runs at 1.83GHz on a 333MHz DDR FSB and comes with a 512K L2 cache, over the Athlon XP 2000+ that runs at 1.67GHz on a 266MHz DDR FSB and comes with just 256K L2 cache. So, in contrast to the Athlon XP 2000+, the 2500+ runs roughly 167MHz faster, comes with double the L2 cache, and has a FSB that is 67MHz faster. All this adds up to better performance that, depending on what applications are run, you may or may not notice. You will be receiving a better performing processor with the 2500+, but don't be surprised if the extra $29 doesn't net you a compellingly different experience compared to the 2000+. Gamers will probably benefit the most from the additions of clock speed, FSB and L2 cache increases with the 2500+, so keep that in mind.
There are other subtle differences between the Athlon XP 2000+ and the 2500+ that are worth noting here, like the 2500+'s higher Vcore (1.65V instead of 1.60V) and larger die size. The Athlon XP 2500+ is also quite an excellent overclocking CPU, and has been for months now, even though they are shipping multiplier locked these days. You may want to check out AMD's mobile version of the 2500+, details of which you can find
here
.
Also keep in mind that while Athlon 64 processors and motherboards have been widely available for many, many months now, they are still not priced cheaply enough to merit any type of recommendation in an entry level guide. They deserve plenty of recognition in a mid-range guide, however. Perhaps when enough Socket 939 processors permeate the market, the prices on Socket 754 Athlon 64 processors will fall around (and maybe below) the $100 mark, at which point, it would become appropriate to recommend them in an entry level guide. Also keep in mind that Sempron Socket A and Socket 754 processors are coming out in the near future; in fact, they're slowly trickling in now. We suggest that you read our take on Sempron
here
.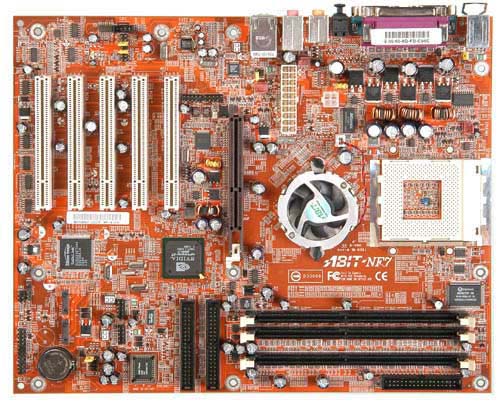 In a lot of ways, the ABIT NF7-S Rev.2 (also known as the ABIT AN7) is a beefier version of the ASUS A7N8X-X. This is primarily due to the NF7-S Rev.2's better feature set, which includes SPDIF, an MCP-T South Bridge for superior sound, and a dual channel DDR capable chipset in the nForce2 Ultra 400 (versus just the nForce2 400, non-Ultra, found on the A7N8X-X). Pushing SATA into the low end mainstream is very important for the development of that technology, too. Also, if you're at all interested in overclocking, the NF7-S Rev.2 is certainly the cream of the crop, along with perhaps the DFI NFII LAN Party series.
If you are still interested in what other motherboard alternatives are out there for entry level users, we suggest that you take a look at nForce2 Ultra 400 boards, which are shipping with features like native GbE, Firewall, and 4-drive RAID. These are the same features found on nForce3 250Gb motherboards. They are just starting to trickle into the market and they may just be in your price range.
Listed below is part of our RealTime pricing engine, which lists the lowest prices available on the Intel CPUs and motherboards from many different reputable vendors:
If you cannot find the lowest prices on the products that we've recommended on this page, it's because we don't list some of them in our RealTime pricing engine. Until we do, we suggest that you do an independent search online at the various vendors' web sites. Just pick and choose where you want to buy your products by looking for a vendor located under the "Vendor" heading.