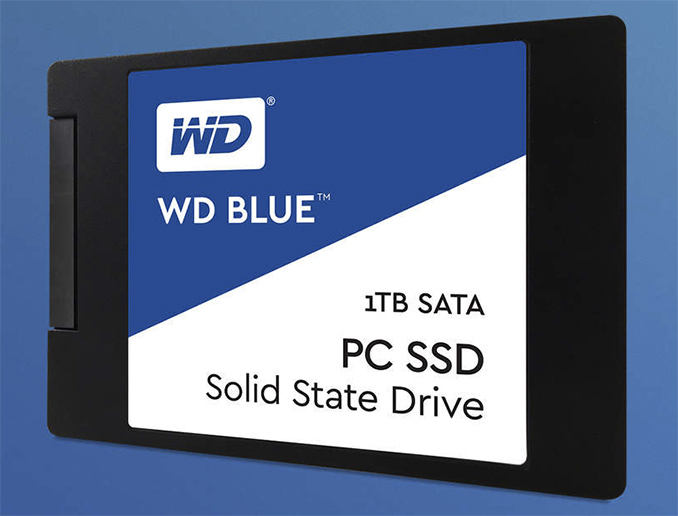 A number of Austrian retailers have recently begun to list Western Digital's as-yet-unannounced WD Blue 4 TB SSD. The drive features a SATA 6 Gbps interface and performance you can expect from such storage devices, yet if you need 4 TB of NAND flash storage in a 2.5-inch/7-mm form-factor, the WD Blue 4 TB SSD is one of a handful of options.
Originally launched in mid-2017, the WD Blue 3D NAND SATA SSDs are based on Marvell's 88SS1074 controller as well as WD/SanDisk's 64-layer 3D TLC NAND memory. When it comes to performance, the drives are rated for up to 560 MB/s sequential read speed and up to 532 MB/s sequential write speed (when pseudo-SLC cache is used), which is something that all advanced SATA SSDs offer these days. As for random reads and writes, we are looking at 95K IOPS and 84K IOPS, respectively, which is comparable to other mainstream SSDs with the same interface.
Initially available in 250 GB, 500 GB, 1 TB and 2 TB configurations, the 4 TB WD Blue 3D NAND SATA SSD (WDS400T2B0A) is now listed by multiple Austrian retailers, according to the Geizhals.at price search engine. The 4 TB drive is priced at €555 - €575, a high price, but consistent with the premium that top capacity SSDs normally carry.
Neither retailers nor Western Digital are disclosing when the WD Blue 4 TB SSD is set to become available (i.e., we do not know whether this is an EMEA-specific product or it will be available in other regions too), but stores typically don't list products until they're close to release. So we're expecting the drive to hit the market sooner rather than later.
While SSDs have made a great progress in terms of capacity in the recent years, 4 TB 2.5-inch/7mm consumer drives are still rare. For example, Samsung, the world's largest supplier of SSDs, offers only two 4 TB SATA models in its entire consumer lineup: the Samsung 860 Evo 4 TB featuring TLC NAND and the Samsung 860 QVO 4 TB featuring QLC NAND memory. So the addition of a 4 TB consumer drive from WD expands the number of options considerably.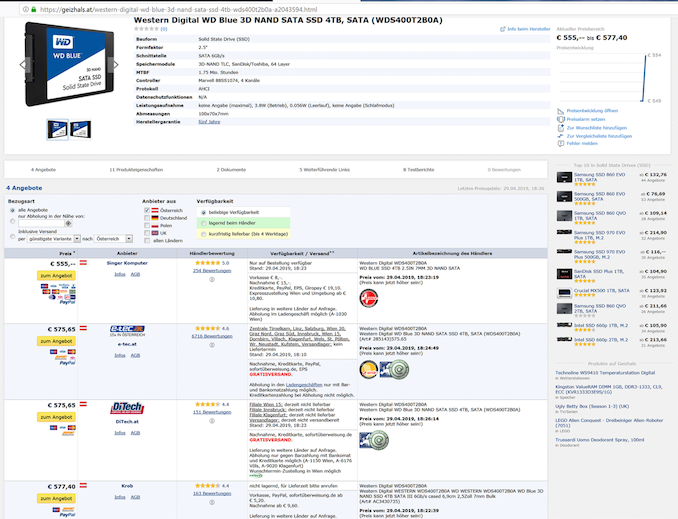 Related Reading:
Sources: ComputerBase.de, Geizhals.at