Intel's 9th Generation Core Mobile Processors: 45W H-Series
The 45W range of processors from Intel fits into the high-performance / prosumer niche of portable gaming laptops and workstations. These typically populate the 15.6-inch and 17.3-inch devices, going from a basic gaming system with a discrete graphics card all the way up to DTR, or DeskTop Replacement hardware, that takes the place of a full on desktop in a (insert non-committal gesture) mobile sort of form factor that weighs almost double digits in pounds.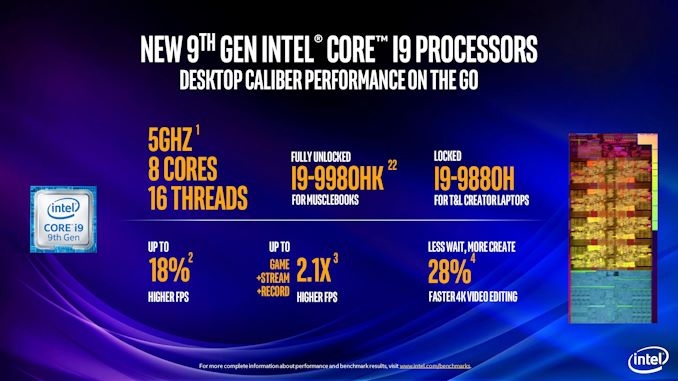 Intel has recently released some mobile processors into the market, such as Whiskey Lake at 15W on 8th Gen, but this is the first proper outing for high performance 9th Gen in a mobile form factor. At this point, we're not seeing a replacement for Kaby Lake-G, where Intel paired a H-series CPU with a Radeon GPU in the same package, so it will be interesting to see if that gets a refresh later this year.
Intel 9th Generation Core CPUs
Mobile 45W H-Series
AnandTech
Cores
Threads
Base
Freq
Turbo
Freq
L3
Cache
DDR4
OC
TDP
i9-9980
HK
8C / 16T
2.4 GHz
4.9 GHz*
16 MB
2666
Y
45 W
i9-9880
H
8C / 16T
2.3 GHz
4.7 GHz*
16 MB
2666
45 W
i7-9850
H
6C / 12T
2.6 GHz
4.6 GHz
12 MB
2666
ish
45 W
i7-9750
H
6C / 12T
2.6 GHz
4.5 GHz
12 MB
2666
45 W
i5-9400
H
4C / 8T
2.5 GHz
4.3 GHz
8 MB
2666
45 W
i5-9300
H
4C / 8T
2.4 GHz
4.1 GHz
8 MB
2666
45 W
* i9 CPUs support Intel Thermal Velocity Boost for +100 MHz Turbo
Enter the Musclebook: Intel is introducing the new 'Musclebook' name for the DTR equivalent devices. Ultimately these are likely to be paired with the high end Core i9 processors. Intel has two parts here, the 9980HK which allows for overclocking, and the 9880H. The 9880H equivalent is new to this processor stack, based on requests from Intel's partners that they wanted something 'as fast' as the top HK model, but not actually overclockable – it turns out that if you stick a HK in a system, users expect to be able to push it, and OEMs wanted equivalent performance without having to build in support for overclocking.
Both the 9980HK and 9880H supports Intel's Thermal Velocity Boost, giving an additional 100 MHz if the thermal performance of the hardware allows it. Again, Intel doesn't specify what requirements those are, of if manufacturers can ignore them, or if it's enabled by default etc. It could be somewhat misleading to include those values into the single core turbo frequencies, however with mobile platforms we've seen such a wide range in PL2 values set in hardware due to the form factor, there are a wide range of single core turbo frequencies that don't match up to the SKU list anyway – this is OEM and design dependent, so there isn't much fuss from us on this.
There are two Core i7 parts, with six cores and hyperthreading, and the Core i7-9750H supports 'Partial Overclocking'. In Intel terminology, this means that the CPU can be up to 400 MHz higher if the OEM sets it as such, allowing the CPU to turbo up to 5.0 GHz. That will be extremely device dependent, and given the way that most OEMs deliver their specification sheets, it will be interesting to see if any of them actually list if this is the case, or just take the 4.6 GHz and not tell anyone.
The two Core i3 parts bring up the rear, with four cores and hyperthreading. This means Intel still makes quad cores with hyperthreading, even though they have disappeared from the desktop product line.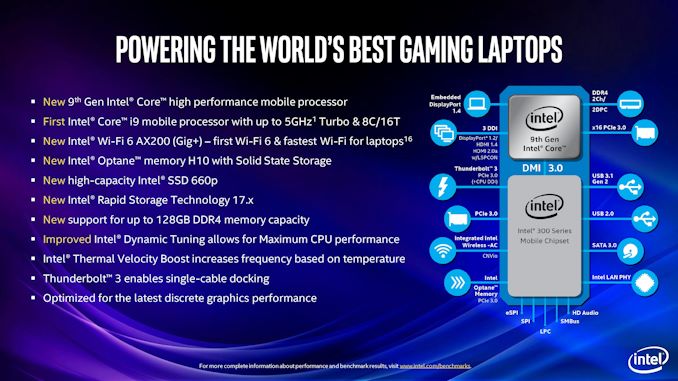 Given the tight integration of mobile chipsets into the products, expect to see a few new devices enabled with Intel's new AX200 Wi-Fi 6 card that was launched last week. The mobile chipsets are also listed as supporting Samsung's new 32 GB memory modules, so we will likely see some high-end 'Musclebooks'/DTR replacements using those, at extreme cost to the user. Intel is again stating Optane storage support on these devices, as well as TB3 support when additional controllers are included.
With the annual Computex trade show around the corner (last week of May), we're expecting to see a smorgasbord of devices being offered with the new H-series parts: both refreshes of old models and perhaps some new ones in the mix. Stay tuned for our coverage from the show.