Colorful CVN X570 Gaming Pro V14
While not usually a brand found regularly in the western parts of the world, we saw an X570 model from Colorful, or as they are sometimes referred to, iGame. The Colorful CVN X570 Gaming Pro V14 is a little bit of a mouthful to say, but it has a modest feature set onboard with a Realtek Gigabit NIC, two USB 3.1 G2 ports on the rear panel, as well as two PCIe 4.0 M.2 slots. It's aesthetic is quite clean looking with a black and silver design, with a red accented X570 chipset heatsink fan. The CVN series is inspired by militaristic warfare with previous models from iGame taking its design from US Naval aircraft carriers; this is signified by the fighter jet graphics on the boards PCB.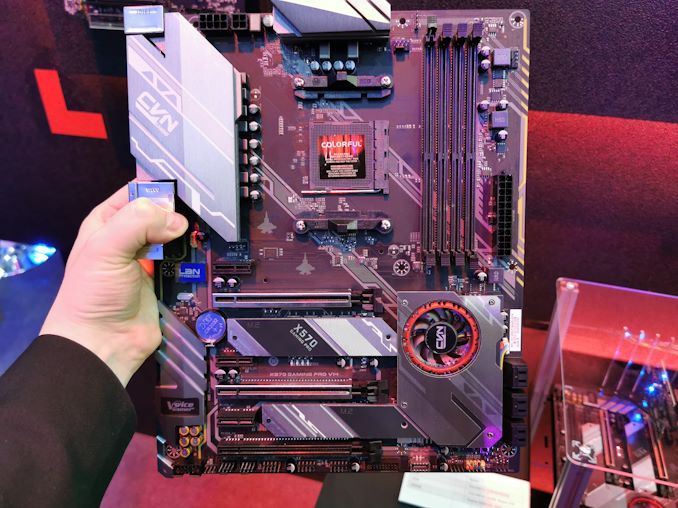 In the top right-hand corner of the board are four memory slots with support for up to DDR4-3466 memory which pails in comparison to the current compatibility from other vendors, even on the cheaper section of the product stack. There are three full-length PCIe 4.0 slots which operate at x16, x8/x8, and x8/x8/x4; this means two-way NVIDIA SLI and up to three-way AMD CrossFire is supported. On top of that are two PCIe 4.0 x1 slots, while sandwiched between these are two PCIe 4.0 x4 M.2 slots, each with its own heatsink attached. Also included are six SATA ports with support for RAID 0, 1 and 10 arrays.

On the rear panel is a single USB 3.1 G2 Type-A, a single USB 3.1 G2 Type-C, four USB 3.1 G1 Type-A and two USB 2.0 ports. Also featured is a HDMI and DisplayPort pairing of video outputs are present which allows users to use the integrated Vega graphics cores of the Ryzen APUs, while the boards six 3.5 mm audio jacks are powered by an ageing Realtek ALC1150 HD audio codec; not seen one of these used for a very long time on a consumer chipset. The CVN X570 Gaming Pro V14's NIC of choice is the Realtek RTL8118AS Gigabit controller which controls the single Ethernet port on the rear panel.
The Colorful CVN X570 Gaming Pro V14 pricing and availability is currently unknown, but we will update once we receive this information. It does feature an interesting controller set, especially the inclusion of an older Realtek ALC1150 HD codec, which would probably make this model one of the cheapest X570 boards around; one would assume. There is support for two-way NVIDIA SLI and the two PCIe 4.0 x4 M.2 slots do include heatsinks but is let down again by the lacklustre memory support (DDR4-3466).