Crucial Ballistix PC3200
Crucial recently introduced their Ballistix line of memory, a name they will use for memory aimed at the Enthusiast market. This is Crucial's first foray into this specialty market, and their first offerings are these DDR400 2-2-2 and DDR2 667. Ballistix is intended to compete with the best from Corsair, OCZ and other Enthusiast memory manufacturers. Kingston, another memory giant, has a similar Enthusiast line, which they call HyperX. Crucial supplies Ballistix PC3200 in both 256MB and 512MB DIMMs. While we had both DIMMs for testing, we used the 512MB DIMMs for comparison testing.
Test DIMMs were a pair of Crucial Ballistix PC3200 512MB modules.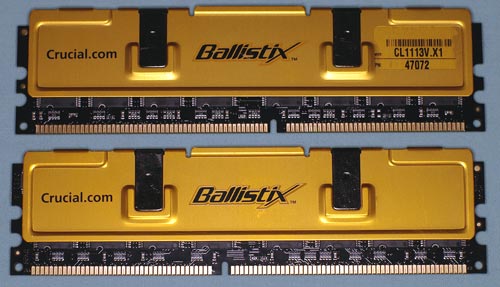 Crucial uses distinctive orange-gold Ballistix aluminum heatspreaders with black lettering. Some will love the stand-out color of Ballistix modules, while others will hate them. Let's just say that they stand out from the crowd. At first, we assumed that the Ballistix were also using Samsung chips, but after testing, we realized from the performance data that these were likely a different memory chip. Crucial told us that their new Ballistix 3200 was based on Micron chips, and not the Samsung chips that others in this roundup are using.
We confirmed that Crucial is indeed using a new Micron "G" die chip for Ballistix 3200. This is the first time that we have seen this die in a production memory, but we have seen the "C" die version of this same memory chip in the excellent OCZ 3500EB and 3700EB. Since EB has also shown excellent performance and timings to over DDR500, it is no real surprise to see Crucial using a later version of the same chip in their Ballistix 3200.
Crucial Ballistix PC3200 Specifications
 Crucial Ballistix PC3200 Memory Specifications
Number of DIMMs & Banks
2 DS
DIMM Size
Total Memory
512 MB
1 GB
Rated Timings
2-2-2 at DDR400
SPD (Auto) Timings
2-2-2-8
Rated Voltage
2.8V
As seen with the other very high speed DDR400 in this roundup, Crucial rates the Ballistix at a very high 2.8V. 2.8V is higher than the 2.5V to 2.6V that is standard for memory on most motherboards, but it should be available on most of the high-end boards that would likely be used with this memory. You should check your specifications to make sure that you can support the voltage needs of the new PC3200 modules. We should also mention that we had no problem whatsoever at DDR400 with 2-2-2 memory timings and a stock 2.5V memory voltage, so this may or may not be an important issue with your Ballistix PC3200.