Abit AV8: Features and Layout
 Abit AV8 Motherboard Specifications
CPU Interface
Socket 939 Athlon 64
Chipset
VIA K8T800 PRO/VT8237
Bus Speeds
200MHz to 336MHz (in 1MHz increments)
CPU Ratios
4x - 25x in 1x increments
PCI/AGP Speeds
CPU:AGP:PCI - Fixed, 6:2:1, 7:2:1, 8:2:1
HyperTransport
Auto, 200MHz to 1GHz (1x-5x)
Core Voltage
1.50V to 1.85V in 0.025V increments
DRAM Voltage
2.50V to 2.8V in 0.05V increments
AGP Voltage
1.50V - 1.65V in 0.05V increments
NB (Northbridge) Voltage
1.50V - 1.65V in 0.05V increments
SB (Southbridge) Voltage
2.50V - 2.65V in 0.05V increments
HT (HyperTransport) Voltage
1.20V - 1.40V in 0.05V increments
Memory Slots
Four 184-pin DDR DIMM Slots
Dual-Channel Unbuffered Memory to 4GB
Expansion Slots
1 AGP 8X Slot
5 PCI Slots
Onboard SATA/IDE RAID
2 SATA 150 drives by VIA VT8237
Can be combined in RAID 0, 1, JBOD
Onboard IDE
Two Standard VIA ATA133/100/66 (4 drives)
Onboard USB 2.0/IEEE-1394
8 USB 2.0 ports supported by VIA VT8237
3 IEEE 1394 FireWire Ports
Onboard LAN
Gigabit Ethernet by VIA VT6122 PCI
Onboard Audio
Realtek ALC658
6-Channel with SPDIF
Tested BIOS
1.3
The AV8 is Abit's flagship board for the Athlon 64, and you can certainly see this reflected in the features lavished on the AV8. Compared to the 754 version that we recently tested, Abit includes 3 Firewire ports on the AV8. True to their tradition as an overclocker's board, Abit has not included additional RAID, IDE or SATA controllers on the AV8. However, you will find that the VIA SATA RAID in the VT8237 Southbridge is fully supported. Abit has also used VIA chips for Firewire and LAN, but the VIA LAN is PCI-based and not on-chip as we see featured on the nVidia nF3-250 boards.
The overclocking controls are typically Abit in that they are a wonderful selection of voltages and frequencies to get the most from the K8T800 PRO and the Athlon 64. Particularly notable are the voltage adjustments for the Northbridge, Southbridge, and chipset - in addition to the expected voltage adjustments. The only surprise here is memory voltage, which is somewhat limited to 2.8V in BIOS. The latest version of uGuru (2.11) does not offer any additional vDIMM adjustments, so you are left with a top voltage of 2.8, which is limited for a board geared toward overclockers. We first tested uGuru in our review of the Abit KV8 Max3, and it continues to evolve as a very useful tool for the overclocker.
The first thing that we looked for was a working PCI/AGP lock, and we are pleased to report that the AV8 fully supports the AGP/PCI lock and a full range of ratios for overclocking the 939 processors. This is important because all Athlon 64 processors are unlocked downward, a side-effect of AMD Cool'n'Quiet technology. This means that any Athlon 64 can be set to lower CPU multipliers and higher frequencies to get the most out of high-speed memory. In addition, the Athlon 64 FX chips are completely unlocked, so both higher and lower ratios can be selected.
The Abit AV8 actually runs at 204 speed when the frequency is set to default, but we were able to force a 200 CPU frequency in BIOS for testing. All of the recent Abit boards that we have tested have been set to 204 at default, so be cautious in comparing review results unless the reviewer corrected the CPU frequency in testing an Abit motherboard.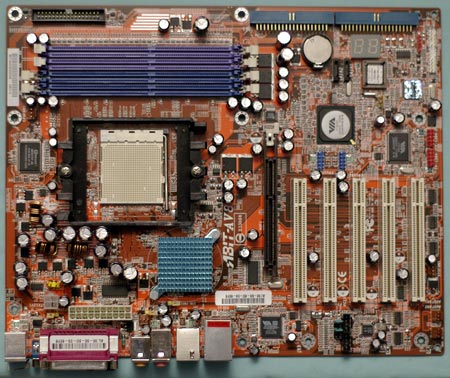 Abit uses flat edge connectors for IDE connections, which does a very good job of removing any interference from the bulky IDE cables. We like the edge connectors, but some case designs make it very difficult to connect the edge-connectors. The bulky 20-pin ATX and 4-pin 12V connectors are both between the CPU and the back panel I/O ports, which makes routing the 20-pin ATX without blocking air flow a challenge in most case designs. Abit included the 2-digit diagnostic LEDs, which can be very useful for troubleshooting.