Results
As you will see in our upcoming roundups, Asus has been very successful in working around the problems with the Intel Overclock lock on the 925X/915 chipsets. Abit employs similar techniques in their workaround with similar success, but Abit still tops out at about 260 with our SATA hard drive.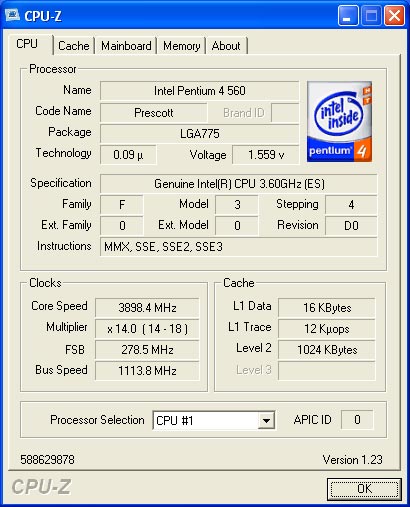 This screen capture of an Asus P5AD2 was made on the same core test bed used in our DDR2 memory roundup. We are using Asus BIOS version 1.05 Beta 2, but we have found that any BIOS version 1.04 or above will provide the same potential performance. CPU voltage is default 1.3875V, DDR2 memory voltage is 2.0V, and termination voltage is set to 1.2V. The video card for this screen capture is the ATI X800 XT, since any of the nVidia PCIe cards that we tested topped out at 250 -260 CPU clock.
We were finally able to determine the limit of our DDR2 memory in the unlocked Asus P5AD2. We were able to reach DDR2 733 with the just released Corsair DDR2 667 and the just-released Crucial Ballistix DDR2 667 memory. We also found that DDR2 667 branded memory, based on specially selected DDR2 533 memory chips, does indeed perform better above DDR2 683 than the DDR2 533 labeled DIMMs. DDR2 voltage was 2.0V. The DDR2 memory that we tested could not run at stock Intel settings (3:4) above DDR2 733, and the top screen capture at 278 uses a lower ratio for memory.
It should be clear by now that the simple explanations for the Overclock lock, which are circulating on the web as facts, are, at best, half-truths. To effectively reach the performance limits of DDR2 memory and current Socket 775 Prescotts on the 925X/915 requires manipulation of the PCI Express frequency at boot and the link frequency for the chipset. While increases in voltage to the chipset will allow for higher overclocks, this method does not solve the main problem of controlling PCIe/link frequencies to levels that are usable in the overclocked machine.