System Performance
The Lenovo ThinkPad A285 comes with the AMD Ryzen 5 Pro 2500U processor, which offers four cores, eight threads, and a base/boost frequency of 2.0 GHz / 3.6 GHz. It's 200 MHz less than the 2700U model on both the base and boost frequency. AMD only supports DDR4 RAM – neither LPDDR3 or LPDDR4 are supported – and as such Lenovo offers 8 GB of DDR4 in a dual-channel configuration, but with no upgrade options available on the US website. It would be nice to see a 16 GB offering, but for office tasks, 8 GB should suffice. The storage offerings are 256 or 512 GB SSDs.
The big difference between the Ryzen 5 and Ryzen 7 APUs is in the GPU, where Ryzen 7 gets Vega 10, and Ryzen 5 loses two GPU cores and some clockspeed headroom, giving us Vega 8.
To compare performance, the ThinkPad A285 was run through our standard testing suite, and comparisons are of other similar devices. Of note, the Acer Swift 3 that we tested has the Ryzen 7 2700U, and just in case you're wondering how the A285 stacks up against an older dual-core laptop, we've also included the ThinkPad X1 Yoga from a couple of years ago, with the Core i7-6500U. If you'd like to compare the Thinkpad A285 to any other device we've tested, please check out our online bench.
PCMark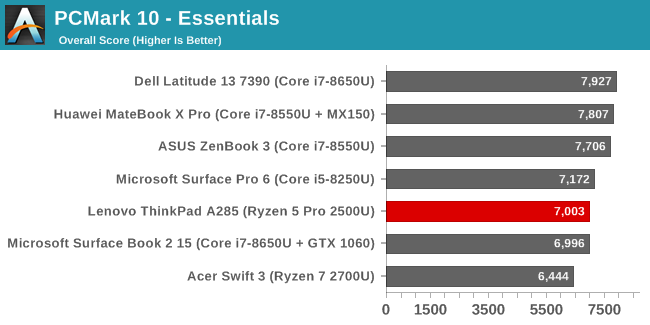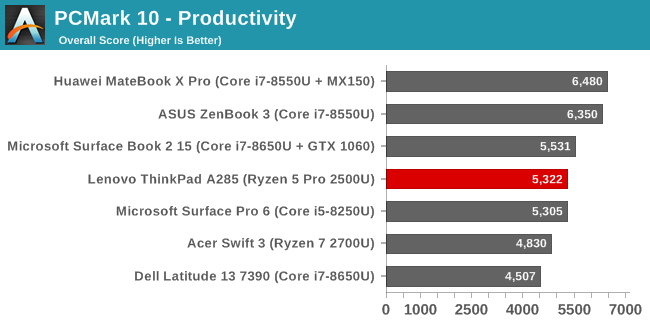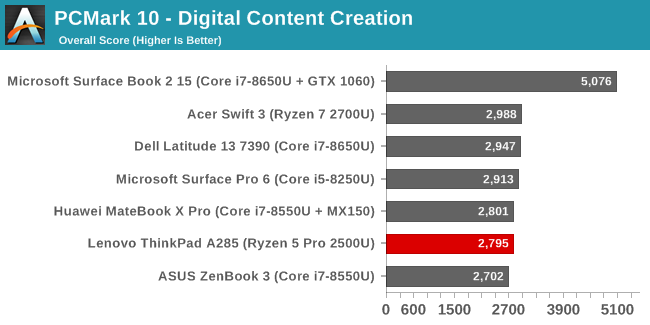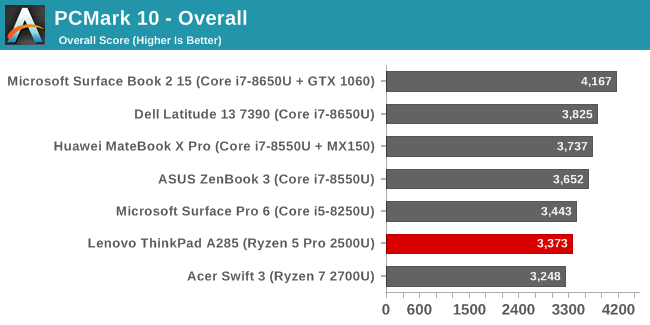 UL Benchmark's PCMark 10 is the latest version of their industry standard set of tests, updated for Windows 10 with new workloads. It tests a wide range of tasks from productivity to digital media creation.
The ThinkPad A285 is middle of the pack, especially in the productivity results. The Ryzen 5 Pro holds its own here, and if compared to the only Core i5 device in the list, the Surface Pro 6, it is generally neck and neck with it.
Cinebench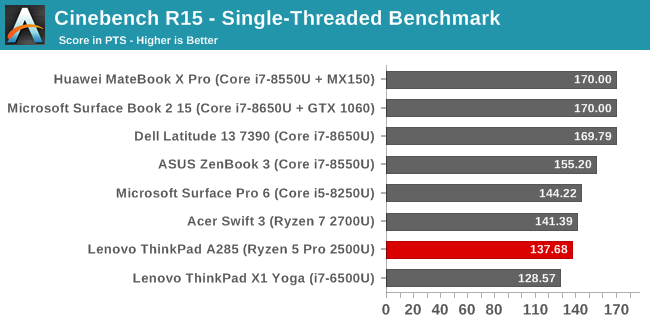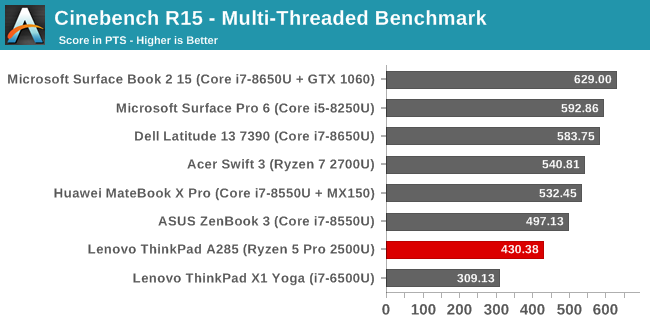 Cinebench is a purely CPU test, and it can be run as both a single-threaded or multi-threaded workload, which makes it a nice way to take a quick look at the single-threaded performance of a modern CPU, and how well that performance scales to multiple cores and threads. AMD's single-threaded performance is not quite up to par with the fastest Core i7 models, and the Ryzen 5 Pro in the ThinkPad A285 is near the bottom in both results. With just a 200 Mhz deficit to the Ryzen 7 2700U in the Acer Swift 3, it is just barely behind it in the single-threaded test, but on the mult-threaded variant it falls farther behind.
x264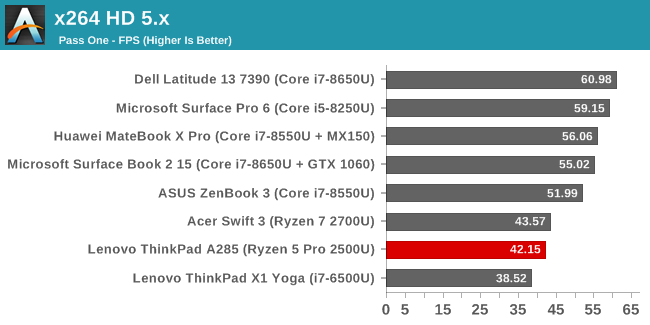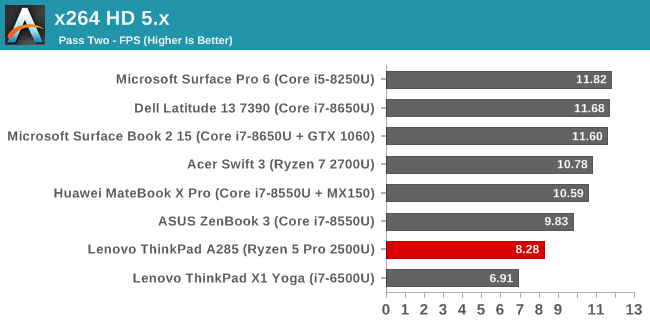 Another CPU test is x264, which converts a 1080p video using the x264 codec, and like Cinebench it loves lots of cores and high frequencies. The Thinkpad A285 is at the bottom of this result compared to other modern devices, but with the extra threads and cores, it is well above the Skylake powered ThinkPad X1 Yoga.
Web Tests
Web tests are important because clearly the web is a fundamental part of computing now, but it's also difficult to compare devices due to the sizeable impact the browser's scripting and rendering engines can have. Browsers continue to get updated as well, so our results are a snapshot in time.
For all of our testing, we leverage Microsoft Edge to keep that part of the equation normalized as much as possible, although Edge is updated with every feature update of Windows as well.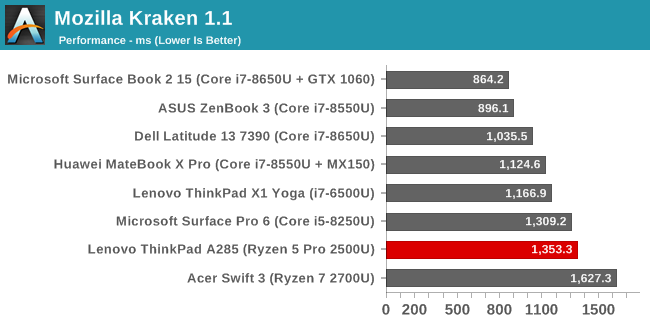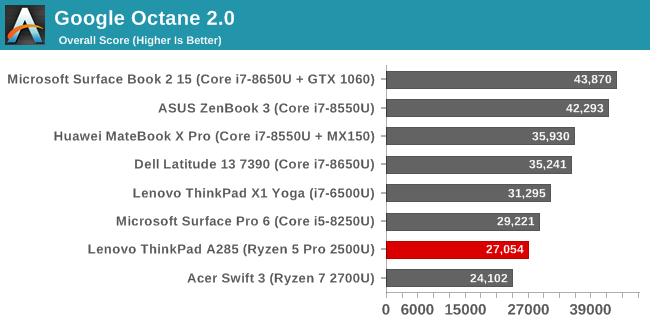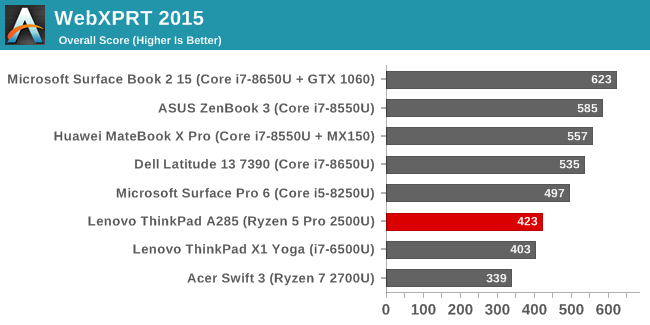 With just a 3.6 Ghz boost frequency, the Ryzen 5 Pro can't quite match the Intel devices on any of our web tests, and Intel has worked hard to improve its frequency ramp-up speed as well which pays dividends here where workloads tend to be short. It's very interesting to see just how far the performance has come since we tested the Ryzen 7 2700U in the Acer Swift 3 though, with the slower Ryzen 5 Pro in the ThinkPad A285 trouncing it.
Storage Performance
Lenovo offers both a 256 and 512 GB SSD in the A285, and the review unit ships with the larger one, which will have better performance than the smaller version.
The SSD in the laptop is Lenovo-branded LENSE30512GMSP34MEAT3TA, which appears to have been produced by fellow Chinese firm Ramaxel. Since SSDs tend to be mult-sourced these days, there's no guarantee this will be in every unit shipped.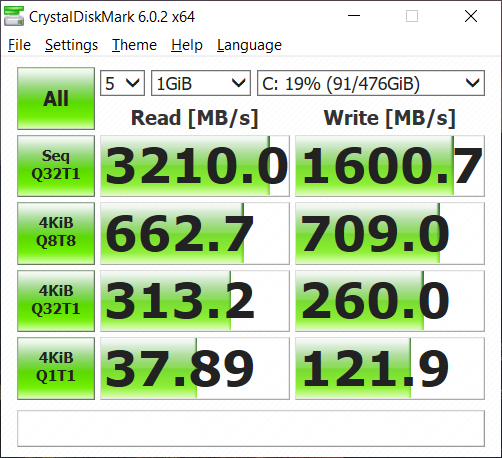 This is an NVMe drive though, and as such offers great read speeds capping out the x4 PCIe interface. Write speeds are much lower thanks to the NAND which is almost certainly TLC.
Overall, despite this SSD not being a well-known model, the performance is still more than adequate for office tasks.