As it is no secret, Athlon XP officially dies Q2, 2005. This time next year there will be no more Bartons or Thoroughbreds to whet your Socket A palette. However; Socket A looks to be here to stay for quite some time. In the US, Europe and parts of Asia we are constantly spoiled with the newest of the new CPUs, memory and motherboards. But the most prolific processors in the ROW market (Rest of World) remains the discontinued Duron! According to AMD sales data, the Athlon XP and Athlon 64 sales are still eclipsed by those ever ticking 1.6 and 1.8 GHz Durons in South American markets.
So perhaps for AMD the solution is not to simply phase out all of Athlon XP, Duron and Socket A, but build a new processor that mildly bridges the lower Western markets with the Rest of the World. Enter Sempron.
Sempron is described by AMD as derived from the word Semper (Latin for "always"); strong, though, robust. Maybe the derivation from a Latin word suggests strong long term marketing for South American markets? "Siempre" in Spanish means "always". In Portuguese, the official language of Brazil, the word "always" translates even better to the word "Sempre". We would like to think AMD is clever enough to not just warrant the naming as a coincidence. As you may have guessed by now, the introduction of Sempron does not bring any major speed increases for the next 12 months, even though we will see no less than seven new processors branded as Sempron before this time next year.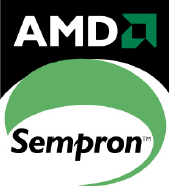 Now onto the dirty details about the processor: Sempron won't have 64-bit capabilities. Sempron won't support No eXecute instructions. Sempron only has 256K of L2 cache, and Sempron runs at 62W. The processor will be primarily targeted at Socket A platforms, but will also show up on Socket 754 at launch. It appears some OEM channels will have Semprons for Socket 939 by this time next year as well. Obviously the memory controller will be integrated on the Socket 754 and Socket 939 versions of the processor. Although the Sempron will have twice the cache of a Duron, judging by the naming of the new processors the clock speed appears moderately low (particularly with such high power consumption requirements).
For those of you who can't wait for the mid August launch of the processor, here is the upcoming roadmap as described by AMD. AMD claims the Sempron will coincide with Celeron naming, but does not give exact names in the newest roadmap. Check our old roadmap for details.
AMD Sempron Roadmap
Processor
Socket
Launch Date
Initial Price
Sempron 3500+
Socket 939
Q1'05
N/A
Sempron 3400+
Socket 754
Q2'05
N/A
Sempron 3200+
Socket 939
Q1'05
N/A
Sempron 3100+
Socket 754
August
$124
Sempron 2800+
Socket A
August
$103
Sempron 2600+
Socket A
August
$79
Sempron 2500+
Socket A
August
$69