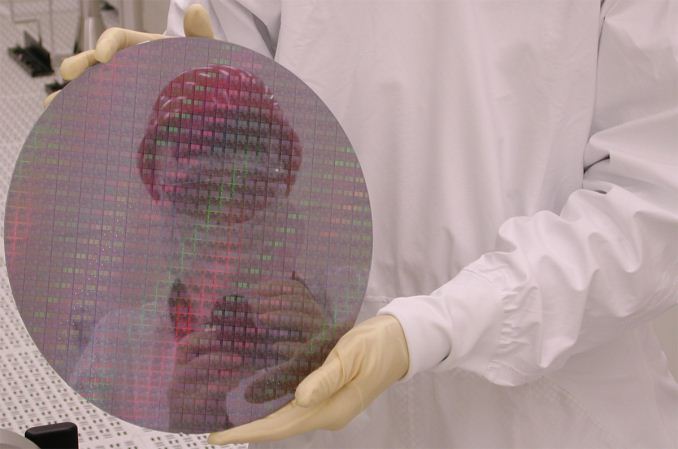 Bob Swan, Intel's CFO and interim CEO, on Friday issued an open letter to the company's customers and partners addressing tight supply of some of the company's products. The high-ranking executive admitted the issue and outlined the set of actions Intel is taking to tackle the problem.
The head of Intel noted that demand for the company's chips for PCs and servers has been significantly exceeding expectations throughout 2018. In the first half of 2018 the company's datacenter business grew 23% year-over-year, whereas Intel's cloud business grew 43% YoY. Besides, demand for client PCs also grew in the second quarter, increasing demand for Intel's products. As a result, the company upped its revenue forecast for the year by $4.5 billion in July.
The improved demand for processors has naturally increased pressure on Intel's factory network, particularly because the company faced amplified demand for its high profile products, such as the Intel Xeon line, Core i9, or more recently as the modem in Apple's latest iPhone launch.
From a manufacturing perspective, it is naturally more difficult to produce large dies for servers with up to 28 cores, because they physically larger than dual-core or quad-core chips for client PCs. On a given wafer, you can fit more smaller CPUs than a few big ones. Also, the number of wafers a fab can process per month is limited. To make things harder, the company's enthusiast-class client CPUs now also feature more cores than the first generation 14nm parts, so they are eating more wafer space (i.e., fab capacity) than they did a year ago.
In short, as a result of the market growth, physical increase of die sizes, and Intel's capacity allocation, demand for Intel's processors exceeded the number of wafers it can process at some point.
As a result, Intel had to prioritize production of its high-margin large-die Core and Xeon processors over other products in the recent months, which is why supply of entry-level products made using 14 nm process technology is tight right now. In particular, the company had to develop 22-nm new version of its H310C chipset in a bid to free up its 14 nm capacity, according to Tom's Hardware.
Despite Intel's reassurances, there is a tight supply of even Intel's Xeon processors, not just the company's entry-level CPUs or chipsets. In particular, we have seen stories claiming that its enterprise customers report concerns about supply, with HPE allegedly going to the extent of recommending AMD to fill stop-gaps.
In a bid to increase production of its 14-nm chips the company is investing an additional $1 billion in its manufacturing sites in Oregon, Arizona, Ireland, and Israel that produce chips using on said node. Intel originally planned to spend $14 billion in CapEx this year, but then allocated another billion to boost production capacity of its 14 nm fabs. Intel naturally does not detail how it plans to upgrade the facilities, but $1 billion can buy you many step-and-scan systems to process wafers. One thing to note here is that fab investment is usually on the scale of months, so any investment now is unlikely to increase fab throughput until end of Q1 next year.
In addition to installing new/additional scanners to produce more chips using its 14 nm manufacturing technologies, Intel continues to invest in its 10 nm fabrication process and appropriate capacities. 10 nm yields are improving and Intel expects its next-gen CPUs to be in volume production in 2019. Meanwhile, some of the capacities used to fab chips using Intel's 14 nm technology today will be used to process wafers using its 10 nm tech next year (e.g., we believe that Intel's Fab 28 in Israel can be used to make both 14 nm and 10 nm chips). Therefore, to increase its global output of CPUs when its 10 nm capacities come online next year, Intel will have to ensure that its yields are high enough and its die sizes are low enough.
Intel deserves credit for being open about the ongoing short supply issues, though it is evident that the company simply could not ignore multiple reports about shortages, some of which were inaccurate. The chipmaker did acknowledge the issue and outlined solutions. What remains to be seen now is how Intel plans to meet demand for its Whiskey Lake CPUs during the holiday season and how the short supply of its processors in general affects plans of PC makers for late 2018.
The full Intel news item is reposted below.
An Open Letter from Bob Swan, Intel CFO and Interim CEO

To our customers and partners,

The first half of this year showed remarkable growth for our industry. I want to take a moment to recap where we've been, offer our sincere thanks and acknowledge the work underway to support you with performance-leading Intel products to help you innovate.

First, the situation … The continued explosion of data and the need to process, store, analyze and share it is driving industry innovation and incredible demand for compute performance in the cloud, the network and the enterprise. In fact, our data-centric businesses grew 25 percent through June, and cloud revenue grew a whopping 43 percent in the first six months. The performance of our PC-centric business has been even more surprising. Together as an industry, our products are convincing buyers it's time to upgrade to a new PC. For example, second-quarter PC shipments grew globally for the first time in six years, according to Gartner. We now expect modest growth in the PC total addressable market (TAM) this year for the first time since 2011, driven by strong demand for gaming as well as commercial systems – a segment where you and your customers trust and count on Intel.

We are thrilled that in an increasingly competitive market, you keep choosing Intel. Thank you.

Now for the challenge… The surprising return to PC TAM growth has put pressure on our factory network. We're prioritizing the production of Intel® Xeon® and Intel® Core™ processors so that collectively we can serve the high-performance segments of the market. That said, supply is undoubtedly tight, particularly at the entry-level of the PC market. We continue to believe we will have at least the supply to meet the full-year revenue outlook we announced in July, which was $4.5 billion higher than our January expectations.

To address this challenge, we're taking the following actions:

We are investing a record $15 billion in capital expenditures in 2018, up approximately $1 billion from the beginning of the year. We're putting that $1 billion into our 14nm manufacturing sites in Oregon, Arizona, Ireland and Israel. This capital along with other efficiencies is increasing our supply to respond to your increased demand.
We're making progress with 10nm. Yields are improving and we continue to expect volume production in 2019.
We are taking a customer-first approach. We're working with your teams to align demand with available supply. You can expect us to stay close, listen, partner and keep you informed.

The actions we are taking have put us on a path of continuous improvement. At the end of the day, we want to help you make great products and deliver strong business results. Many of you have been longtime Intel customers and partners, and you have seen us at our best when we are solving problems.

Sincerely,

Bob Swan
Intel Corporation CFO and Interim CEO
Source: Intel