Supermicro is one of the powerhouses in the workstation and server industry with a wave of top quality professional grade motherboards in their product catalogue. While they aren't as widely known or available as other vendors in the desktop and consumer space, Supermicro did in fact release a pairing of motherboards on the 8th generation Z370 chipset with the C7Z370-CG-L which had an ATX form factor and the smaller mini-ITX C7Z370-CG-IW. On the new Z390 chipset Supermicro are released a total of four models onto the desktop market with each of them encompassing the same levels of focus and refinement that goes into their server grade options. Supermicro is calling this new Z390 range the 'SuperO' with some interesting takes on certain and key areas of interest to note.
These boards include a PCB composed of epoxy glass resin with TU-662/NP175 materials being used to form a much more efficient PCB than the cheaper FR4; the better the PCB, the less signal transmission that is lost overall. The SuperO range also uses 15-micron gold-plating on all of the slots and socket, not just the CPU and memory, but across all available areas. This is to improve the signal quality for a more efficient and stable signal; this includes the use of Japanese capacitors from companies which include Nippon Chemi-con which are some of the most widely accepted in the industry.
Supermicro C9Z390-PGW
Starting with the most comprehensive of the four Supermicro SuperO series motherboards, the C9Z390-PGW is the flagship and has some very notable and interesting features. The first of this is dual LAN which consists of an Intel I219V Gigabit controlled port with the second featuring a high-end Aquantia AQC107 10G LAN port; one of a small handful of Z390 boards to include 10 G. Secondly the design follows an industrial theme throughout with the design looking like a panel expected inside an American tank; this is as unique as say the Z390 Taichi, but in a different style without as much flair. The color scheme is comprised of an all-black PCB On the RGB front, Supermicro includes three different customizable lighting zones and offers expansion by a further two 12 V RGB headers.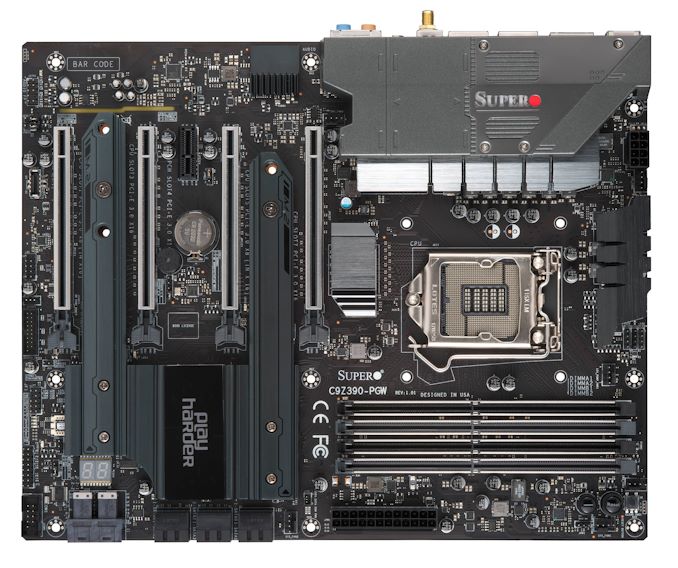 The other major inclusion comes in the form of a Broadcom PEX8747 48-lane multi-host PCIe switch. The benefits of including stretch across the whole of the PCIe area as the board includes four full-length PCIe 3.0 slots with metal slot protection which are set up to operate in two different configurations; NA/x16/NA/x16 or at x8/x8/x8/x8. This allows for 32 PCIe 3.0 lanes to be used even though the chipset supports a maximum of 24 meaning up to 4-way SLI multi-graphics card combinations can be utilized when money isn't really an issue or bandwidth was a constraint with PCIe based devices; the PEX8747 PLX chip is designed to alleviate these.
Power is important to enthusiasts and I'm not talking consumption, I'm talking raw power and the Supermicro C9Z390-PGW is the only board so far to advertise it's capability to support 140 W of TDP. The board disregards extra 12 V ATX CPU power inputs and focuses all of the power through a single 8-pin CPU power input. Cooling wise the C9Z390-PGW has a total of five 4-pin fan headers.
The storage capabilities stretch far and beyond the rest of the overall Z390 product stack with dual M.2 PCIe 3.0 x4 slots with very militaristic looking and a pairing of U.2 PCIe 3.0 x4 slots which do have support for RAID 0 and 1 arrays. The other storage based capability runs primarily off of the Z390 chipset with a total of six SATA ports with support for RAID 0, 1, 5 and 10 arrays. The C9Z390-PGW has four RAM slots with support for DDR4-4133 and has the capacity for up to 64 GB of system memory.

On the rear panel Supermicro includes four USB 3.1 Gen2 which is split into three Type-A and one Type-C; also present is two USB 3.0 Type-A ports. The C9Z390-PGW features two LAN ports with an Aquantia ACQ107 10 G ports with the other being controlled by an Intel I219V; the Intel I219V is featured on the majority of Z390 boards in some shape or form and seems to be the go-to 1 G Ethernet controller for vendors currently. The board also includes a PS/2 combo port, dual-band 802.11ac Wi-Fi and the onboard audio comprised of five 3.5 mm audio jacks and S/PDIF optical is controlled by a Realtek ALC1220 codec.
The Supermicro C9Z390-CGW is a high-end beast with a plethora of high-end features and as it currently stands, is the only Z390 motherboard to include a dedicated PCIe switch (Broadcom PEX8747). This means gamers with plenty of budget to spare can go balls to the walls with graphics cards and not have to worry about constraints such as bandwidth, which also allows users to utilize more PCIe 3.0 storage capabilities thanks to dual M.2 and U.2 connectivity. While Supermicro is well versed in enterprise-grade hardware, their desktop SuperO Z390-CGW is something to be marvelled at and for the high-end enthusiast, on paper, it has the power to deliver where some boards might not. The Supermicro C9Z390-PGW is a suggested MSRP of $335 which is highly competitive when all the aspects are taking into consideration and feature-set this board has.