OpenGL Performance
Quake III Arena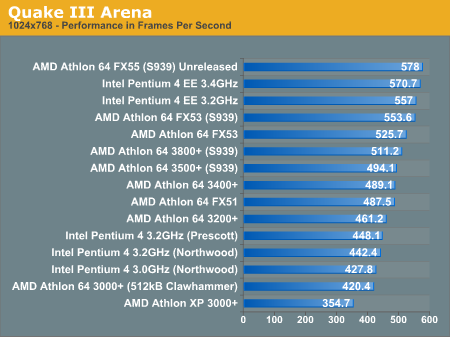 As has been mentioned before, these Q3A numbers are so high because I had been using vertex lighting which shows slightly different characteristics than lightmap lighting. In a separate 939 motherboard review, we will be seeing Quake III numbers using the lightmap settings. In this case, however, we can see that the P4 EE parts are again raining on the AMD parade, though the socket 939 CPUs' performance is nothing at which to scoff.
Wolfenstein: Enemy Territory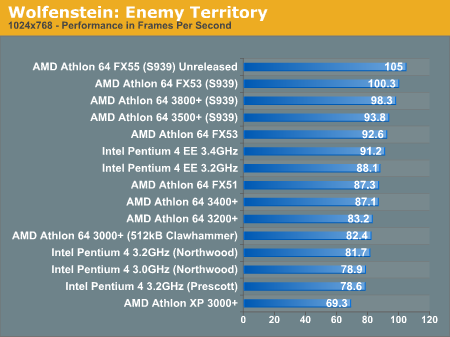 This ET benchmark uses the radar file from 3d center with the settings on the default for high quality graphics. Here we see the 939 processor performance much higher than the counterparts on other platforms. The "FX-55" just seems to jump ahead even at the top of the performance heap.
Jedi Knight: Jedi Academy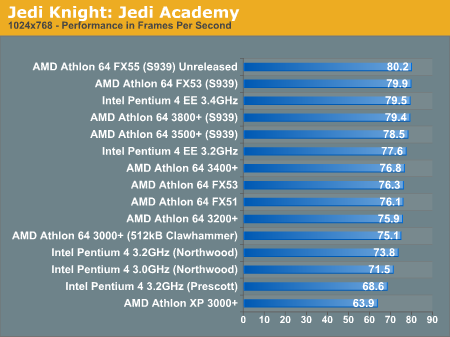 Jedi Academy seems to hit a video card bottleneck at the performance levels pushed by these processors. Our benchmark suite is based on the Radeon 9800 Pro 128, but an NVIDIA card might have been a better card to show this (or any other) OpenGL based benchmark as NVIDIA cards traditionally perform better under OpenGL.