Comparing Sockets: Gaming Performance
DX9 and Media Encoding benchmarks confirm 939 is the fastest CPU at 2.2GHz.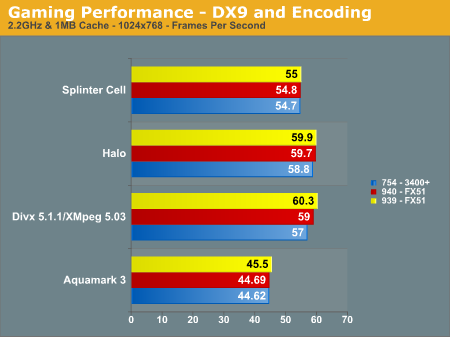 2-pass Media Encoding was about 6% faster on 939 than 754 at the same speed. Direct X 9 games were closer in performance among the 3processors, but still showed a consistent 754-940-939 pattern from slowest to fastest.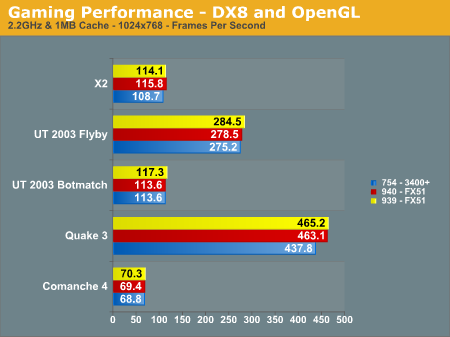 Quake 3 and other games based on the Quake Open GL engine are sensitive to memory bandwidth variations. So it was not a surprise to see Quake 3 increase in performance a bit over 6% from 754 to 939. Across all DX8 games 939 again came out as the top performer.
We did not expect large improvements in performance as Athlon 64 moved from 754 to 939. Since we have found the performance of the Dual-Channel Socket 940 and the Single-Channel 754 to be close when they ran the same speed with the same cache, it was already clear the Athlon 64 was not an architecture that was starved for memory bandwidth like the 'deep-pipes' Pentium 4 design. When P4 went dual-channel the performance improvement was dramatic. Athlon 64 shows more modest increases in performance, but that performance increase is still real and measurable. Dual-Channel 939 is the fastest Athlon 64 socket, followed closely by 940. It appears that the reduced latency of unbuffered memory actually does translate into slightly improved performance for 939. Socket 754 is slower than either of the DC solutions, but the difference between fastest and slowest among the 3 sockets is still relatively small.