Basic Features: nVidia nForce2 Ultra 400Gb Reference Board
 Reference Motherboard Specifications
CPU Interface
Socket A (462) Athlon XP
Chipset
nVidia nForce2 Ultra 400/nForce2 MCP-Gb
Bus Speeds
200MHz to 465MHz (in 1MHz increments)
PCI/AGP Speeds
Auto
Core Voltage
1.60V - 1.75V
DRAM Voltage
2.6V - 2.8V
AGP Voltage
1.5V - 1.7V
VAUX Overvoltage
1.675V - 1.75V
VID Override
1.1V - 1.85V
Memory Slots
Three 184-pin DDR DIMM Slots
Dual-Channel Configuration
Unbuffered DDR Memory
Memory Speeds
Auto, 50%-200%
Expansion Slots
1 AGP 8X Slot
5 PCI Slots
Onboard Serial ATA
2 drives by MCP-Gb
Onboard IDE
Two Standard MCP ATA133/100/66 (4 drives)
Onboard RAID
Up to 6 drives - combined SATA and IDE
Onboard USB 2.0/IEEE-1394
8 USB 2.0 ports supported by 8237
No Firewire
Onboard LAN
MCP-Gb on-chip Gigabit LAN
Onboard Audio
Realtek ALC655 codec AC '97 2.3
6-Channel with NVSwap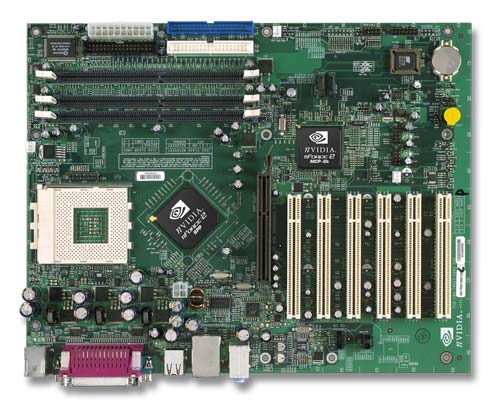 Reference Boards are designed for testing and qualification and will not likely see production as a retail product. However, the nForce2 is a mature product and that shows in a very full-featured Reference board with a wealth of fine-tuning controls for voltage and memory. The only things missing are ratio or multiplier controls and a wide FSB range above 400, which would be useful for testing overclocking. However, you will likely see these options on production boards.
Gb stands for the on-chip Gigabit LAN that is provided by the MCP-Gb chip. Functions are the same as the nVidia Gigabit LAN introduced on the nF3-250Gb chipset. That is, LAN is off the PCI bus, which removes a potential bottleneck to LAN performance. Details of the nVidia Gigabit LAN can be found in our
nForce3-250Gb review
.
The on-chip Firewall is another feature that has migrated from the nF3-250 to the nForce2 Ultra 400Gb. nVidia Firewall is a driver-based, hardware-optimized personal Firewall that is integrated directly into motherboard silicon. The Firewall is controlled by an Internet Explorer based Utility that allows complete adjustments and customization of the Firewall. The "Firewall Wizards" capture should give you a better idea of the capabilities of the on-chip Firewall. More information on the firewall can be found
here
in our nF3-250Gb review.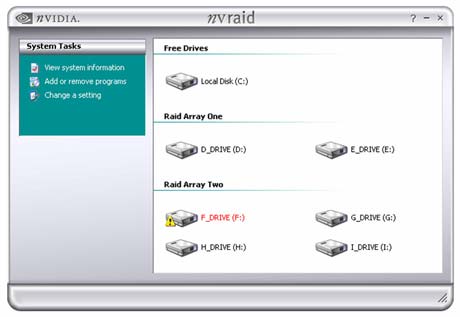 nVidia's RAID was introduced on nF3-250 and is now implemented in both the Gb and R versions of Ultra 400. The RAID is unique in that IDE and SATA drives can be combined in RAID configurations. Where the nForce3-250GB provided up to 4 SATA drives, nF2 Ultra 400Gb/R provides support for just 2 SATA drives.

nVidia does not have built-in provisions for Firewire in the nForce2 Ultra400Gb, but this can be added by board makers with additional chips. 8 USB ports are available, with 4 rear connectors on the Reference Board.