A Closer Look at nForce2 Ultra 400Gb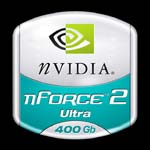 The nForce2 is so well known that it makes little sense repeating features, and the new chipset uses the same familiar nForce2 Ultra 400 SPP that we have seen for many months.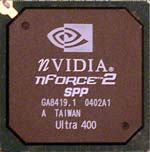 This proven dual-channel SPP chip is combined with one of the new MCP (Media and Communications Processor) chips to add the additional capabilities. There are actually 2 versions of the newest second generation nForce2 chipsets, depending on which MCP is used.

nForce2 Ultra 400Gb is the high end version and uses the nForce2 Gigabit MCP with the nforce2 Ultra 400. The nForce2 Gigabit MCP features on-chip Gigabit Ethernet, on-chip NVIDIA Firewall for system security, Serial ATA (SATA), and the NVIDIA "Any-Drive" RAID technology that allows IDE and SATA drives to be combined in RAID arrays.

The nForce2 Ultra 400R is the mainstream or value product, and combines nForce2 Ultra 400 with the new NVIDIA nForce2 RAID MCP. It features the same SATA and "Any-Drive" RAID technology, but it does not have the on-chip Gigabit LAN or nVidia Firewall. You will see the R version used in boards designed for a price point. It is particularly interesting that both VIA and nVidia will provide RAID as an option even on entry-level motherboards.
Sound Storm Audio is
not
a part of either new MCP. nVidia has chosen to provide an audio codec that can be paired with a number of audio chips to provide 5.1 or 7.1 audio capabilities.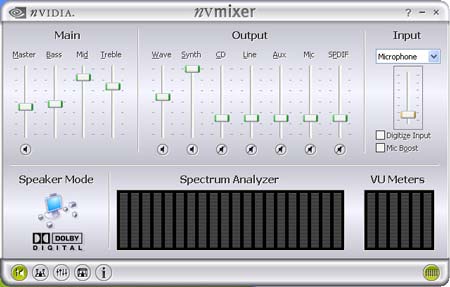 The new 4.24 version of the nVidia Platform drivers replaces the Sound Storm Control Panel with a new nVidia Mixer. nVidia says that there are many Audio Driver improvements in the new unified platform driver:
Improved AC '97 / Soft Audio driver - adds EQ, speaker cloning, and speaker wizard support
Speaker Wizard with all NVSwap features, to ensure correct speaker setup on analog or digital speaker systems
Cinesurround - a virtual 5.1 mixdown to headphones or 2 speakers
New Environments - simple, preset driven sound environments
Enhanced ASIO support and added support for AC '97 / Soft Audio systems
User adjustable "rear channel creation" support - adds off, clone, reverb and delay
Support for Realtek ALC655 codecs, Realtek ALC658 codecs, and 7.1 support for Realtek ALC850 codecs
Support for WMV-HD audio streams and WaveFormatExtensible calls
Improved playback of mono content
Fixed audio performance issues in numerous games and applications that were problems with past nVidia Platform Audio drivers
The new version 4.24 Platform Driver works across the entire line of nForce products, including nForce1, nForce2, nForce2 Ultra 400, nForce2 Ultra 400R, nForce2 Ultra 400Gb, nForce3 150, nForce3 250Gb, and even a new unannounced nForce3 product that will be coming out soon.