Basic Features: VIA K8T800 PRO Reference Board
Motherboard Specifications
CPU Interface
Socket 940 Athlon 64
Athlon 64 FX and Opteron
Chipset
VIA K8T800 PRO/VIA VT8237
HyperTransport
Auto, 1Ghz, 800MHz, 600, 400, 200
Bus Speeds
200MHz to 255MHz (in 1MHz increments)
PCI/AGP Speeds
Automatic, Async at 66.8 or 75.4
Core Voltage
No Adjustments
DRAM Voltage
No Adjustments
AGP Voltage
No Adjustments
Memory Slots
Four 184-pin DDR DIMM Slots
Dual-Channel Configuration
Registered ECC/Non-ECC Memory
to 4GB Total
Expansion Slots
1 AGP 8X Slot
5 PCI Slots
Onboard Serial ATA RAID
VIA 8237 (2 Drives, 0, 1)
Onboard IDE
Two Standard VIA ATA133/100/66 (4 drives)
Onboard USB 2.0/IEEE-1394
8 USB 2.0 ports supported by 8237
No Firewire
Onboard LAN
VIA VT6122 Gigabit LAN
10/100 LAN by VIA 8237
Onboard Audio
VIA VT1616 codec AC '97 2.3
6-Channel with UAJ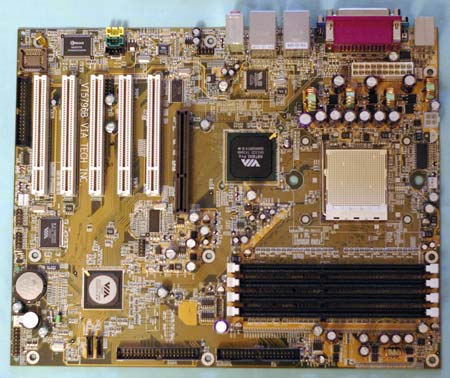 As a Reference Board, there's not a lot to say about the board layout. Reference Boards are designed for testing and qualification and will not likely see production as a retail product. Having said that, VIA has done an outstanding job of including a full complement of features and VIA chip additions to demonstrate what the K8T800 PRO can do.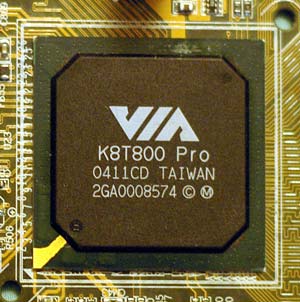 The K8T800 PRO Northbridge is the only real change in the PRO.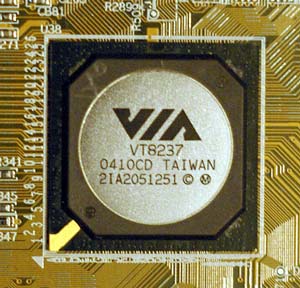 VIA continues to use the very competent 8237 Southbridge, which first brought the Athlon 64 feature set to Intel 865/875 levels.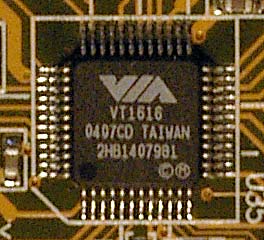 The K8T800 PRO Reference Board was equipped with the VIA VT1616 Vinyl Six-Trac audio chip. The 1616 is the 18-bit junior member of the audio family. Manufacturers could also use the top-line Envy24 for a premium audio setup. The 1616 is cheaper, but still very capable, providing 6-channel audio that exceeds Microsoft's WHQL logo requirements. VIA provides detailed information on the Vinyl Six-Trac capabilities at the
VIA web site
.
"The VIA Six-TRAC is a complete solution supporting the AC'97 2.2 specification with S/PDIF extension compliance. Enabling 6 channel outputs with 18-bit resolution the VIA VT1616 can support full 5.1 surround sound enabling theatre-quality home audio systems. For optimum playback performance the Six-TRAC analog mixer circuitry integrates stereo enhancement to provide a pleasing 3Ds surround sound effect for stereo media. Further provisions in the hardware allow for downmixing of 6-channel inputs such as DVDs into 4-channel, or even 2-channels outputs.

An 18-bit independent rate stereo ADC enables 5 stereo and 2 mono analog line-level inputs allowing recording from sources such as microphones, CDs, line-ins etc. With sample rate converters on all channels the VIA Six-TRAC can be adjusted in 1Hz increments allowing exacting audio manipulation. To maintain full digital audio paths the VIA VT1616 has an IEC958 line driver for S/PDIF compressed digital or LPCM audio outputs."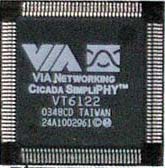 Gigabit LAN is provided by another VIA chip - the VT6122. 10/100/1000Mb data transfer rates are supported, but this LAN solution is basically on the PCI bus, with the limitations of that arrangement. In real-world terms, this is not very significant today, but it will matter to some buyers. nVidia's on-chip gigabit LAN, by comparison, is completely removed from the speed limitations of the PCI bus. VIA's on-chip LAN is 10/100 Ethernet, and gigabit LAN is provided by an additional chip.

While this is a Reference Board, VIA has provided a complete complement of rear IO ports, including both 10/100 and Gigabit LAN. While IEEE1394 firewire is not a part of the K8T800 PRO chipset, VIA provides accessory chips for adding firewire capabilities to motherboards using the K8T800 PRO chipset.