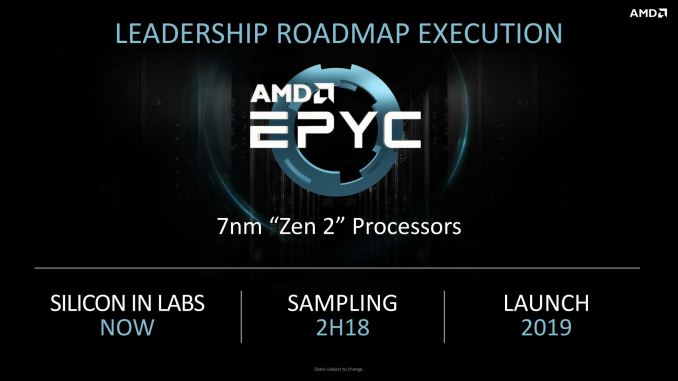 Along with AMD's epic quarterly results that were announced yesterday afternoon, there was also an interesting nugget buried in the earnings call for the results. We've known for some time now that AMD was going to be working with both TSMC and fraternal fab GlobalFoundries to produce 7nm products, similar to what they've done for their current-generation 16nm/14nm products. However until now it hasn't been clear how those products would be allocated – whether TSMC will once again just produce semi-custom APUs, or if they'll do more. But now we have an answer thanks to AMD's earnings call, and the answer is indeed "more".
Specifically, AMD CEO Lisa Su has announced that second-generation "Rome" EPYC CPU that the company is wrapping up work on is being produced out at TSMC. This is a notable departure from how things have gone for AMD with the Zen 1 generation, as GlobalFoundries has produced all of AMD's Zen CPUs, both for consumer Ryzen and professional EPYC parts.
So, Matt, on your first question relative to the manufacturing of the second generation of EPYC, so as I said earlier, we are working with both the TSMC and GLOBALFOUNDRIES in 7-nanometer. As for the 7-nanometer Rome that we're currently sampling, that's being manufactured at TSMC.
As it stands, AMD seems rather optimistic about how things are currently going. Rome silicon is already back in the labs, and indeed AMD is already sampling the parts to certain partners for early validation. Which means AMD remains on track to launch their second-generation EPYC processors in 2019.
Unfortunately, the call offered no real insight as to why AMD has shifted to using TSMC for some of their CPUs for this upcoming generation. AMD's hands are somewhat tied on fab choice in as much as they have quotas under their wafer share agreement with GlobalFoundries that they must fulfill. How AMD wants to split that up is up to them, but beyond that AMD hasn't offered any information as to why they've made the choices they have.
Ultimately however if they are meeting their order quota from GlobalFoundries, then AMD's situation is ultimately much more market driven: which fab can offer the necessary capacity and performance, and at the best prices. Which will be an important consideration as GlobalFoundries has indicated that it may not be able to keep up with 7nm demand, especially with the long manufacturing process their first-generation DUV-based 7nm "7LP" process requires.
Source: AMD Q2'18 Earnings Call