A Closer Look at the nForce3-250 Family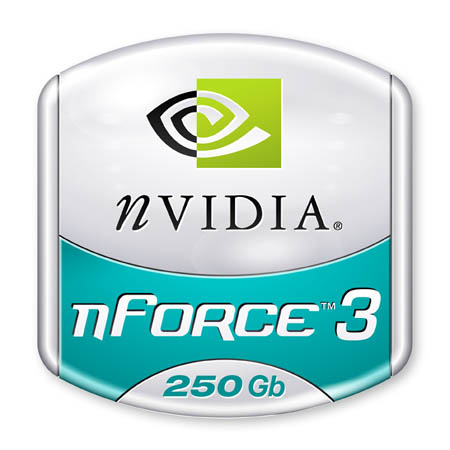 The nVidia Reference Board was shipped with the latest nForce3-250Gb chipset. Gb stands for Gigabit, which refers to the included on-chip Gigabit Ethernet. The Reference Board also included 1000MHz HyperTransport, but this is a concession to the Reference Board and is not a feature for Socket 754 boards. Basically, there are currently two 250 chipsets for Socket 754 Athlon 64:
1. nForce3-250 - basic value chipset for 754, 800HT, does
not
include on-chip Gigabit LAN or on-chip Firewall.
2. nForce3-250Gb - 800HT, includes Gigabit LAN and on-chip Firewall.
With the coming introduction of Socket 939, there will also be two additional versions of the chipset introduced:
3. nForce3-250Gb Ultra - 1000HT, Gigabit LAN, Firewall, Dual-Channel unbuffered, for Athlon 64/Athlon 64 FX.
4. nForce3-250Gb Ultra PRO - 1000HT, Gigabit LAN, Firewall, for Opteron.
To make the 4 versions even more interesting, the Ultra can even be used for Socket 754 processors if the manufacturer chooses. In fact, there are designs for top Athlon 64 boards that nVidia says will use the Ultra chipset to provide 1000 HyperTransport to Socket 754. This would, theoretically, bring added overclocking headroom to current Athlon 64 CPU's. In fact, the nVidia Reference Board that we received used the Ultra chip and provided 1000 HyperTransport. We can confirm that dropping the multiplier to 9.5, and dropping HT to 800 allowed us to reach 250 FSB easily, which was the FSB limit on the Reference Board - all at default voltage.
To add even more to the pot, all of the nF3-250 versions of the chipset can be used in Multiple Processor designs. If the manufacturer chooses, any of the chipsets can be used theoretically in 1, 2, 4, 8, or even 16 CPU setups. Of course, the capabilities of the processors available for any given board will have an impact on how far you can go with multiple CPUs.
With the nForce3-250, nVidia also takes a giant leap in features to make the new chipset second to none. Features that are now part of the single-chip nForce3-250Gb MCP include 8 SATA ports, 4-channel SATA RAID plus 4-Channel IDE RAID, on-chip Gigabit Ethernet, on-chip Firewall, and software 6-channel audio.