Gaming Performance - Dota 2
Dota 2 has been featuring in our mini-PC and notebook reviews for a few years now, but, it still continues to be a very relevant game. Our evaluation was limited to a custom replay file at 1080p resolution with enthusiast settings ('best-looking' preset). We have now revamped our testing to include multiple resolutions - This brings out the fact that the game is CPU-limited in many configurations.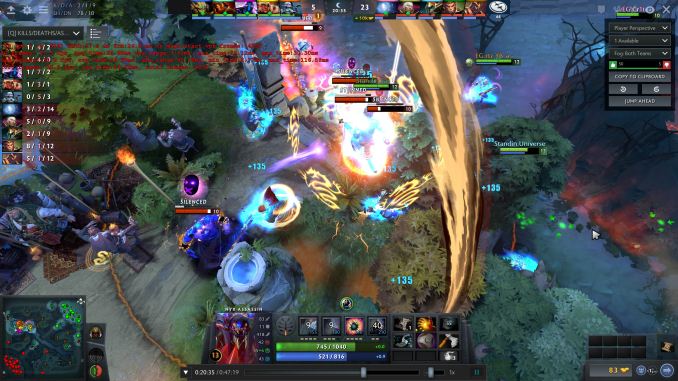 Dota 2 allows for multiple renderers - we use the DirectX 11 mode. The rendering settings are set to 'enthusiast level' (best-looking, which has all options turned on, and at Ultra level, except for the Shadow Quality set to 'High'). We cycle through different resolutions after setting the monitor resolution to match the desired resolution. The core scripts and replay files are sourced from Jonathan Liebig's original Dota 2 benchmarking instructions which used a sequence of frames from Match 3061101068.
Dota 2 - Enthusiast Quality Performance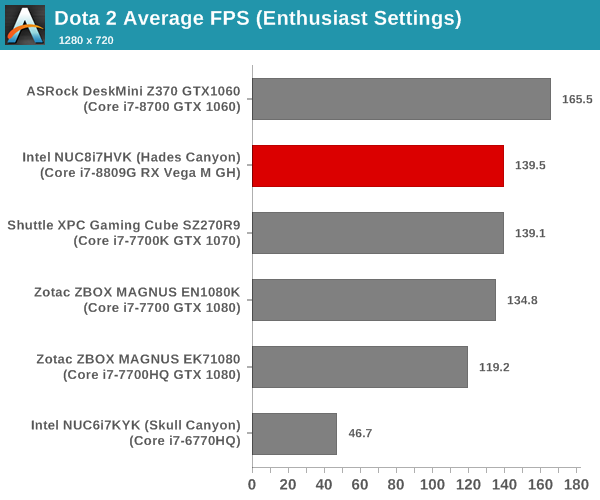 At 720p, the Hades Canyon NUC is able to better the systems equipped with much more powerful GPUs. However, this is due to the CPU-limited nature of Dota 2 at lower resolutions. At 1080p and higher resolutions, we are back to the usual story. The ASRock DeskMini Z370 has some anomalous scores at these higher resolutions (coming in behind the Hades Canyon NUC despite having a much more powerful CPU), which we plan to look into further in our review of that PC.