Mixed Random Performance
Our test of mixed random reads and writes covers mixes varying from pure reads to pure writes at 10% increments. Each mix is tested for up to 1 minute or 32GB of data transferred. The test is conducted with a queue depth of 4, and is limited to a 64GB span of the drive. In between each mix, the drive is given idle time of up to one minute so that the overall duty cycle is 50%.
The Optane SSDs put even Samsung's best NVMe SSDs to shame on the mixed random I/O test. The 800p is a little more than half as fast as the 900p, which is plenty to put it far out of reach of the flash-based SSDs.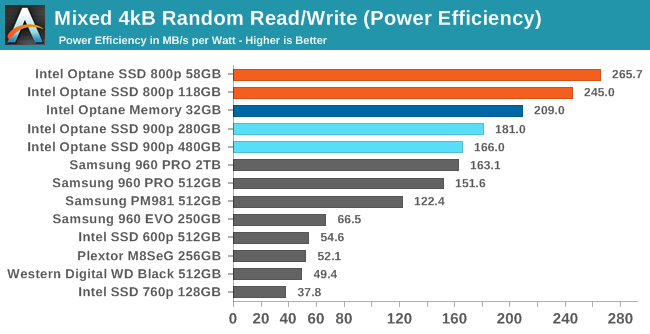 The Optane SSD 800p takes first place for power efficiency on the mixed random I/O test, with the 58GB model having a slight advantage over the 118GB due to the lower power consumption of operating half as many 3D XPoint dies. The flash-based SSDs come close to matching the efficiency of the Optane SSD 900p, but are far behind the 800p.
With no write buffering, the Optane SSDs show a steady decline in performance as the proportion of writes increases, with no spike in performance at the end as is typical of flash-based SSDs with aggressive write combining. The 800p shows a more pronounced reduction in performance than the 900p, while the 900p's power consumption climbs more.
Mixed Sequential Performance
Our test of mixed sequential reads and writes differs from the mixed random I/O test by performing 128kB sequential accesses rather than 4kB accesses at random locations, and the sequential test is conducted at queue depth 1. The range of mixes tested is the same, and the timing and limits on data transfers are also the same as above.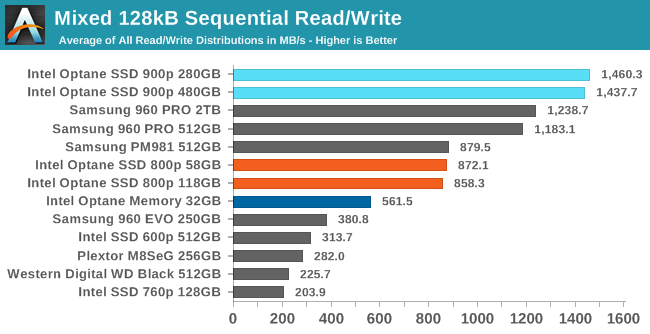 With only a PCIe x2 interface and sequential write speeds that only use a fraction of that bandwidth, the Optane SSD 800p is actually performing pretty well on the mixed sequential I/O test. The 800p has the same average performance as Samsung's fastest TLC SSD, and offers more than two thirds the performance of the Samsung 960 PRO.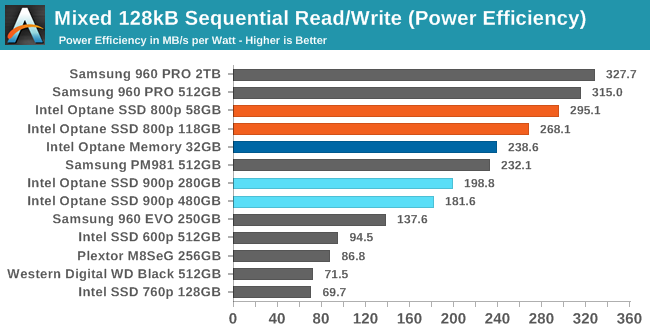 The power efficiency of the Intel Optane SSD 800p is second only to that of the Samsung 960 PRO. The 800p's efficiency score is far above the 900p and the low-end NVMe SSDs.
As with the mixed random I/O test, the Intel Optane SSD 800p shows a steady decline inn performance as more writes are added to the mix. The decline is steeper than the one shown by the 900p. Power consumption increases very slightly over the course of the test but still stays within the rated maximum.