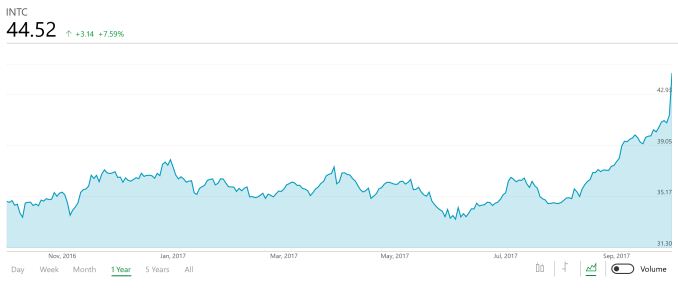 As another quarterly earnings period continues, Intel has announced its earnings for the third quarter of their 2017 fiscal year. Due the slowing of the PC market, Intel has begun its transition to a "Data-Centric Business" which will embrace more than just CPUs. The results have already begun to pay off, which isn't surprising since they unofficially began this transformation before it was ever announced. At their heart, they are still a chip fab company, but with more reach on what chips they fab, since it's a long way from just CPUs at this point. Let's dig into the results.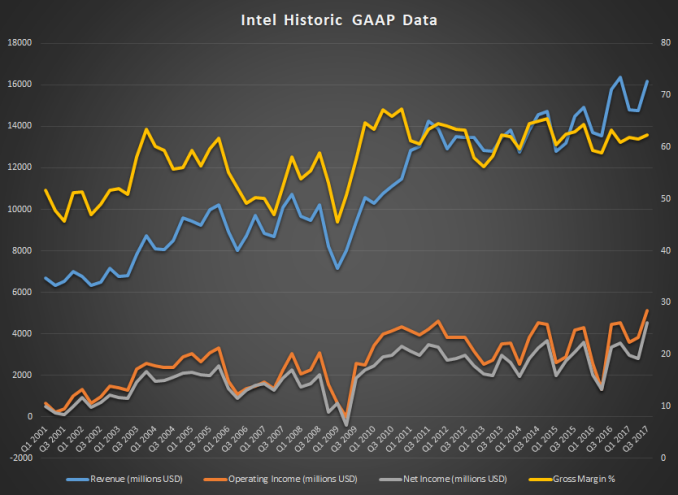 Revenues for the quarter were $16.1 billion, up 2% from a year ago. Gross margin was down 1% to 62.3%, but despite the lower margins, operating income was up 15% for the quarter to $5.1 billion. Net income was $4.5 billion, which was up 34% year-over-year. This resulted in earnings per share of $0.94, up 36%.
Intel Q3 2017 Financial Results (GAAP)
Q3'2017
Q2'2017
Q3'2016
Revenue
$16.1B
$14.8B
$15.8B
Operating Income
$5.1B
$3.8B
$4.5B
Net Income
$4.5B
$2.8B
$3.4B
Gross Margin
62.3%
61.6%
63.3%
Client Computing Group Revenue
$8.86B
+7.9%
-0.3%
Data Center Group Revenue
$4.88B
+11.6%
+7.4%
Internet of Things Revenue
$849M
+17.9%
+23.2%
Non-Volatile Memory Solutions Group
$891M
+1.9%
+37.3%
Programmable Solutions Group
$469M
+6.6%
+10.3%
All Other Revenue
$202M
+40.3%
-65.2%
The new "Data-Centric Business" happens to include everything Intel does, outside of the Client Computing Group (CCG), however they've not quite shaken the shackles of the legacy PC business quite yet. The CCG had revenues this quarter of $8.9 billion, which is flat compared to Q3 2016. That sounds like it's not a good thing, but considering the decline of the PC market, Intel has managed to grow this business over the last several years. That's mostly been driven by demand for their more expensive products, because the only areas where the PC market is doing ok in is gaming, and convertible devices. Operating margins for the CCG were up three points, and the flat revenues were driven by average selling price going up 7%, but unit volumes were down 7%. Operating income for the segment grew 8% though, thanks to improvements in the 14-nanometer process (read: costs continue to drop for this node). Intel has also confirmed that 10-nanometer will be shipping in low volumes by the end of 2017, but higher volume products will be available starting in 2018. Using this as a benchmark, we should expect 10-nanometer to officially launch at CES, but that's speculation.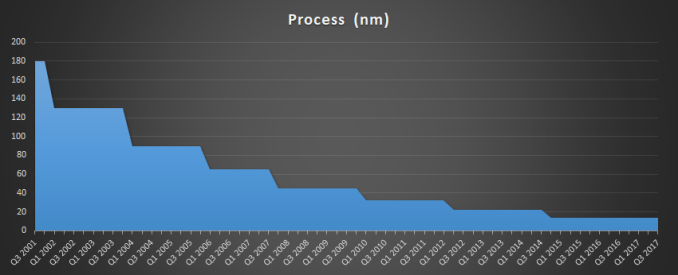 The Data Center Group (DCG) had revenue growth of 7% to $4.9 billion, compared to the same quarter a year ago. Operating income for the DCG was $2.3 billion for the quarter, which was also up 7%. Unit volumes were up 4%, and ASP was up 2%. Intel should continue to see growth here as they transition away from the older 22-nanometer parts.
Internet of Things group had revenues go up 23% to $849 million. Intel attributes the growth to strength in industrial and video. Operating profit was $146 million, which is down 24% year-over-year, as they continue to invest in automotive, which many companies are seeing as a strong growth target.
Non-Volatile Memory Solutions Group (NVMSG) had revenues of $891 million, which is up 37% year-over-year. Intel has seen strong demand for data center SSD solutions, and demand is outpacing supply. With the launch of 3D XPoint, they've created some new segments, but new products don't come for free, and this segment had an operating loss of $52 million year-over-year, although that's $82 million better than a year ago. Intel is predicting this unit to be profitable ahead of schedule, in 2018.
The Programmable Solutions Group, which is Intel's FPGA business, had revenues up 10% to $469 million. FPGAs have seen a number of new markets, and Intel has found a firm foothold in data center, automotive, and military. Operating profit for this segment was $113 million, which is up 45% year-over-year.
Finally, the All Other group had revenues of $202 million, which is down significantly from a year ago when it was $581 million. Intel has recently acquired Mobileye, and has reported that Mobileye's results will be in the All Other category going forward.
Looking forward, Intel is expecting revenues around $16.3 billion for Q4, plus or minus $500 million, with gross margin around 61%, plus or minus a couple of points.
Source: Intel Investor Relations