The GeForce FX 5700 Ultra
As we have mentioned, the GeForce FX 5700 Ultra is based on the NV36 GPU. The core speed of the GPU on the eVGA card we tested was 475MHz. With 128MBs of DDR2 RAM running at 450MHz (900 MHz effective data rate), there is plenty of bandwidth to be had from this solution. As far as cooling goes, we can take a look at a typical 5700 Ultra board layout to see what we can expect: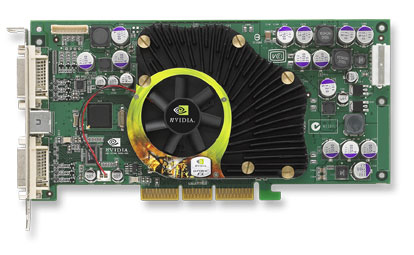 The heatsink fan combo is fairly low profile, and this card will fit into an AGP slot without disturbing the neighboring PCI slot. Of course, we recommend leaving that slot open anyway, but its nice to have the option to use it if you need it. Though its not visible in this image, there is a heatsink on the back as well.
As far as the GeForce FX 5700 non-ultra version, we expect the clocks to hover somewhere around 425 core, 275 (550 effective) memory. NVIDIA has informed us that they are leaving these timings up to the OEMs, so we may see some variation in the playing field.
For testing our GeForce FX 5700 Ultra, we used the exact same setup as in our previous 9600XT review.
Now on to the architecture…