Final Words
Bringing this review to a close, if it feels like Vega has been a long time coming, it's not just your imagination. AMD first unveiled the Vega name 17 months ago, and it was 7 months ago when we got our first peek into the Vega architecture. So today's launch has in fact been a long time coming, especially by GPU standards. Ultimately what it means is that AMD has had plenty of time to make noise and build up demand for the Radeon RX Vega lineup, and today they get to show their cards, both figuratively and literally.
Vega comes at an interesting (if not critical) time for AMD. They've been absent from the enthusiast and high-end video card markets for this entire generation of cards thus far, and while this has allowed them to recapture some of their market share in the mid-range market, it has hurt their visibility to some extent. Furthermore the recent spike in demand for GPUs from cryptocurrency miners has completely turned the video card market on its head, obliterating supplies of AMD's thus-far leading video cards, the Radeon RX 580 and RX 570.
So for AMD, the RX Vega launch is a chance to re-enter a market they've been gone from for far too long. It's a chance to re-establish a regular supply of video cards to at least some portion of the market. And it's an opportunity to push their GPU architecture and performance forward, closing the performance and efficiency gaps with NVIDIA. In short, the Vega launch has the potential to be AMD's brightest day.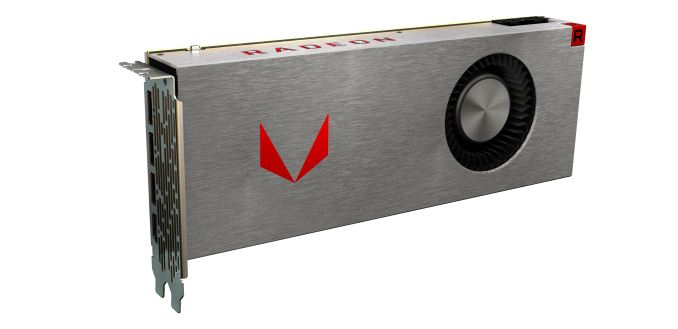 So how does AMD fare? The answer to that is ultimately going to hinge on your opinion on power efficiency. But before we get too far, let's start with the Radeon RX Vega 64, AMD's flagship card. Previously we've been told that it would trade blows with NVIDIA's GeForce GTX 1080, and indeed it does just that. At 3840x2160, the Vega 64 is on average neck-and-neck with the GeForce GTX 1080 in gaming performance, with the two cards routinely trading the lead, and AMD holding it more often. Of course the "anything but identical" principle applies here, as while the cards are equal on average, they can sometimes be quite far apart on individual games.
Unfortunately for AMD, their GTX 1080-like performance doesn't come cheap from a power perspective. The Vega 64 has a board power rating of 295W, and it lives up to that rating. Relative to the GeForce GTX 1080, we've seen power measurements at the wall anywhere between 110W and 150W higher than the GeForce GTX 1080, all for the same performance. Thankfully for AMD, buyers are focused on price and performance first and foremost (and in that order), so if all you're looking for is a fast AMD card at a reasonable price, the Vega 64 delivers where it needs to: it is a solid AMD counterpart to the GeForce GTX 1080. However if you care about the power consumption and the heat generated by your GPU, the Vega 64 is in a very rough spot.
On the other hand, the Radeon RX Vega 56 looks better for AMD, so it's easy to see why in recent days they have shifted their promotional efforts to the cheaper member of the RX Vega family. Though a step down from the RX Vega 64, the Vega 56 delivers around 90% of Vega 64's performance for 80% of the price. Furthermore, when compared head-to-head with the GeForce GTX 1070, its closest competition, the Vega 56 enjoys a small but none the less significant 8% performance advantage over its NVIDIA counterpart. Whereas the Vega 64 could only draw to a tie, the Vega 56 can win in its market segment.
Vega 56's power consumption also looks better than Vega 64's, thanks to binning and its lower clockspeeds. Its power consumption is still notably worse than the GTX 1070's by anywhere between 45W and 75W at the wall, but on both a relative basis and an absolute basis, it's at least closer. Consequently, just how well the Vega 56 fares depends on your views on power consumption. It's faster than the GTX 1070, and even if retail prices are just similar to the GTX 1070 rather than cheaper, then for some buyers looking to maximize performance for their dollar, that will be enough. But it's certainly not a very well rounded card if power consumption and noise are factored in.
The one wildcard here with the RX Vega 56 is going to be where retail prices actually end up. AMD's $399 MSRP is rather aggressive, especially when GTX 1070 cards are retailing for closer to $449 due to cryptocurrency miner demand. If they can sustain that price, then Vega 56 is going to be real hot stuff, besting GTX 1070 in price and performance. Otherwise at GTX 1070-like prices it still has the performance advantage, but not the initiative on pricing. At any rate, this is a question we can't answer today; the Vega 56 won't be launching for another two weeks.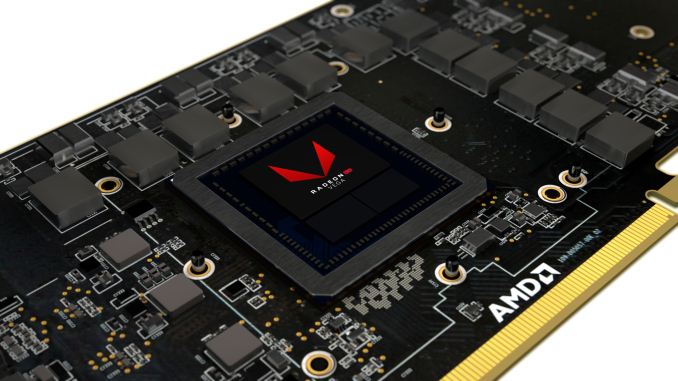 Closing things on a broader architectural note, Vega has been a rather conflicting launch. A maxim we embrace here at AnandTech is that "there's no such thing as a bad card, only bad prices", reflecting the fact that how good or bad a product is depends heavily on how it's priced. A fantastic product can be priced so high as to be unaffordably expensive, and a mediocre product can be priced so low as to be a bargain for the masses. And AMD seems to embrace this as well, having priced the RX Vega cards aggressively enough that at least on a price/performance basis, they're competitive with NVIDIA if not enjoying a small lead.
The catch for AMD is that what they need to price RX Vega at to be competitive and what it should be able to do are at odds with each other. The Vega 10 is a large, power-hungry GPU. Much larger and much more power hungry than NVIDIA's competing GP104 GPU. And while this isn't an immediate consumer concern – we pay what the market will bear, not what it costs AMD to make a chip with a nice gross margin on the side – from a technology and architectural perspective it indicates that AMD has moved farther away from NVIDIA in the last couple of years. Whereas the Radeon R9 Fury X was almost a win that AMD didn't get, the RX Vega 64 doesn't appear to be fighting in the weight class it was even designed for. Instead the power efficiency gap between AMD and NVIDIA has grown since 2015, and apparently by quite a bit.
The good news for AMD is that this doesn't come anywhere close to dooming the RX Vega line or the company. RX Vega still has a place in the market – albeit as the bargain option – and AMD can still sell every Polaris 10 GPU they can make. All the while AMD is still ramping up their Radeon Instinct lineup and general assault into deep learning servers, where Vega's compute-heavy design should fare better.
In the meantime, from an architectural perspective there's a lot I like about Vega. I'm interested in seeing where fast FP16 performance goes in the gaming market, and the primitive shader looks like it could really upend how geometry is processed at the GPU level given sufficient developer buy-in. Meanwhile the high-bandwidth cache controller concept is a very forward looking one, and one that in time may prove a major evolutionary step for stand-alone GPUs. However I can't help but wish that these advancements came with a more competitive video card stack. As great as Vega is architecturally, it's clear that performance and power consumption aren't where they need to be for AMD to take on a surging NVIDIA.
So here's to hoping for a better fight in the next round of the GPU wars.