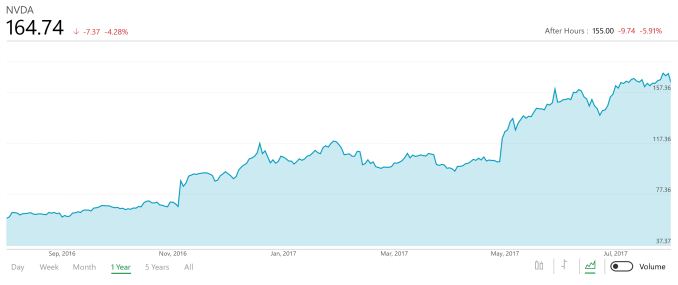 NVIDIA announced its earnings this afternoon for the second quarter of their 2018 fiscal year (not a typo). As we've seen over the past several quarters, NVIDIA has been growing their business at a very brisk pace, and that growth was reflected in their earnings statement once again. For the second quarter, ending July 30, NVIDIA reported revenues of $2.23 billion, up 56% from a year ago. Gross margin was up half a percent as well to 58.4%. When revenue is up, and margins are up, it should perhaps not be a shock that operating income also jumped, in this case to $688 million, which is up 117% compared to Q2 2017. Net income was $583 million, up 123% year-over-year, and that resulted in earnings per share of $0.92, up 124% from the $0.41 a year ago. Sometimes these large jumps can be attributed to write-downs or other charges in the compared quarter, but in fact Q2 2017 was also a record for the company, after they took a write down charge for the Icera modem division two years ago.
NVIDIA Q2 2018 Financial Results (GAAP)
Q2'2018
Q1'2018
Q2'2017
Q/Q
Y/Y
Revenue (in millions USD)
$2230
$1937
$1428
+15.1%
+56.2%
Gross Margin
58.4%
59.4%
57.8%
-1.7%
+1.0%
Operating Income (in millions USD)
$688
$554
$317
+24.2%
+117.0%
Net Income
$583
$507
$261
+15.0
+123.4%
EPS
$0.92
$0.79
$0.41
+16.4%
+124.4%
NVIDIA's gaming segment continues to be their largest source of revenue, even as they have diversified the company, and despite the contraction of the PC market, PC gaming still appears to be a strong business, and NVIDIA has taken advantage of that. For the quarter, NVIDIA had gaming revenue of $1.186 billion, compared to $781 million a year ago. They've not launched anything that's completely new this quarter, but are still seeing success with their Pascal based GPUs. This growth can also likely be attributed to mining, but to NVIDIA, a GeForce sale goes in the gaming column.
Professional visualization is likely still one of the higher margin divisions of NVIDIA, even as they've seen this group surpassed by several other divisions in the company. The Professional Visualization revenue grew 13.5%, which is actually pretty solid growth, but it can seem a bit diminutive compared to some of the other growth in the company.
Datacenter has quickly become one of NVIDIA's biggest sources of revenue. A year ago, it accounted for just under 11% of the company's revenue, but for Q2 2018, revenue is up 175% to $416 million. This once small segment of NVIDIA now accounts for almost 19% of their revenue, and with the acceleration of AI and compute tasks in the datacenter, the company appears to be in a prime position to continue to capitalize on that trend.
Automotive is the segment that emerged out of NVIDIA's unsuccessful attempt to move into mobile. It continues to grow as well, with NVIDIA signing agreements with many of the largest automotive companies to include their technology in new vehicles. In May of this year, NVIDIA announced that Toyota will utilize their DRIVE PX platform, to join the party with other companies such as Volvo. Revenues for this segment grew 19.3% to $142 million this quarter, compared to Q2 2017.
Finally, NVIDIA's OEM and IP segment had a big jump in revenue as well, from $163 million a year ago to $251 million today. That's a 54% increase.
NVIDIA Quarterly Revenue Comparison (GAAP)
In millions
Q2'2018
Q1'2018
Q2'2017
Q/Q
Y/Y
Gaming
$1186
$1027
$781
+15.5%
+51.9%
Professional Visualization
$235
$205
$214
+14.6%
+9.8%
Datacenter
$416
$409
$151
+1.7%
+175.5%
Automotive
$142
$140
$119
+1.4%
+19.3%
OEM & IP
$251
$156
$163
+60.9
+54.0%
Looking ahead to Q3 2018, NVIDIA sees their record year continuing, with expected revenues of $2.35 billion, plus or minus 2%, and margins between 58.1% and 59.1%.
Source: NVIDIA Investor Relations