ATI is also announcing the Radeon 9600 XT; a much more exciting derivative of the Radeon 9600 Pro based on a low-k dielectric 0.13-micron process. The benefits of a low-k dielectric are mainly related to shielding from crosstalk in high transistor density chips; the benefit of a low-k process is mainly the ability to scale up clock speeds, which is why you will see that ATI is able to clock the 9600 XT at 500MHz. According to ATI, the Radeon 9600 XT should be the first mainstream part to outperform the Radeon 9700 Pro in all situations – not bad for a $199 card.
The Radeon 9600 XT will hit the streets sometime in November and we'll be sure to bring you coverage of that card as soon as we get our hands on one.
Finally we have the NV38, NVIDIA's Fall refresh part; we won't see NV40 and R4x0 until next Spring so both companies are bringing out higher clocked versions of their current cards in order to compete during the holidays.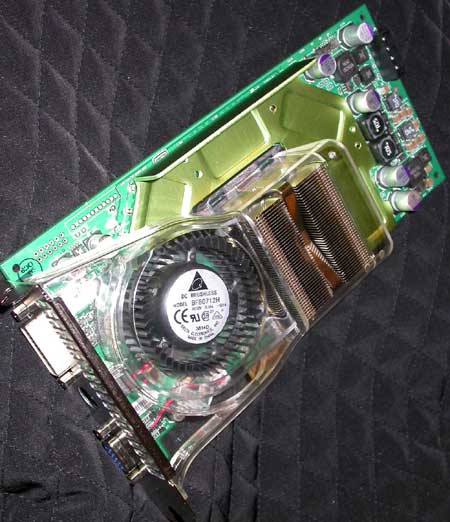 Just like the Radeon 9800 XT, the NV38 is basically a higher clocked version of the NV35 (GeForce FX 5900 Ultra) with a new cooling system. Now running at 475/475 (950MHz DDR), the NV38 boasts a 5% increase in core clock and an 11% increase in memory frequency.
The card will officially be launched next month but we're going to be able to bring you a preview of the NV38's performance today.