Specifications
Below is a quick overview of specifications on the drive:
 Plextor 708A DVD-/+R Drive
Interface
IDE
CD Write Speed
40X, 32X, 24X (CAV)
16X, 12X, 8X, 4X (CLV)
CD Rewrite Speed
24X, 16X (CAV)
12X, 8X, 4X (CLV)
CD Read Speed
40X Max (CAV)
DVD-R Write Speed
4X, 2X, 1X (CLV)
DVD-RW Rewrite Speed
2X, 1X (CLV)
DVD+R Write Speed
8X (Z-CLV)
4X, 2X (CLV)
DVD+RW Rewrite Speed
4X, 2.4X (CLV)
DVD Read Speed
12X Max (16,620KB/s) (CAV)
Supported Modes
DAO / DAO-RAW 16 & 96
TAO
SAO / SAO 16 & 96
Packet Write
MultiSession
Supported Formats
DVD+R (DAO, incremental, seq)
DVD+RW (random)
DVD-R (DAO, incremental, seq)
DVD-RW (random)
CD-R, CD-RW, CD-ROM, CD-DA,
CD-ROM XA, Mixed Mode, CD Extra
Photo CD, CD Text, Bootable CD, UDF
Access Time
CD: 130ms
DVD: 180ms
Buffer
2MB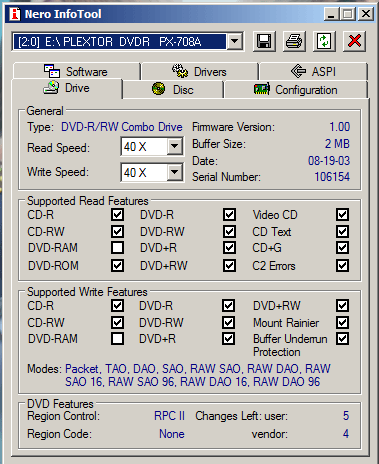 Specifications on the drive are quite impressive. Aside from 8X DVD+R, also note that the drive is capable of high speed 40X CD-R (something the Pioneer A06 severely lacks), DVD+RW 4X (again, something the A06 lacks), and 40X CD read. We were a little disappointed that the drive only came with 2MB of cache. Plextor made a name for themselves with 8MB buffers on their CDR drives. It's a shame that they did not continue the tradition with the 708A.
In fact, just by looking at the stats, the only thing we are concerned with is the DVD access time, which seems a little high at 180ms. Remember, access times are typically "best time" specifications, so testing the device might yield much higher results. Also, for whatever reason, the website access times are much lower, claiming CD response times under 100ms and DVD response times under 130ms.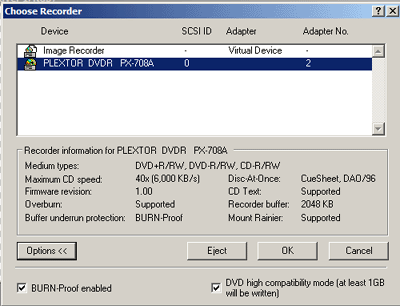 Click to enlarge.
At time of publication, we were stuck with the 1.00 BIOS. Plextor has been fairly good about regular BIOS updates on their other drives, so we expect a full line of continuing support.