ASUS A7V600: BIOS and Overclocking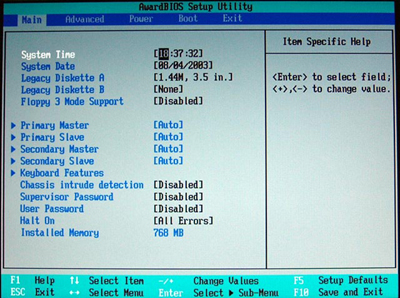 ASUS uses Award BIOS for the A7V600. If you're familiar with the ASUS implementation of Award and AMI BIOS on their other motherboards, then you will be very comfortable with the BIOS arrangement. It's a little different than the more common Award arrangement, but all the information and choices are there – they're just arranged a little differently. Menu choices are across the top and as you navigate across the top choices, different on-screen menus appear. Many of the menus that are stand-alone in traditional Award BIOS are nested under other headings in this BIOS.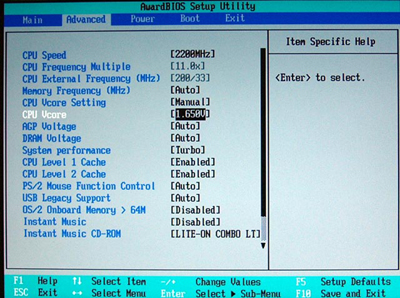 The Advanced Features menu is where you will spend most of your time, if you are tweaking for top performance. CPU speed allows the forced selection of 100, 133, 166, or 200 FSB speeds or the fully manual selection of FSB up to 250MHz. If manual is selected, then you can select a multiplier between 5.0 and 22.5 if you wish, and choose the FSB. Since there is
no
method to fix the AGP/PCI on any KT600 motherboard that we have tested, the CPU speed selection also shows the resulting PCI speed at the chosen FSB. In addition to FSB frequency, you can select memory frequency, voltages for CPU, Memory and AGP, and the System Performance option (Turbo or Optimal available).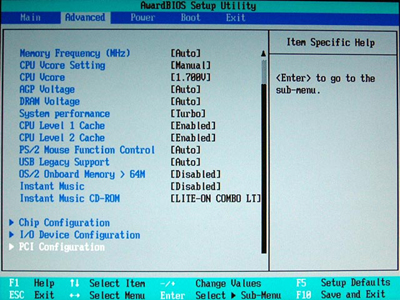 Scrolling down in Advanced Features reveals the Chip Configuration option, which is used for setting memory timings, graphics aperture size, and other performance tweaking options.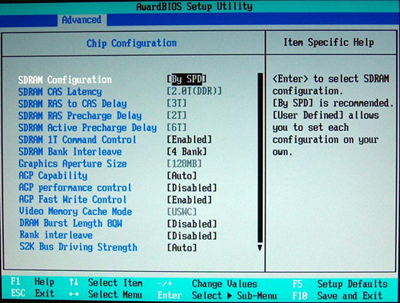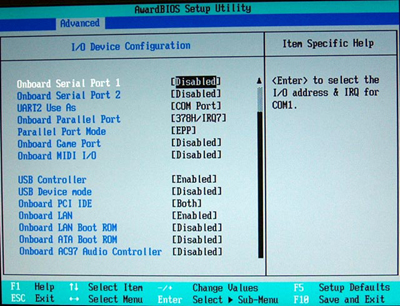 I/O device configuration is also available in this section of Advanced Features. You will find a complete range of options to enable/disable on-board devices and to adjust their settings.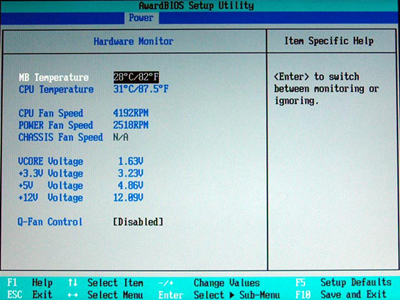 Under the Power option is the Hardware Monitor sub-menu. ASUS has a tradition of being innovators in options for monitoring the health of your PC, and you will not be disappointed in the options available here. There are readouts for Motherboard and System Temperatures, vCore, and CPU/Chassis/Power Fan speeds. You can also check vCore, and all major power rails. ASUS calls their fan control utility "Q-Fan", and the options for Q-Fan setup are also found in this section.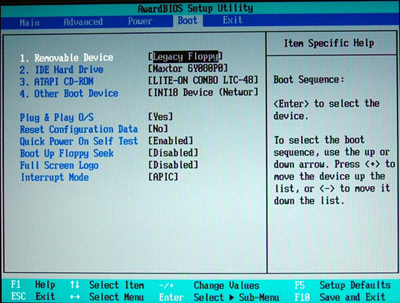 There are many available boot devices on the A7V600, so ASUS has included a Boot menu to manage your choices better. You can select the bootable device and set its priorities in this menu. For example, you can set the CD-ROM drive to boot first, and then the Floppy drive, and then the hard drive, and so forth. By using the "+" and "-" keys, you can navigate through the menu of boot choices.
All-in-all, the ASUS BIOS is very complete. The options for overclocking are generally good, with vDIMM settings to 2.85V, vCore to 1.85V, and vAGP to 1.8V. Other KT600 boards have been lacking vAGP settings, but frankly, we find them of limited usefulness in overclocking. They are present on this ASUS. There is no chipset voltage option, which is rare on motherboards, but some BIOS setups also use vAGP to control chipset voltage. We did not test this on the A7V600.
Despite the complete BIOS, there is one
glaring
omission on the ASUS A7V600 – there is no fixed PCI/AGP Frequency option. In fact, there has not been a PCI/AGP fix option on any KT600 board that we have tested so far. Frankly, this is why the VIA KT600 boards do not overclock well. It is also unforgivable given that all of VIA's major competitors in all markets – NVIDIA, SiS, and Intel – offer PCI fix options in their current chipsets. This is just another example of why VIA has been losing market share so rapidly in the Athlon market. It is hard to believe that VIA continues to ignore this very critical Enthusiast feature in every chipset they make.
FSB Overclocking Results
The following setup was used on the ASUS A7V600 for FSB overclocking:
Front Side Bus Overclocking Testbed
Processor:
Athlon XP 2500+ (Barton Core)
CPU Vcore:
1.65V (default)
Cooling:
Thermalright SK-7 with 80mm Thermaltake Fan
Memory:
Two 256MB Corsair 3200LL at SPD
Power Supply:
Powmax 350W
While we could boot into Windows XP at overclocked speeds as high as 220FSB, the highest stable FSB overclocking that we could achieve was 212MHz. Compared to nForce2 Socket A motherboards, this overclocking performance is mediocre. However, compared to other KT600 chipset boards, the A7V600 turns out to be one of the better overclockers. Once again, the reason for the poor overclocking compared to other chipsets is the lack of the option to fix PCI/AGP frequency on the KT600 and ASUS A7V600.