The most abundant PSU company in our review was TTGI. Most users have not even heard of TTGI before, let alone SuperFlower. Interestingly enough, that hardly upsets SuperFlower, who continues to mass produce products under various OEM and discreet labels. Given their unique market position, we took the chance to look at several offerings from TTGI. Their largest power supply is the 520SS, a 520W offering with 4 fans.
Again, the variable fan control makes an appearance. As you will see later in this review, the fan control is the Achilles heel for these power supplies. TTGI's good prices and good features make these units very attractive, so performance becomes the most important issue with these units.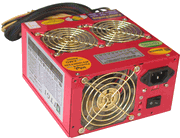 Features on the TTGI units are fairly bountiful. All of the units come in a glossy finish which really would look sharp in a case with windows or other acrylic. Our unit also came with one quad LED fan. In our opinion, it probably would have been more appropriate to ship the power supply the same color fan as the finish (or at least just one solid color). If you are particularly handy, replacing the fan will be no problem.
Wattages
| | | | | | | | | | |
| --- | --- | --- | --- | --- | --- | --- | --- | --- | --- |
| | 3.3V | 5V | 12V | -12 | -5 | +5vsb | combined theoretical | actual combined | advertised total |
| TTGI/SuperFlower 520SS 4Fan | 92.40 | 260.00 | 240.00 | 9.60 | 2.50 | 15.00 | 352.40 | 260.00 | 520.00 |
Like the Vantec Stealth, the TTGI 520SS has an unusually high +5.0V rail. The +3.3V rail is not penalized as much, so we will not criticize them on that. Do keep in mind that an Athlon 2200+ XP runs on about 60W, so overclockers should consider all the options when looking at these power supplies.
Pricing on the TTGI series is extremely aggressive. The 520SS runs around $85, much less than the other power supplies running about the same wattages. (The three fan version runs a little bit less, around $75).