Battery Life
For some people, performance is king, and others like a great design. Some crave great displays and some love the flexibility of a convertible device. The one thing everyone can pretty much agree on is that the battery life of a mobile device is important. Over the last couple of years, the increases in battery life due to hardware and software changes has been pretty dramatic. Notebooks that used to last an hour or two can now make it a whole working day, and others have exploited new power paradigms to rule the roost. Processors, displays, storage, and wireless cards are all more efficient than before, and even battery capacity has increased quite a bit. Despite the thin and light convertible design, Lenovo has managed to squeeze a 52 Wh battery inside the X1 Yoga. Battery capacity seems to be a moving target, with every generation seemingly increasing in size.
It is worth noting that initially there were some issues testing battery life due to the Windows 10 Anniversary Update. The method in which Edge was invoked in our tests raised some issues with Edge crashing. This gave me the chance to implement a new battery life test that I've wanted to do for a while. For now, the existing 2013 Light test will be maintained, although for 2016 it is just too light, as you'll see. Going forward, the same test we utilize for our smartphones and tablets will be used. This test is noticeably heavier on the CPU and gives a better angle for real-world results.
2013 Battery Life Light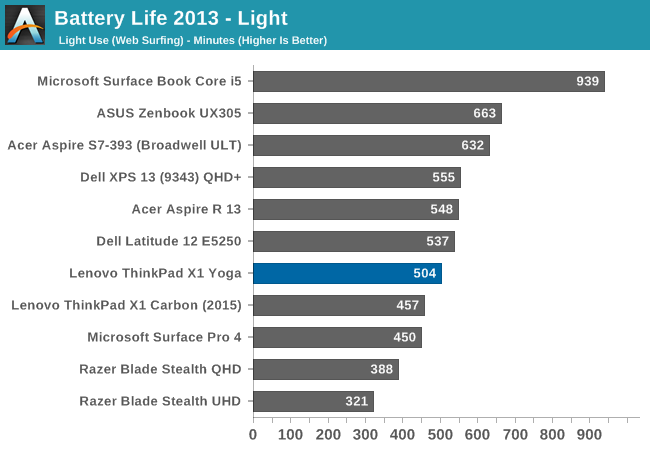 Coming in at 504 minutes, or almost 8.5 hours, the X1 Yoga with the higher resolution display is middle of the road in the light test. It does outlast the 2015 X1 Carbon by about three quarters of an hour, and the specifications are pretty similar, meaning there is improvement in the design.
2016 Web Battery Life (The New Test, starting with this review)
Since this is a new test, it has only been run on the X1 Yoga, but we were able to run it on the OLED version as well. OLED has a power advantage when displaying dark images, since it only uses power to create light. In movies and such, it has proven to be a great advantage for consuming content. But there is a power penalty for OLED when doing many typical office tasks, such as spreadsheets, documents, and web browsing, since all of these activities tend to emphasize white backgrounds (in typical Windows OS environments at least). Web browsing has a pretty high average picture level (APL) for white, and as such there is a penalty for this on OLED.

On our more difficult web browsing test, the OLED version achieved 3h39 for battery life, compared to 6h11 on the LCD model. Both have the same resolution and hardware (aside from SATA vs NVMe), so most of the delta should come down to the display. The OLED model had 41% less battery life than the LCD model in this test, which, although one of the worst case scenarios for OLED, is also something that a majority of people will use quite a bit. Although OLED has some amazing gamut and contrast, in our new test it can't touch an LCD for power efficiency when doing typical office tasks.
Normalized Results
Removing the battery size from the equation allows an equal-footing display of platform efficiency. Some laptops have large batteries but only use that to mask power draw issues, while others can make a smaller battery last for a lot longer.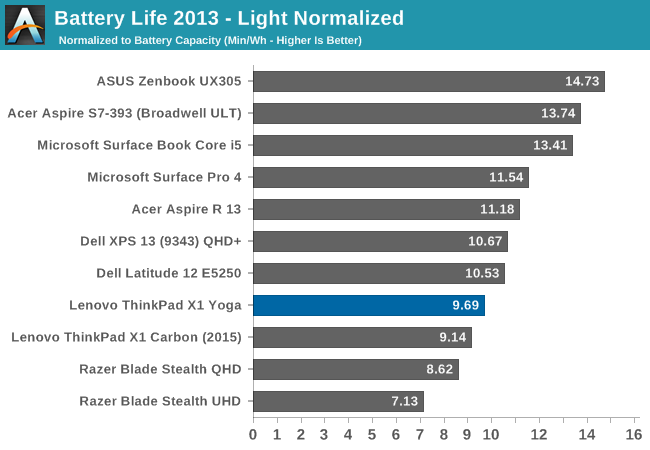 The X1 Yoga LCD model is not the most power efficient laptop around, with a normalized result on our light test of under ten. It is a minor improvement on the X1 Carbon from 2015, but an improvement nonetheless.

On the 2016 test since we just have the two results, it is difficult to draw much of a comparison at this time.
Charge Time
The other side of mobility is charge time. Even with a device that has a low battery life, being able to top up quickly can help mitigate that.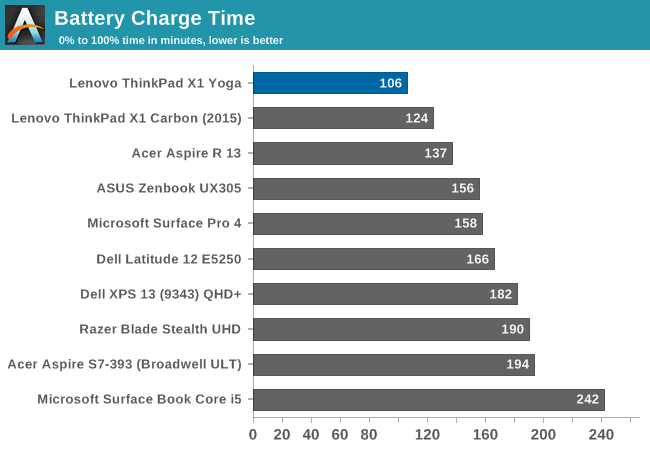 Lenovo has tended to do very well on this test, and the X1 Yoga is the fastest charging laptop tested yet. Zero to 100% in less than two hours is very good. It is helped quite a bit by the inclusion of a 65-Watt AC adapter, which is quite a bit larger than what most Ultrabooks ship with.