Camera Hardware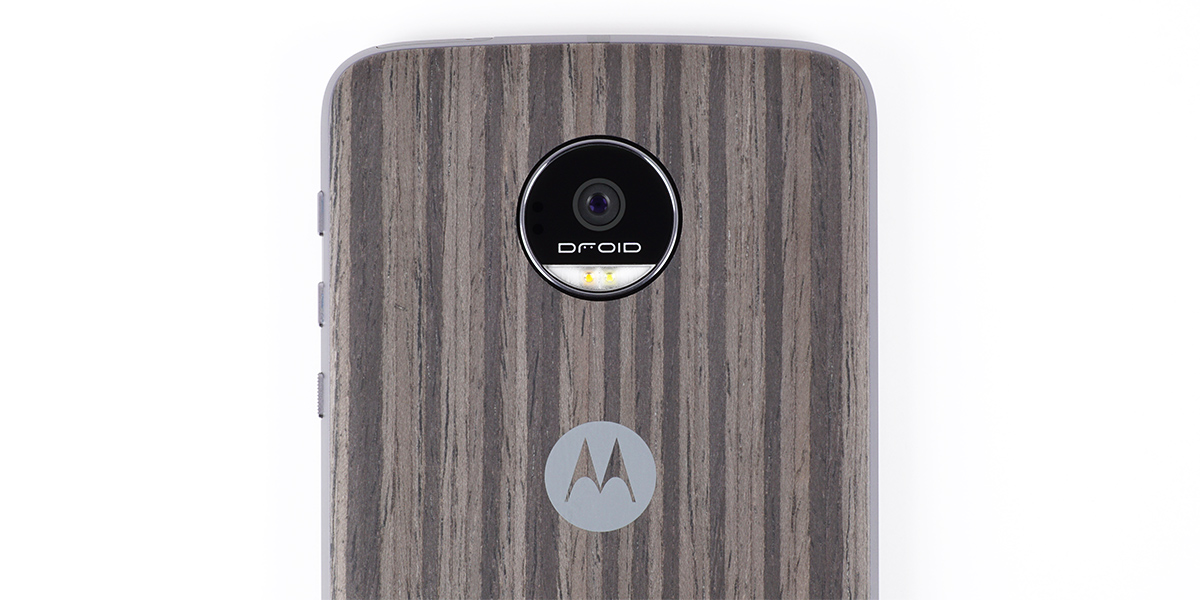 The Moto Z Droid comes with a 13MP Sony IMX214 Exmor RS rear camera sensor. This 1/3.06" format CMOS sensor with 1.12µm pixels is backside-illuminated and uses a stacked die. Images are captured with a 4:3 aspect ratio at its native resolution.
The Moto Z Force Droid increases resolution to 21MP by using Sony's IMX338 Exmor RS sensor for its rear camera. This is also a backside-illuminated CMOS sensor with a stacked die and 1.12µm pixels, but adds deep trench isolation (DTI) technology to reduce electrical crosstalk and improve color fidelity by placing physical barriers between each pixel. The larger 1/2.4" format sensor also uses a 4:3 aspect ratio.
Camera Architecture
Moto Z Droid
Moto Z Force Droid
Front Camera: Resolution
5MP
5MP
Front Camera: Sensor
OmniVision OV5693
(1.4µm, 1/4")
OmniVision OV5693
(1.4µm, 1/4")
Front Camera: Focal Length
2.45mm (23mm equivalent)
2.45mm (23mm equivalent)
Front Camera: Aperture
f/2.2
f/2.2
Rear Camera: Resolution
13MP
21MP
Rear Camera: Sensor
Sony IMX214 Exmor RS
(1.12µm, 1/3.06")
Sony IMX338 Exmor RS
(1.12µm, 1/2.4")
Rear Camera: Focal Length
3.68mm (27mm equivalent)
4.51mm (26mm equivalent)
Rear Camera: Aperture
f/1.8
f/1.8
Both rear cameras have a dual-color LED flash to improve color accuracy and optical image stabilization (OIS) to reduce motion blur from shaky hands, which is particularly important for longer exposures in low-light conditions.
The Moto Z Droid uses a hybrid autofocus (AF) system that combines laser AF and contrast AF. The laser AF system uses an infrared laser and its own light sensor to make time-of-flight calculations to quickly determine focus distance in low-light conditions. The laser has a limited range, however, and can be overpowered by environmental sources. In our experience, laser AF is fast when it works, but the slower contrast AF method still ends up doing most of the work.
To overcome these limitations, the Moto Z Force Droid uses a more sophisticated hybrid autofocus system that combines laser and contrast AF with phase detect AF (PDAF), which works well at longer distances and in good lighting. Because their strengths are complementary, using laser AF and PDAF can provide faster, more accurate focusing over a broader range of conditions.
Both Moto Z Droids place a large-aperture lens in front of the rear camera sensor to capture more light, but because of the difference in focal length, the Moto Z Force Droid's aperture area is 50% larger than its sibling's, putting it on par with the HTC 10, Galaxy S7, and LG G5, and giving it a 15% advantage over the Moto X Pure Edition and Nexus 6P. The Moto Z Droid's aperture area is smaller than all of these phones, but is still 17% larger than the iPhone 6s Plus and the same size as Huawei's P9.
Both Moto Zs use the same 5MP OmniVision OV5693 sensor for their front-facing cameras, which uses larger 1.4µm pixels in a 1/4" format. This is paired with an f/2.2 wide-angle lens and a dedicated LED selfie-flash. The front cameras also support automatic HDR imaging, a convenient feature for improving image quality not seen on many front cameras.
Photo Quality
Motorola's phones have never had great cameras. Last year it took a step in the right direction by upgrading the hardware in the Moto X phones, but Motorola's software algorithms limited image quality—heavy-handed noise reduction processing smeared away a significant amount of detail.
The Moto Zs get new camera hardware once again along with a new camera app. Did software processing receive an upgrade too? To find out we'll compare photos from both Moto Z Droids to several other flagship phones, including the iPhone 6s Plus, Nexus 6P, and Galaxy S7, which all use different 12MP Sony sensors. The LG G5 uses a 16MP Sony IMX234 Exmor RS sensor, while last year's Moto X Pure Edition employs the higher resolution 21MP Sony IMX230 Exmor RS. All of the phones have OIS except the Moto X PE and Nexus 6P.
Daylight Photo Comparison 1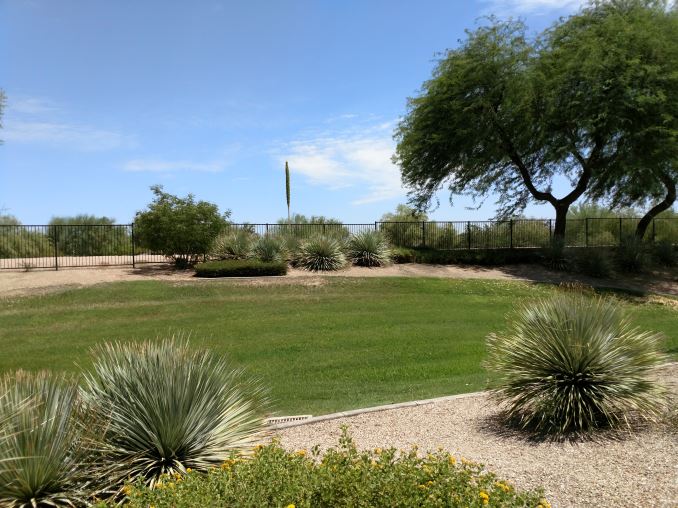 In this first set of daylight images, the Moto Z Force gets both the exposure and white balance correct. The Moto Z does pretty well with white balance but its smaller aperture area coupled with a faster shutter speed results in a slightly underexposed image. Both Moto Z images look better than the Moto X PE's underexposed image with a cool white balance.
The Moto Z Force, Nexus 6P, and Galaxy S7 capture the most detail in this scene. The Moto Zs, like most smartphones, apply an unsharp mask to sharpen edges and increase perceived detail, although it's not as strong as the Galaxy S7's processing and does not create any noticeable haloing artifacts. Despite having a 21MP camera like the Moto Z Force, the Moto X PE's noise reduction processing wipes away some of the finer detail. Unable to focus properly, the Moto Z captures an image that's blurry across the whole frame.
The Moto Z's image shows considerably more purple fringing in the trees and along the fence than the Moto Z Force's, which appears to be a byproduct of image processing. The Moto Z Force keeps noise to a minimum, similar to the other flagships, but the Moto Z's noise pattern in the sky shows some purple splotches that affect color balance on a macro scale.
Daylight Photo Comparison 2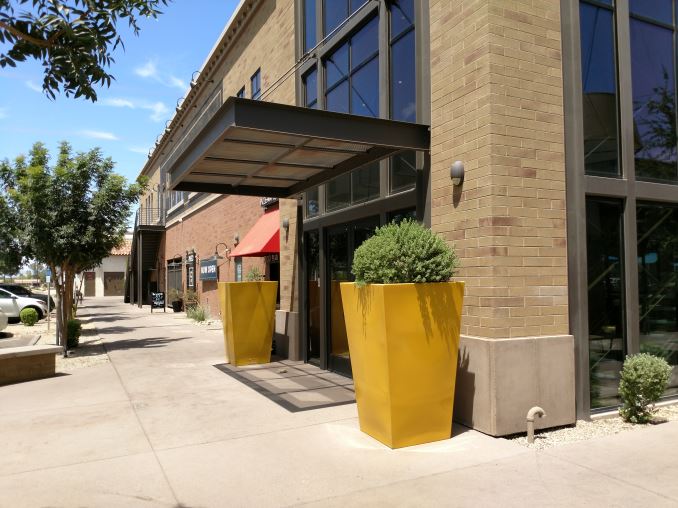 This second daylight scene emphasizes neutral color tones with less green and blue like the previous scene, which presents a different challenge for a camera's white balance algorithm. All of the phones handle this scene pretty well, though, except for the Moto X PE, whose image has a yellow tint, and the Nexus 6P, which underexposes again. The Galaxy S7 and LG G5 are a little too bright, decreasing color saturation on the red awning and brick facade, but it's not something that's noticeable outside of a side-by-side comparison. Both Moto Zs set exposure and white balance correctly and show properly saturated colors.
The Moto Z Force captures the most detail in this scene and arguably the best picture of the group. The iPhone 6s Plus shows a decent level of detail as well, but the Moto Z and the other phones all smooth away fine features with noise reduction processing. This is most evident on the sidewalk and brick wall, particularly in the Galaxy S7 and LG G5 images.
Once again we see purple fringing in the trees, and even a blurry, purple smudge along the power lines, in the Moto Z's image. The Moto Z Force does not suffer from this issue, so either its software processing is different, its lens has less axial chromatic aberration, or some combination of the two. The Moto Z and LG G5 also show a little more noise than the other phones.
Evening Photo Comparison 1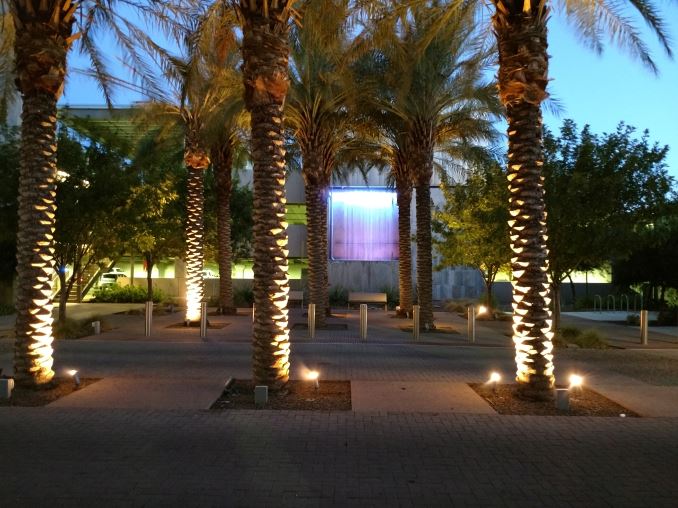 This set of images were taken after sunset but while there was still a trace of light in the sky. Without OIS, the Moto X PE and Nexus 6P are forced to use faster shutter speeds, 50% and 100% respectively, and capture underexposed images. The iPhone 6s Plus takes the longest exposure, but with the smallest aperture lens of any flagship phone, it still underexposes its image. The two Moto Zs and the Galaxy S7 set exposure correctly. The Moto Z shows less dynamic range than the Moto Z Force and S7, however, by overexposing the bright highlights.
Both the iPhone 6s Plus and Galaxy S7 maintain a good level of detail while keeping noise under control. The Moto Z Force's image also shows minimal noise, but its noise reduction smears away a bit more detail on the wall in the background and the bricks on the ground. The Moto Z shows more noise and less detail than its bigger brother, but it's still significantly better than the Moto X PE's heavily-processed, blurry mess. The LG G5 and Nexus 6P also struggle with noise and detail in this low-light scene.
Evening Photo Comparison 2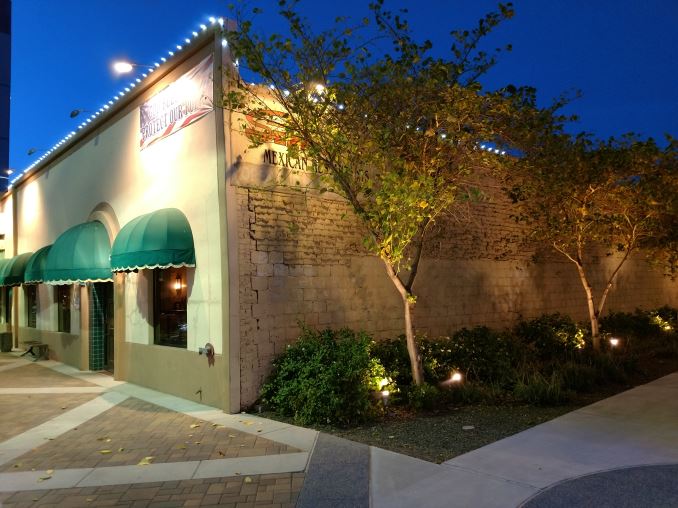 The Galaxy S7 performs well in this scene, capturing a naturally bright image, with nice colors, and good detail. The Moto Z Force also does well, but it overexposes the highlights on the front of the building and does not have quite as much detail, although it does show less noise grain. The Moto Z overexposes the highlights on the building too, but it also shows halos around light sources.
It's difficult to label a single camera as the best because each one excels in different situations; however, based on the pictures I've taken, I'd argue that the Moto Z Force has one of the best cameras currently available, which is a huge leap for Motorola. The Galaxy S7 holds a slim advantage in low-light scenes, but the Moto Z Force might be better in bright light.
The Moto Z's camera is definitely a step behind the Moto Z Force's in all lighting conditions. Its lower resolution sensor captures less detail and its heavier noise processing reduces detail even further. Just like the Moto Z Force, it does a great job setting exposure and white balance and has nicely saturated colors; however, its images show a fair amount of purple fringing, an aberration the Force avoids, and I noticed a distinct loss of corner sharpness with the Moto Z too.