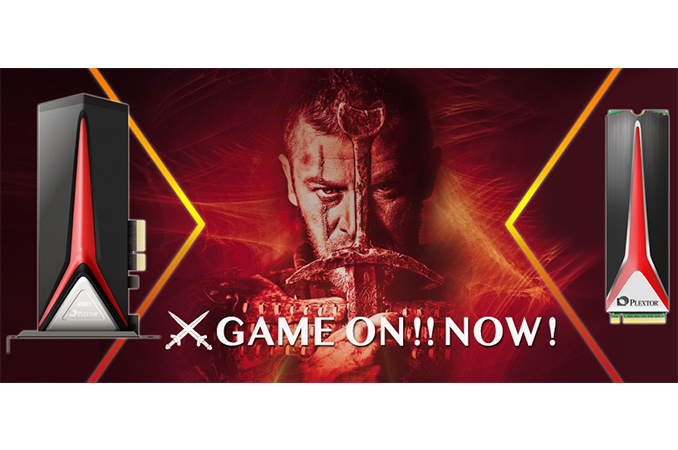 Plextor plans to showcase its new SSDs next week at Computex 2016 trade show in Taipei, Taiwan. The new M8Pe will be the company's new flagship storage solution and also the first high-end drive from the company in two years. Meanwhile, the EX1 will be Plextor's first external solid-state storage device designed for those, who demand ultra-fast flash drives. In addition, the firm will demonstrate its next-generation mainstream M8Se SSD at the trade-show.
The Plextor brand got famous back in the 1990s, when the company introduced its first optical disc drives, which eventually were recognized as one of the finest quality ODDs in the industry. Eventually, the company experimented with other products as well, but its ODDs based on precision electric motors from Shinano Kenshi (the owner of the trademark) were still the best known devices featuring the name. Fast forward to 2010, Lite-On Technology licensed the Plextor brand, hired a team of engineers and teamed up with Marvell and Toshiba to develop SSDs, which would match the legendary name with performance and quality. Over the following years, Plextor/Lite-On released a number of SSDs that became popular among enthusiasts, which is why every new product by the company gets a great deal of attention. The years 2014 and 2015 were not exactly good for Plextor, though: the company ran into problems with its M6 Pro and then had to cancel the M7e. As a result, Plextor's high-end lineup has not been updated for two years now, a very long time for the rapidly developing solid-state storage industry. However, the new flagship from the popular brand appears to be just around the corner and on paper it looks quite good.
The Plextor M8Pe family of SSDs will be based on Marvell's 88SS1093 controller as well as Toshiba's MLC NAND flash memory made using 15 nm manufacturing technology. The 88SS1093 features three cores and supports Marvell's third-generation NANDEdge error correction control and management technology, which is based on LDPC (low-density parity-check code) and is designed to improve reliability of planar MLC and TLC NAND flash memory made using 15 nm fabrication process. Besides this, the controller fully supports NVMe protocol as well as new power management technologies.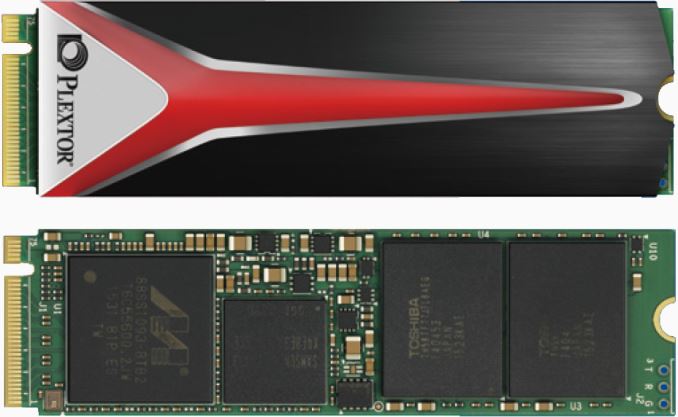 The M8Pe drives will be available in 128 GB, 256 GB, 512 GB and 1 TB configurations. Plextor is specing the M8Pe 1 TB at up to 2500 MB/s for sequential reads and up to 1400 MB/s for sequential writes, but more affordable models will feature considerably lower speeds. The highest-capacity M8Pe can also perform up to 280K random read IOPS as well as up to 240K random write IOPS. Plextor's numbers look rather competitive against Samsung's 950 PRO, but we will need to test the novelty first before drawing any conclusions here.
Specifications of Plextor M8Pe SSDs
128 GB
256 GB
512 GB
1 TB
Model
PX-128M8PeY
PX-128M8PeG
PX-256M8PeY
PX-256M8PeG
PX-512M8PeY
PX-512M8PeG
PX-1TM8PeY
PX-1TM8PeG
Form Factor
PCIe HHHL
M.2-2280
PCIe HHHL
M.2-2280
PCIe HHHL
M.2-2280
PCIe HHHL
M.2-2280
Controller
Marvell 88SS1093
Interface
PCIe 3.0 x4
Protocol
NVMe 1.2
DRAM
512 MB
1 GB
NAND
Toshiba's MLC NAND made usin 15 nm process technology
Sequential Read
1600 MB/s
2000 MB/s
2300 MB/s
2500 MB/s
Sequential Write
500 MB/s
900 MB/s
1300 MB/s
1400 MB/s
4KB Random Read (QD32)
120K IOPS
210K IOPS
260K IOPS
280K IOPS
4KB Random Write (QD32)
130K IOPS
230K IOPS
250K IOPS
240K IOPS
MTBF
2.4 million hours
Launch Date
June 2016
As for form-factors, expect the new M8Pe flagship drives from Plextor to be available in both add-in PCIe 3.0 x4 card as well as M.2-2280 versions. It is noteworthy that the rated performance of the M8Pe drives in different form-factors is equal. The SSDs will feature heatsinks to prevent overheating of components as well as illuminating LEDs to complement modern high-end motherboards and PC chassis.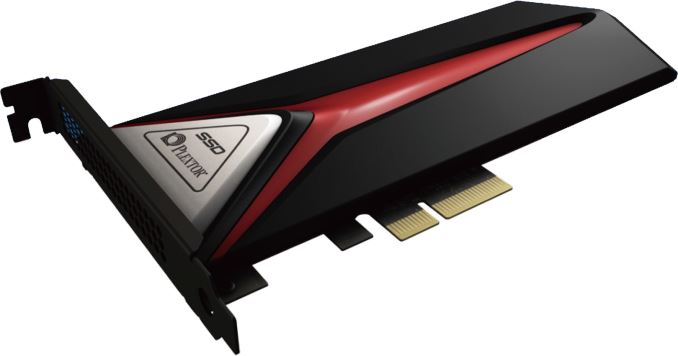 In addition to the flagship M8Pe, the Plextor will also demonstrate its forthcoming mainstream product, the M8Se. This SSD will come in an M.2 form-factor and will feature PCIe interface. At this time we have no information about the controller or NAND used by the M8Se.
Finally, the Plextor EX1 will be the brand's first external fixed storage solution in a decade. The EX1 will be offered in 128 GB, 256 GB or 512 GB capacities. The maximum transfer rate of the drive will be 500 MB/s, which means that we are talking about an SSD and not just another USB flash stick. As for the interface, the EX1 will rely on USB Type-C (USB 3.1 Gen 1, 5 Gbps) and will thus be compatible with the latest PCs. While a fast external SSD from Plextor seems to be an interesting product, it remains to be seen which of Plextor's exclusive technologies it will support, given the size and other constraints. Earlier this year we reviewed the Samsung T3 external USB-C SSD and it left a very positive impression. Plextor's EX1 will offer some competition to Samsung's external SSD.
The M8Pe SSDs from Plextor are expected to hit the market already in June. Pricing information has yet to be disclosed, but we do know that the drives will be backed by a five-year warranty. Further details regarding the M8Se and EX1 SSDs are unknown, but we'll publish that information once its available.
Source: Plextor